Two-Piano Marathon, Kings Place review - dazzling duos, deep waters
Two-Piano Marathon, Kings Place review - dazzling duos, deep waters
Pavel Kolesnikov and Samson Tsoy make a transcendental start to an epic evening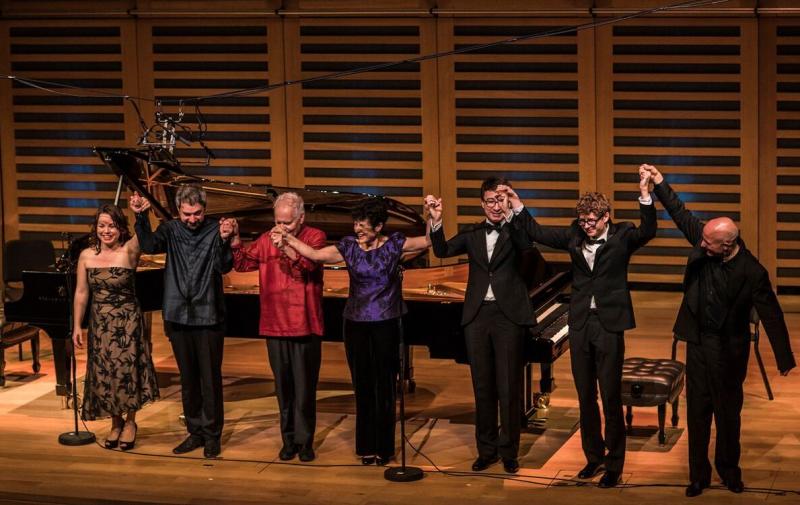 Seven stars: Katya Apekisheva, Konstantin Lifshitz, Stephen Kovacevich, Margaret Fingerhut, Samson Tsoy, Pavel Kolesnikov and Charles Owen
You get a lot of notes for your money in a two-piano recital - especially when seven pianists share the honours for two and a half hours' worth of playing time. Well, they did call it a marathon, crowning the London Piano Festival so shiningly planned by Katya Apekisheva and Charles Owen, and the baton passed seamlessly from two pairs of hands to the next.
All the more remarkable when nothing seemed likely to surpass the infinite poetry of the opening couple, young Pavel Kolesnikov and Samson Tsoy in Debussy's arrangement of
Schumann
's
Six Pieces in Canonic Form
. Nothing did, but there were several equal triumphs, and the level stayed high.
These exquisite and varied studies in imitation are far from being drily intellectual, and this duo (pictured below) proved Schumann true to his beloved model, Bach, in the heavenly flow of the C major Etude. Schumann's idiosyncratic signing-offs were all poetically done, too.
After these pure sources, the first of the pieces featured by Arnold Bax, The Poisoned Fountain, was aptly named: dissonant Ravelian water-music powerfully handled by Margaret Fingerhut and Owen, its sequel, Hardanger, slightly annoying Grieg with wrong notes. I've heard more sublime lounge-lizardry in Poulenc's Élégie than we got from Fingerhut and Apiksheva, but the sequels were aptly boisterous (no harm in a few more smiles, though, to show the pleasure in the playing).
Either side of the interval were the two most thought-provoking masterpieces of the evening. Stravinsky's Concerto for Two Pianos doesn't yield up all of its secrets on a first hearing. Kolesnikov and Tsoy's masterly balance between roar and enigma would have been a good case for hearing it all again in the second half. You need to be sure of where you're going as one Chinese box opens to reveal another, and the astonishing maturity of these pair made sure of that in the weird sequence whereby the third movement's variations only give away their theme in the finale's fugue.
It was so good to witness the nearly-78-year-old Stephen Kovacevich, seated low at the second piano alongside the first, returning in such fine form with Owen in Debussy's En blanc et noir. Its first movement whirled in seeming orgiastic abandon - not Debussy's normal territory, but then this was a late piece full of rule-breaking - and the depths were truly sounded in the sombre central elegy.
The festival hosts came together to scintillate and thunder in Ades' Concert Paraphrase on Powder Her Face, though the essence is - as the Lisztian title perhaps suggests - curiously old-fashioned, nothing like as fresh-sounding as the Debussy of a century earlier, and the material over-extended. Still, the marathon kept on giving with the final visitor, Konstantin Lifshitz (pictured above with Apekisheva). He's not a pianist I've heard live before - he gave a big recital on festival Thursday which I now wish I'd heard - but on the evidence of the lovable finale with the equally transcendental Apiksheva, Rachmaninov's early Russian Rhapsody, Lifshitz would be a welcome soloist in any performance of Tchaikovsky's First Piano Concerto or "the Rach Three". Kudos to all: let's not wait a year for the next London Piano Festival to hear any of them in action again.
It was so good to witness the nearly-78-year-old Stephen Kovacevich returning in such fine form alongside Owen
rating
Explore topics
Share this article