Young people's guides to the orchestra: the making of 'Not Now, Bernard & Other Stories' |

reviews, news & interviews
Young people's guides to the orchestra: the making of 'Not Now, Bernard & Other Stories'
Young people's guides to the orchestra: the making of 'Not Now, Bernard & Other Stories'
Composer Bernard Hughes on how an idle conversation between friends became a new album of premiere recordings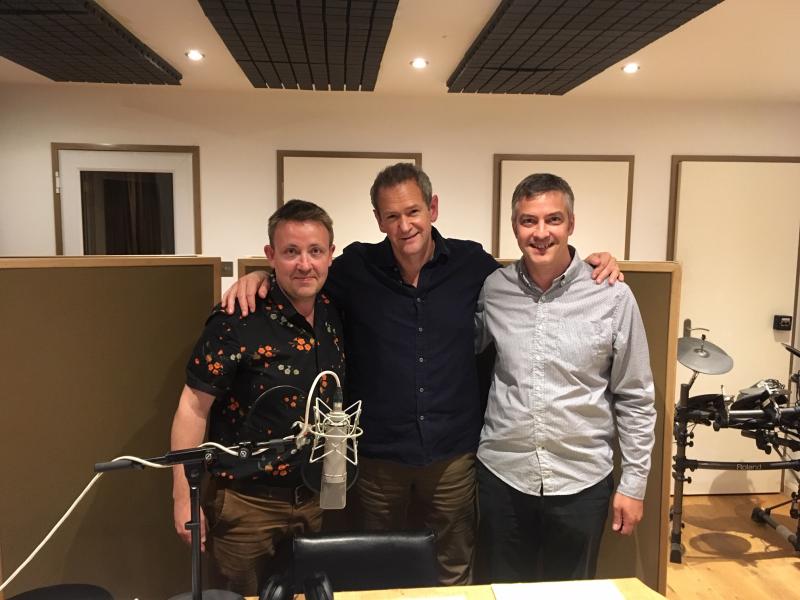 Co-producers Tom Hammond and Bernard Hughes with Alexander Armstrong at the recording session
"Let's make an album" is an easy thing to say but an infinitely more difficult thing to actually make happen.
But at some point in early 2016 conductor Tom Hammond said it to me (or I said it to him, we can't remember which) and four years later
Not Now, Bernard & Other Stories
is about to be released: four years of hard work, setbacks, stress – but also days of wonderful creativity and a sense of achievement.
Although things have worked out very much for the best, almost every detail of how things have panned out is different from how we provisionally mapped it in 2016 – not least in that we thought the album would be released in 2017! And at the end of it all Tom and I are still speaking to each other, which reflects our mutual professional admiration and solid friendship.
The origin of the disc is in three pieces Tom Hammond (pictured below right) has commissioned from me, starting in 2010, to provide repertoire for the family concerts he was starting to conduct with his (top-end) non-professional orchestras. There is a small amount of established repertoire – Peter and the Wolf again, anyone? – which he wanted to expand. The task in these concerts is to introduce a young audience to the orchestra in an exciting and engaging way, while also providing something worthwhile and entertaining for their adult companions.
My first thought was the books of David McKee, in particular the all-time classic Not Now, Bernard, a personal favourite of mine which had come out when I was young. As a child, I found the only notable Bernards in the public eye were the less-than-palatable duo of Bernard Matthews ("Bootiful") and Bernard Manning ("My mother-in-law's so fat etc"), so Not Now, Bernard was a welcome addition to the list. Many years later my challenge was to write accessible, enjoyable music while adding something to the story. In particular I wanted to pick up the emotional underpinning of McKee's brilliant pictures, such as in the tragic moment when the monster goes up to bed, forlorn and overlooked despite his best monsterly efforts. The other main challenge is to pace the spoken narration so the story is told to its best effect, while giving the music room to breathe as music.
A few years later Tom commissioned another piece, this time on a book by the writer and illustrator James Mayhew. In recent years James has performed with orchestras "live-illustrating" famous pieces of music, painting as the music unfolds, with his work projected on a big screen. But my piece, The Knight Who Took All Day, was the first time he had narrated and illustrated one of his own books. It's a virtuoso thing to see live.
When Tom and I sat down to programme the rest of the disc things quickly – and fortuitously – fell into place. Tom has an evangelistic enthusiasm for the music of Malcolm Arnold and we were amazed to find a significant piece of his – the Toy Symphony – had never been commercially recorded. It's a typically peculiar piece, combining a professional quintet playing great Malcolm Arnold tunes, overlaid with a cacophony of percussion performed, at its 1957 premiere, by musical celebrities of the day, including Gerard Hoffnung. (The story of getting hold of a set of the correct toy instruments was perhaps the most difficult time-consuming element of the whole project, and could fill an entire article on its own.)
One of my own favourite contemporary composers is Judith Weir (pictured above) and, on investigating her catalogue, I was delighted (and again surprised) to find an early work of hers, for narrator and ensemble, that had never been recorded. This piece, Thread!, sets the text above the Bayeux tapestry, accompanied by a manic montage of instrumental accompaniment that is, and this is a compliment, cartoonish in its colour and hyperactivity. Although the piece was not intended for children, I feel it has an immediacy that will appeal to younger listeners without compromising on its musical language.
The last piece of the jigsaw, which fitted the need for a change of tone, was a melodrama by John Ireland setting the Edgar Allan Poe poem "Annabel Lee", which I arranged for a small chamber ensemble. This offers a short sombre moment in the middle of all the hilarity, and as such punches above its weight.
What followed was an often complicated process of finding an ensemble (the excellent Orchestra of the Swan), a label (Orchid Classics, who have a track record with this kind of disc) and funding (we have been generously supported by the Malcolm Arnold Trust, Malcolm Arnold Society, the John Ireland Trust, as well as by anonymous donors and with donations in kind). Perhaps the biggest breakthrough was engaging Alexander Armstrong as narrator. We had just a nerve-jangling single three-hour session with him to record the voiceover, but thanks to his calm professionalism we managed it. His ability to find immediately the appropriate style for each piece was unerring, and his musical literacy (he was a choral scholar at Cambridge) meant that he was equal to the musical demands of the scores.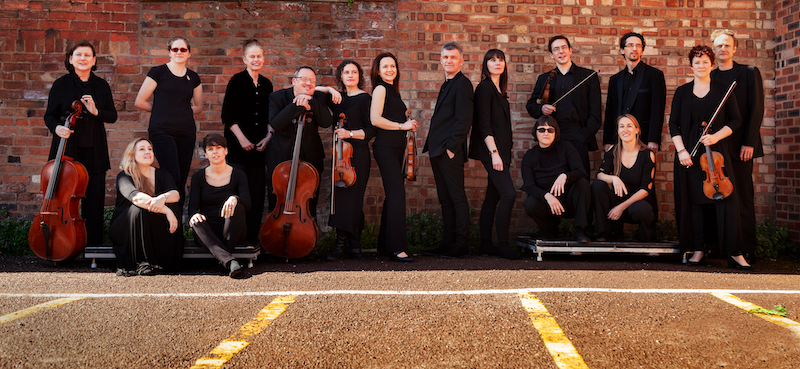 Tom handled the sessions with the Orchestra of the Swan (pictured above) impressively, getting through the piles of music with time to spare, and the players of OOTS entered the spirit of the occasion completely. I must also put in a word of admiration for our engineer and editor John Croft, whose skill in assembling ensemble and voice in a way that sounds natural and "live" is at times almost miraculous.
There are some drawbacks to the album. Tom is unable to play Arnold's Toy Symphony at home as his dog Patch goes a bit crazy on hearing it. And after listening so intensively to every moment of every piece through the editing process all I hear now are the handful of (very minor) infelicities. But Tom and I are proud to bring these neglected works by leading composers to the public alongside pieces of mine that I humbly hope might find an audience of young and old listening together.
As a child the only notable Bernards in the public eye were the less-than-palatable duo of Bernard Matthews ('Bootiful') and Bernard Manning
Explore topics
Share this article