Vanara, Hackney Empire review - fine singing, but a plodding book and one-pitch score in this new musical |

reviews, news & interviews
Vanara, Hackney Empire review - fine singing, but a plodding book and one-pitch score in this new musical
Vanara, Hackney Empire review - fine singing, but a plodding book and one-pitch score in this new musical
Two tribes feud over fire in a post-apocalyptic world's last surviving forest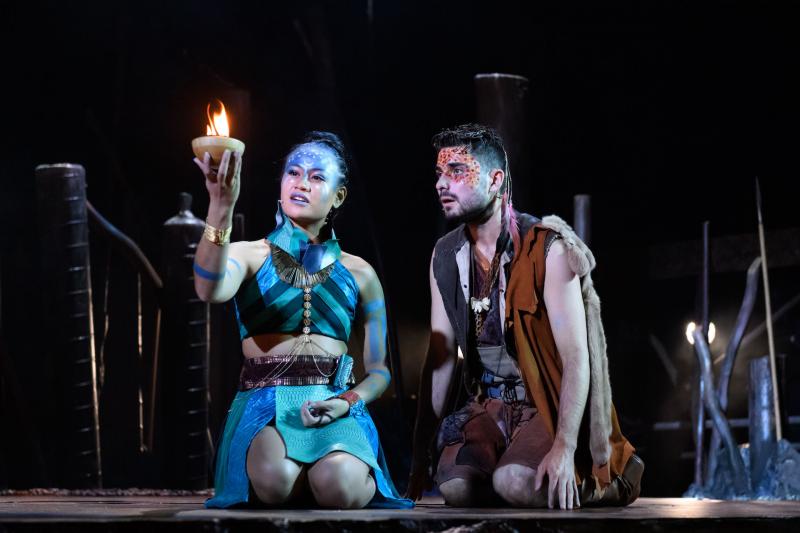 Fancy a Sambuca? Emily Bautista as Ayla and Jacob Fowler as Mohr
Two tribes, both alike in dignity in fair Vanara, trade goods and insults in a post-apocalyptic world in which fire is known to The Kogallisk but not to The Pana. When The Oroznah, a shaman respected by both feuding factions, foretells a long winter to come, The Pana must do all they can to steal the fire from The Kogallisk in order to survive the long nights.
But the two bright young heirs have other ideas – Mohr, the sensitive Pana warrior, catching the eye of Ayla, the idealistic Kogallisk princess, and another way to salvation emerges.
With a tour planned for 2022 and a buzz generated through online content, there's plenty going for this new musical, but there's also much to be done if it is jump the chasm between accumulating viral downloads and achieving stage success.
Gianluca Cucchiara can write a stirring ballad, but the 11-o'clock-numbers keep coming with little to leaven the emotional trauma, songs too often restating a character's thoughts previously established – I wondered at times whether we were getting a reprise, but no. Michael Conley, who wrote the witty and amusing The Sorrows of Satan, provides a book that is deathly serious (a tone continually undermined by the preposterous names – one character is called Rooh), so when one might look for a laugh or even a smile, there's another portentous prediction of environmental annihilation and factional war, the tribes' histories and traditions binding them to enmity.
Director and choreographer Eleesha Drennan creates some impressive dance sequences as the tribes clash, but that does only serve to remind us (were we to need it) that we are not watching West Side Story. She is not helped by Libby Todd's costumes, which suggest Mel Gibson's Braveheart clan taking on Dwayne Johnson's islanders from Moana, strange garb indeed for a mountain-dwelling people.
Emily Bautista (pictured above with Jacob Fowler) gives it everything as Ayla, the Kogallisk princess, although co-director Adam Lenson is too keen on sending her to the front of the stage to declaim to the house. Jacob Fowler, as her love interest Mohr (but not the merrier), never really creates the presence of a leading man on a cavernous stage that overuses its revolve to dizzying, distracting effect. Johnnie Fiori has a bit of fun initially with The Oroznah's gnomic pronouncements, but an already slow-paced production is delayed further when she frequently hoves into view to drive home a point we got 30 minutes earlier.
Amongst some fine singing, Carole Stennett and Calvin Cornwall stand out, and musical director Tamara Saringer delivers the score nicely balanced against the vocals so we can hear every word – which ought to be a given in musical theatre, but isn't. The sound design suggests fire very effectively, but the big secret is hardly a conflagration, just a flame in a tea cup. For a show with this level of ambition, in a theatre of this size and stretched across a two and a half hour running time, audiences can expect rather more of a spectacle to presage the end of the world.
Launching a new musical in 2021 may be about as tough an assignment as the entertainment industry can offer, but it's a challenge that needs to be met if a show is to succeed. Vanara falls short at the moment but there's a theme that will engage younger audiences, songs that pull at the heartstrings and a cast who can sing really well, so there's the raw material in place for the upcoming tour. Some of that Kogallisk fire might need to be applied to a few songs and the costumes first though.