theartsdesk in Rennes: 32nd Trans Musicales Festival
theartsdesk in Rennes: 32nd Trans Musicales Festival
Obscure Europop and mainstream American acts share the bill in Brittany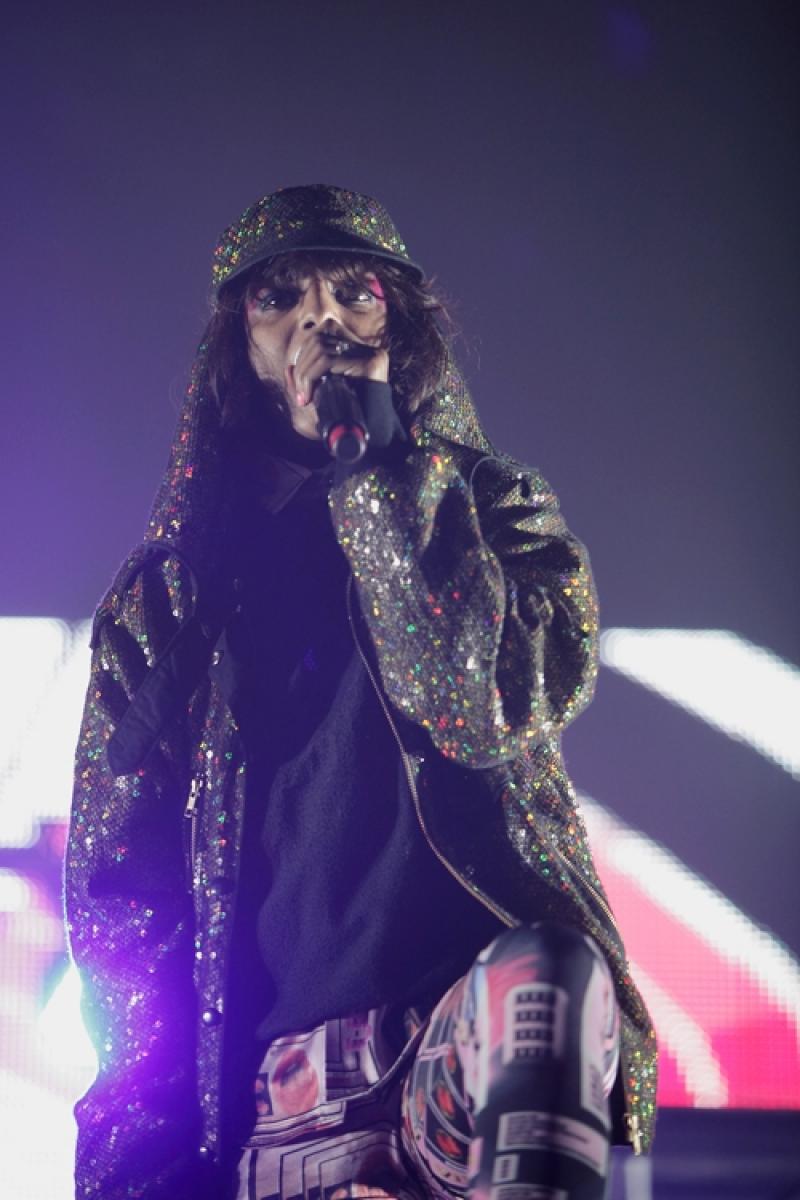 When in Rennes: M.I.A's relentless beats sent the Trans Musicales audience bonkers
The Breton capital Rennes is an attractive city. Move north from the train station, pass through a covered market with tripe and saucisse sellers, cross a canal and there's a series of Italianate squares and arcades. Further along is the quaint Place St Anne and a warren of medieval streets lined with half-timbered buildings. It's an inspiring cityscape.
But for three days every December, the city is crammed with revellers and dogs on string who couldn't give a fig about the medieval cathedral. They're here for the Trans Musicales de Rennes, the annual musical jamboree. Just short of 100 acts played this year.
DJ wonkery, indie newbies, Russian hip hop, Belgian post-rock, stars like M.I.A. – they're all here. For hungrier music fans, the parallel fringe festival Bars En Trans is also running – another 73 acts. It's intense.
Trans Musicales is the vision of Jean-Louis Brossard (pictured below). Smiley and grey-haired, he lives for music. He's put Rennes on the musical map. "I was a medical student in Rennes," he recalls, talking about what he should have been doing back in 1977. "But all day and all night I played music. I went to the Mont-de-Marsan punk festival and saw The Clash and The Damned. I went to London to Rock On records and I arrived at the shop at 10am and left at six." The do-anything spirit of punk still drives Jean-Louis.
The first Trans Musicales was held in June 1979. "My friends and I organised gigs in Rennes," Brossard explains. "Then we decided to do a festival over two days, all bands from Rennes. We had good press, people were asking, 'When is the next Trans Musicales?' There was always something antagonistic in France about the provinces, then people began to realise it wasn't just about Paris." The second festival was held in December 1980 and 31 years on it attracts over 10,000 to shows at the Parc Expo, outside Rennes, and more to a series of venues in the city. Bars En Trans complements it at the same time by filling the city's bars with even more music.
Asked how he chooses the acts for Trans Musicales, Brossard says, "I'm dreaming the stuff. Trans Musicales is the dreamscape." Eventually, he qualified as a psychologist.
It's moot whether the Parc Expo itself could be described as a dreamscape. The shows take place in three massive metal sheds adjacent to Rennes's cargo airport. After a 20-minute bus ride from the city centre shared with the tanked-up youth of Brittany, the Parc Expo greets you. Its blank-walled hangars are separated by concrete-covered roads. If the venue is a dreamscape, it's that of a brutalist architect with a perverse sense of what a festival should be.
Thankfully, the music often distracts from the spectacle of the falling-down jeunesse. This year's highlights were Janelle Monáe (pictured left, photo by Nicolas Joubard) and M.I.A., billed an hour and three-quarters apart in the stadium-sized Hall 9. Nowhere else could these two appear at the same venue on the same day. Putting this pair of strong-imaged and quirky individualists with peculiar takes on how dance music should be reconfigured on one bill was outlandish. Yet in the end, Janelle Monáe's more considered, choreographed show just didn't work here. M.I.A's relentless beats sent the audience bonkers, while the more downbeat moments of Janelle Monáe's show didn't compute with this crowd. For new acts the audience was more open, but where they'd heard of something they knew what they wanted – banging beats and no subtlety.
Finnish instrumental art-rockers Shogun Kunitoki are a case in point. Little known, their driving Joe Meek electronica connected with Hall 4's relatively smaller audience of around 2000. Equally well received was New Zealand's Connan Mockasin (pictured right, photo by Nicolas Joubard), a bizarre chap who looks like one of the frightening kids from Village of the Damned. When singing, he was dead-eyed, utterly inside the music. It was peculiar music too, a sort of twinkly post-shoegazing that recalled some of the more out-there bands on the early-Eighties Belgian label Crepuscule. He introduced his forthcoming single and three minutes of formless noodling ensued before the song kicked in. With a standard drummer side by side with a percussionist, Mockasin's take on how his music was delivered was as oddly appealing as his look. Our own Magnetic Man and Egyptian Hip Hop had cleaned up in this hall the night before, reinforcing the idea that the more unknown you were to the audience, the more likely you were to be well received.
That formula didn't apply to ex-13th Floor Elevators front man and psychedelic legend Roky Erickson (pictured left, photo by Nicolas Joubard). His Hall 3 set underlined the fact that he really shouldn't be playing live. These days he's distracted and despite the rictus grin is scared-looking, clearly not enjoying being on stage and runs through the set on autoplay. Someone should let him while away his time on a sofa watching his beloved horror movies.
Roky Erickson might still have the potential to charm, but the Swiss-dwelling and Ghana-born Oy – real name Joy Frempong – was a baffler. She's hotly tipped – various chunks of the French music business said she had to be seen. But she was deeply irritating. Behind her electronic bits and a keyboard, she probably thought she was Björk, but letting everyone know her songs were inspired by childhood memories lent no warmth. Covering the tooth fairy, trolls in the forest and the toilet fairy, she pulled out a balloon, made farty noises, sampled them and then played it back while looking jolly pleased with herself. Although she went over well, it was too considered, too "ain't I cute". A visit to the special music-biz area – populated by what in French biz-speak are "les professionals" (no sign of Bodey and Doyle) – for a glass of champagne was much cuter.
For performers who sincerely drew from the heart, Bars En Trans came up with the goods. Playing small bookshop/bar/whole food shop Papière Timbre off the Place St Anne, Canada's Kyrie Kristmanon was the real deal. No smirking too. Her recent album Origin of Stars could be called folk, but her music takes in jazz, chanson française and anything between. Live, she covered all this seamlessly, sang solo and acapella, and played the trumpet. A one-off. Although her music could appeal to Norah Jones fans, much goes on under the surface. Preceding her was Marie Flore (pictured right, photo by David McKenna), a solo Parisian who also sang from the heart to great effect – and in English. A song like the hymnal meditation "Empty Walls" could have been depressing but it was delivered with such mesmerising matter-of-factness that the point was made. Both shows were highlights.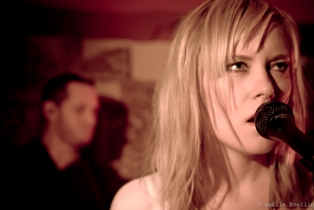 Bars En Trans was also readier to embrace the less cutting edge than Trans Musicales. Playing La Place, a first-floor, Latin-themed bar was Fredrika Stahl (pictured left, photo by Evellin Gaëlle), whose reconfigured version of "Twinkle Twinkle Little Star" currently soundtracks a Nissan ad on TV. Her first two albums were pretty straight jazz, but her recent third, Sweep Me Away, is poppier, placing her alongside Nordic singer-songwriters like Ane Brun or Frida Hyvönen: fitting, as Stahl is Swedish-born, but France-dwelling. Her assured set was great: good songs, played well, sung with verve. Nothing cutting edge, just fine music. Equally unbothered by fashion were Deportivo, a French rock band with shades of The Clash or, more locally, Noir Desire. Their no-nonsense meat-and-potatoes approach attracted an unfashionable, working-class-looking crowd to the Museum Café. They were loved and crowd-surfing was on the menu. There's no way they could be popular outside France, but seeing them – a normal band – in this context was an eye-opener.
The strand of Trans Musicales that Bars En Trans draws inspiration from is Trans Musicales smaller city-centre shows. These also threw up some real surprises. Amongst the former was America's Outasight, risible white-bread hip hop. Richard Andrew bounced on stage at the school hall-like Cité, waving his arms, asking "Y'alright?" He may play as Outasight, but does he have to be a Stars in Their Eyes Outkast? La Cité also showcased La Corda (pictured above, photo by Nicolas Joubard), a Renneais three-piece who drew from Galaxie 500 and Low. This may not have been the venue for them, but they almost succeeded in creating a dream-like spell. But what really booted Outasight off the map were Brooklyn's Ava Luna whose utterly fabulous Cité show drew a standing ovation. A sort of post-TV On The Radio, post-Dirty Projectors soul review, they have groove, grace and songs. "Black Diamond" swung like a dream. Their three female singers oscillated between the Andrews Sisters and Labelle. Terrific and world class.
Watch Ava Luna
Elsewhere, France held its own. Lena Deluxe were a sort of dreampop Throwing Muses, while at the tiny 4 Bis Caen's Manatee were propulsive and experimental, yet melodic. Their guitarist seemed to have swallowed Eno's "Third Uncle" whole, but overall this unknown band felt like a jagged post-punk take on Sigur Rõs. The toddlers in the crowd seemed to like them too.
All this takes place in a different landscape to the city itself. A visit to the massive Rennes branch of chain media store FNAC was instructive. Despite there being a Trans Musicales stand showcasing the bands playing the festival, the CDs clutched in the hands of those queuing at the tills were by mainstream singer Enrico Macias and chanteuse Lara Fabian. Neither M.I.A. nor Janelle Monáe were passing across the counter. Then again, judging by the state of those on the bus back from the Parc Expo the night before – comatose, puking, chippy or all three – most Trans Musicales types probably weren't capable of getting it together enough to shop.
The shows take place in three massive metal sheds adjacent to Rennes's cargo airport. If the venue is a dreamscape, it's that of a brutalist architect
Share this article