Best of 2014: World Music |

reviews, news & interviews
Best of 2014: World Music
Best of 2014: World Music
Best of the year, quite a lot of which was by revolutionary women
Tuesday, 30 December 2014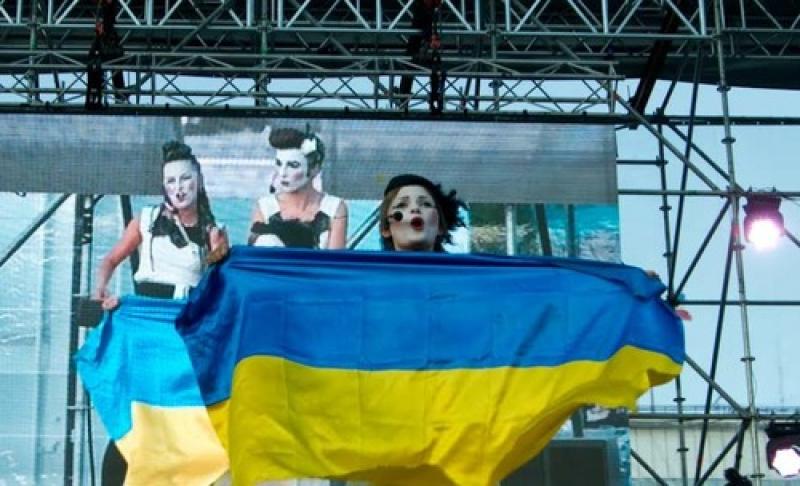 Some of Ukraine's seven-piece Dakh Daughters fly the flag
The most extraordinary bunch of global musicians I met this year were the groups who were singing on the barricades during the Ukrainian Revolution on the Maidan Square, foremost among them the all-female Dakh Daughters, who describe themselves as "freak cabaret". The video below is well worth a look as they sing in front of massed ranks of police and army to an exhilarated crowd (the music comes in after five minutes):
The band grab lyrics wherever they can – one of their hits "The Rose of Donbass" uses as a chorus a Shakespeare sonnet "Roses have thorns, and silver fountains mud" and, although written before the revolution, references the eastern city that has been a hotbed of seperatists. The other Kiev band who were astonishing were Dakha Brakha, who stunned everyone at this year's WOMAD in Charlton Park.
This year was a great one for global female singers finding a powerful voice – among them Karol Conka, who made a startling debut and made her way in the macho world of Brazilian hip-hop.
Aziza Brahim was born in the Polisario refugee camps of Algeria and now lives in Barcelona, but her sense of rage and sorrow and sheer musiciality came through both live and on record, as in her track "Julud", below:
On the same label, Glitterbeat, which won the WOMEX Award for being the most innovative world music label of the year, is the Mauritanian singer Noura Mint Seymali, singing "Tzenni", below:
Meanwhile, Susheela Raman produced one her most ambitious records based on pagan mythology, although the album wasn't properly released in the UK and USA – it mixed Qawaali Sufi music with folk tunes and rocking Afro-beat, as on this track "Sharabi", which means "Alcoholic":
Some of the top women of the year were not originally so, such as the outspoken transexual star from Angola called Titica, who carried on exploring the explosive dance music genre of kaduro.
The Colombian-based musician Quantic had a cracker of a year with several great tracks including this one, "Descarga Cuantica":

Other top releases were the garifuna singer Aurelio's brilliantly produced Landini, master kora player Toumani Diabate's album with his son Sidiki, and new Afro-Brazilian music from Meta Meta, who were amazing live. Real World put out a comprehensive box set of their best music and the Rough Guides put out some brilliant compilations such as their Rough Guide to Psychedelic Cambodia. Quite a lot of this was played on theartsdesk's radio show. And just for something different, how about a killer version of the rock dinosaur classic "Smoke on the Water" Azeri-style by Bizimkiler?:
Follow Peter Culshaw on Twitter
This year was a great one for global female singers finding a powerful voice – among them Karol Conka, who made a startling debut and made her way in the macho world of Brazilian hip-hop
Explore topics
Share this article