We'll Take Manhattan, BBC Four |

reviews, news & interviews
We'll Take Manhattan, BBC Four
We'll Take Manhattan, BBC Four
Exasperating attempt to redefine America's special relationship with Sixties' Britain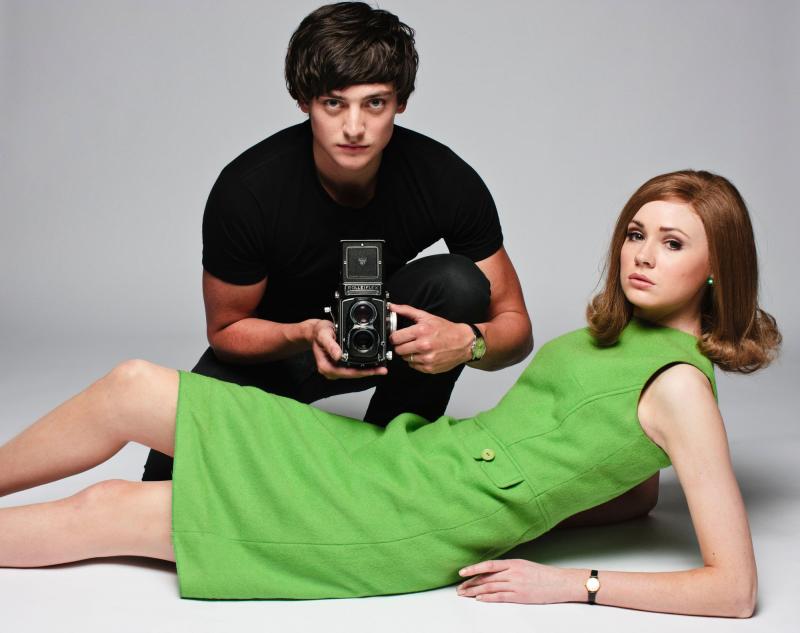 'We'll Take Manhattan': Karen Gillan as Jean Shrimpton and Aneurin Barnard as David Bailey
The Beatles's arrival on US TV screens in February 1964 is usually recognised as the beginning of the British Invasion of America. But this drama, focusing on chippy, upstart photographer David Bailey, his relationship with his chosen model Jean Shrimpton and their first shoot in Manhattan, floated the idea that their US visit in January 1962 was as pivotal as The Fabs's debut appearance on The Ed Sullivan Show.
We'll Take Manhattan was significant for featuring Karen Gillan, now on her last lap in Doctor Who, in her first starring vehicle. The sense behind casting her was clear. Gillan worked as a model. She's no stranger to a short skirt. But unfortunately, We'll Take Manhattan was a misfire, hobbled by its lack of context, too-broad nods to other TV shows and Aneurin Barnard's cartoonish David Bailey, styled as cross between Libertines' Peter Doherty and Carl Barât.
Bailey and Shrimpton were fresh air, unlike the drama's Mad Men-indebted New York and its New Yorkers. Consequently, leaving London by plane from Manhattan smacked of Pan Am. Although perhaps inevitable, the shadows these high-gloss productions cast over We'll Take Manhattan were unavoidable.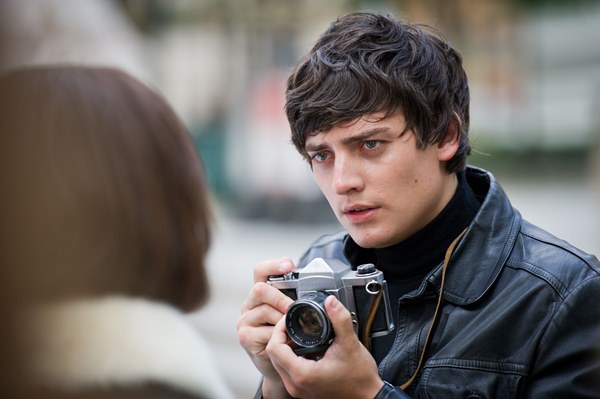 There's no doubt that Bailey – that's "Bailey" – reconfigured British fashion photography (pictured right, Aneurin Barnard as David Bailey). His shots of Jean Shrimpton showcased a new type of model, naturalistic and at odds with the be-gloved debutantes woodenly clogging up the pages of Queen, Harper's and Vogue's UK edition. The Bailey/Shrimpton Vogue Manhattan shoot, seen in an April 1962 issue under the banner Young Idea Goes West, was quickly recognised as important. Bailey himself compiled the photographs as a book in 2007.
A Home Counties girl, Shrimpton wasn't an obvious mould-breaker. She had had a spell at the Lucie Clayton Charm Academy, a finishing school adept at turning out gels fitting the deb template. It was also a modelling agency. Bailey was London through-and-through and worked as a photographer's assistant. Desperate to strike out on his own, he began jobbing. He first worked with Shrimpton for Brides magazine and they were soon an item, although he was married. His shots of her attracted the attention of UK Vogue and Bailey leveraged the opportunity for all it was worth.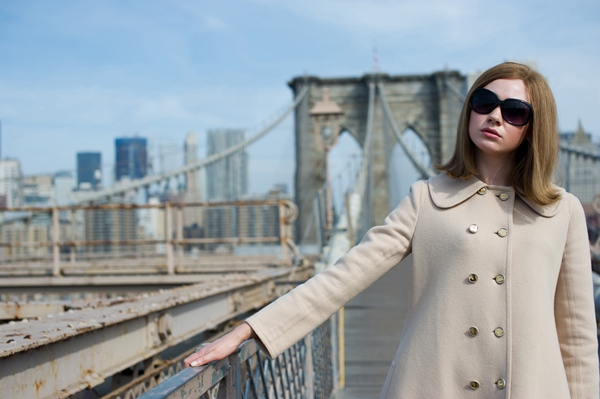 So much for the narrative, which We'll Take Manhattan faithfully followed whatever the interpretation of the impact of the events dramatised. There were light moments, but overall, the tone was shrill, defined by Barnard's Bailey. Shrimpton observing her pre-Bailey boyfriend lighting up a pipe with her dad and realising they were both essentially the same was heavy-handed, but still funny (pictured left, Karen Gillan as Jean Shrimpton). Opening with Bailey scthooping a posh-girl model said more about his character than any lines could.
Gillan, though, was hard to read. A largely blank canvas, she was at one with what a model should be. A manqué. The scenes of her modelling rang true, with Gillan clearly at ease. The Manhattan shoots were similarly convincing, with the original pictures recreated. Once Bailey entered the picture, Shrimpton was out the door of the family home and soon on his doorstep. Gillan's interaction with other characters was stilted, halting. That might be in keeping with Shrimpton's nature, not a repartee machine but a model who retreated from the spotlight after appearing in the 1967 film Privilege. Gillan probably got it right but, ultimately, We'll Take Manhattan didn't reveal whether she has depths.
Barnard's Bailey was forceful, and little else. US Vogue editor Diana Vreeland certainly said of Bailey and Shrimpton that "they are adorable", proclaiming "England has arrived". Her enthusiasm may have evaporated if she'd had to deal with this Bailey on a daily basis. That task fell to UK Vogue's Lady Clare Rendlesham, played with well-defined brittleness by Helen McCrory (pictured below right, Helen McCrory as Lady Clare Rendlesham, taking another tongue lashing from Barnard's David Bailey). Bailey harangued her non stop, banging on about her being out of time, yesterday's papers. He was crude, too. His bon mots aimed at Shrimpton included referencing a pearl necklace and spreading her legs. He ordered egg and chips in a Manhattan diner yet bandied the names of such American photographers as Avedon. Did he want to take on the British establishment or play at being American?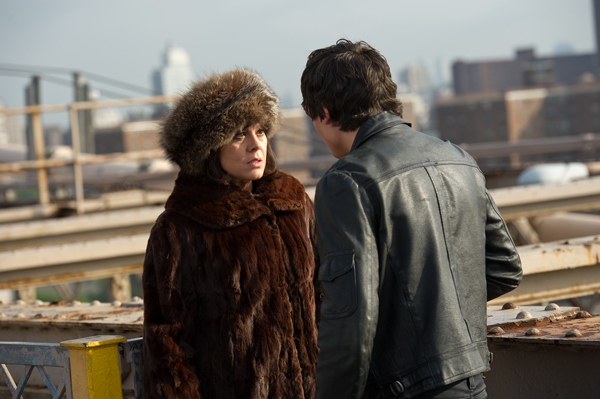 McCrory's battered Rendlesham wanted him sacked, but she was overruled by the UK's top brass. Fashion has to move on and - in real life - she later did, to Queen. Bailey and Shrimpton helped define a new era, one that sidelined the likes of Rendlesham. But Britain was a minor concern for America in the wake of the Bailey/Shrimpton Vogue hitting the shops in April 1962. America had to wait until 1964 before it began being swamped by cheeky mop-topped, mini-skirted Brits.
It wasn't We'll Take Manhattan's only problem with time. The Beatles's debut single "Love Me Do" was heard at the end of the programme as they returned to the UK after the shoot. That was in January 1962. The record was released the following October. The Beatles-soundtracked Bailey said the Sixties was going to be a good decade for jazz. Using his dismissal of The Beatles to say he wasn't hip was foolish and anachronistic. It was an idiotic dig – irrespective of the fact that the record hadn't yet been made, hardly anyone outside Liverpool had heard of the Beatles in early 1962. And it was a good decade for jazz.
Gillan appears to embrace this world more succesfully. She's done a shoot with Bailey for Vogue and has said Shrimpton told her that We'll Take Manhattan was accurate. Ninety minutes in the company of this Bailey was more than enough. Perhaps the real thing was less grating than We'll Take Manhattan's David Bailey.
Watch Jean Shrimpton on What's my Line, broadcast 4 June 1967
'We'll Take Manhattan' was a misfire, hobbled by its lack of context and Aneurin Barnard's cartoonish David Bailey
Share this article