Edinburgh Festival 2018 review: Aimard, SCO, Pintscher - psychedelic visions |

reviews, news & interviews
Edinburgh Festival 2018 review: Aimard, SCO, Pintscher - psychedelic visions
Edinburgh Festival 2018 review: Aimard, SCO, Pintscher - psychedelic visions
Two dazzling Messiaen performances from the composer's piano protégé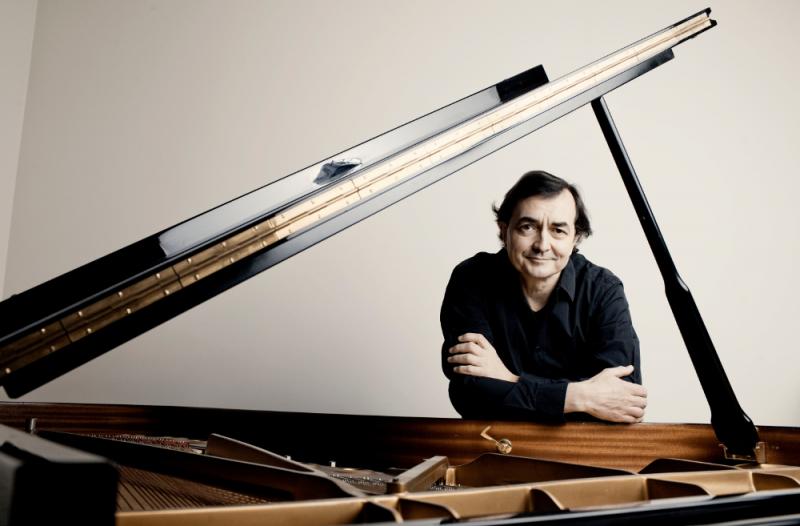 Balance and delicacy: Pierre-Laurent Aimard was nuanced amid the tumultuous power in two concerts of Messiaen
There were two immediate casualties at Pierre-Laurent Aimard's high-energy account of Messiaen's monumental Des canyons aux étoiles… with the Scottish Chamber Orchestra at the Edinburgh International Festival.
First was one of the strings in the Usher Hall's Steinway grand, which finally gave way during the piece's eighth movement. Well, it had been given really quite a pounding by Aimard, and went on to emit a prepared piano-like buzzing rattle until the end of the piece. Second – less crucially – was the handle of the percussion section's wind machine, cranked so furiously to conjure Messiaen's evocations of the US landscape that it thumped to the floor and required careful winding back on.
That's not to suggest, however, that this was an insensitively brutal, violent performance. It was undeniably forceful, but its remarkable intensity felt entirely put to service in peering beyond the music, reaching far and hard – and sometimes beyond ideas of conventional politeness – to capture glimpses of Messiaen's psychedelic visions.
And there are plenty of visions (and psychedelia, too) in Messiaen's 90-minute, kaleidoscopic, mosaic-like meditation on the Utah landscape, its abundant birdlife, the colours of its rocks and its wide-open heavens, and even its calls out into space – to the stars and planets, or to the inhabitants of heaven, or probably both.
Yes, Des canyons is full of Messiaen's trademark kaleidoscopic mysticism, his chattering cacophonies of birdsong, his idiosyncratic, monumental textures. But it's also one of his most user-friendly, evocative works – and Aimard and the SCO gave it just the majestic, no-holds-barred performance it needs to truly shine.
Aimard himself attacked Messiaen's fistfuls of notes with astonishing power, filling the hall especially in the work's two solo-piano movements. But what was really remarkable was his balance and delicacy, even when firing on all cylinders – voicings in Messiaen's artificially harmonised birdsong were exquisite, and there was a granitic clarity to the composer's dazzling harmonies.
But Messiaen being Messiaen, and less never possibly being more, Aimard was joined by three additional soloists. Alec Frank-Gemmill – the SCO's principal horn as well as a noted soloist in his own right – shone brightly in the work's horn solos, negotiating Messiaen's strange extended techniques effortlessly, even if his rubato threatened to rob the composer's additive rhythms of their off-kilter beauty. Bence Major was an exuberant xylorimba-ist, clattering away with brilliant definition in the relentless birdsong, and Noè Rodrigo Gisbert on glockenspiel made some beautiful subtle, supple contributions to the meditative slow movement, "Les ressuscités et le chant de l'étoile Aldébaran".
Under composer and conductor Matthias Pintscher (pictured right, photo from Ensemble Intercontemporain), the SCO gave a brilliantly confident, commited account, occasionally a little rough around the edges in terms of ensemble, but full of vigourous enthusiasm nonetheless. Pintscher, too, was naturally responsive to the work's theatricality, pushing on when things heated up, allowing air and space for Messiaen's majestic chorales to achieve their full grandeur.
It was a breathtaking experience – one that might not have drawn the festival's biggest audience. It was an appreciative crowd nonetheless, and even drew on-stage thanks from Pintscher for its attentive listening. For 90 minutes, it felt like a group of strangers had become a community (or maybe a congregation?) to open themselves to Messiaen's wonders. And wonders were just what they experienced.
Aimard had begun his three-concert International Festival residency the previous Monday, with a wide-ranging, sumptuously perfumed recital blurring boundaries between Scriabin, Debussy, Messiaen, little-known Russian mystic Nikolay Obukhov and – well, Chopin, who felt like the odd man out, but was dispatched with no less conviction for that.
And Aimard finished back at the Queen's Hall at the end of the week, in a tumultuous two-piano recital with his on- and off-stage partner Tamara Stefanovich that culminated with another Messiaen monument, Visions de l'Amen (well, what else?). Messiaen conceived the work for himself and his own partner Yvonne Loriod to play, reserving the meaty themes and structurally vital stuff for himself, and giving Loriod the frilly, florid birdsong and bell-like cascades of colour harmonies. Well, it was 1943. Aimard and Stefanovich maintained the male/female division of parts – but they delivered a profoundly questioning, at times light-footed account that was a long way from the rugged monumentality of Messiaen and Loriod's recordings.
The scampering jazzy dance in the fifth movement, "Amen des anges, des saints, du chant des oiseaux", for example, had a wide-eyed naivety, and their "Amen du désir" seemed to summon just that, although there was perhaps a little too much well-behaved self-restraint at its orgasmic climax.
But, as in Des canyons, what really impressed was both players' sense of balance, blend and voicing, even in the loudest, most extrovert passages: melodic lines shone through, arcane harmonies dazzled like stained-glass windows, thumped bass clusters filled the hall like drums or gongs. The concluding "Amen de la consummation" built the ecstasy ever higher, and the audience leapt to its feet in response.
Aimard attacked Messiaen's fistfuls of notes with astonishing power
rating
Explore topics
Share this article