Take Me to the World: A Sondheim 90th Birthday Celebration, Broadway com/YouTube review - slick, often sombre, but when funny, hilarious |

reviews, news & interviews
Take Me to the World: A Sondheim 90th Birthday Celebration, Broadway.com/YouTube review - slick, often sombre, but when funny, hilarious
Take Me to the World: A Sondheim 90th Birthday Celebration, Broadway.com/YouTube review - slick, often sombre, but when funny, hilarious
A host of Broadway stars varies the strain in classily done from-home gala
Lounging in their bathrobes: Audra McDonald, Meryl Streep and Christine Baranski drink to Steve
Maybe you can't compare incomparables, but it was instructive to watch this Broadway lockdown gala feting nonagenarian Stephen Sondheim a night after the Metropolitan Opera's galaxy of stars welcoming us into their homes.
More slick, no doubt (once it started, an hour late), with all the accompaniments clearly heard and sassily done, equally blissful in its funny spots, but somehow less warm and spontaneous-seeming: odd that many of those opera singers on Saturday came across as more companionable than some of the more self-regarding or intense
show folk
here. But again, carping is unfair: this, too, was for a good cause, an even better one in fact, the charity Americans Striving To End Poverty.
Organised by the evening's award-winning music director, Mary-Mitchell Campbell, and Juilliard students, ASTEP "connects performing and visual artists with youth from underserved communities in the US and around the world to awaken their imaginations, foster critical thinking, and help them break the cycle of poverty." One of its protegees, Priyanka from India who was lodging in New York with (I think) Campbell and will return to her country to share the skills she's acquired, actually gave the most affecting "performance" of the evening, a brilliantly articulate speech which none of the more soulful star turns could quite equal.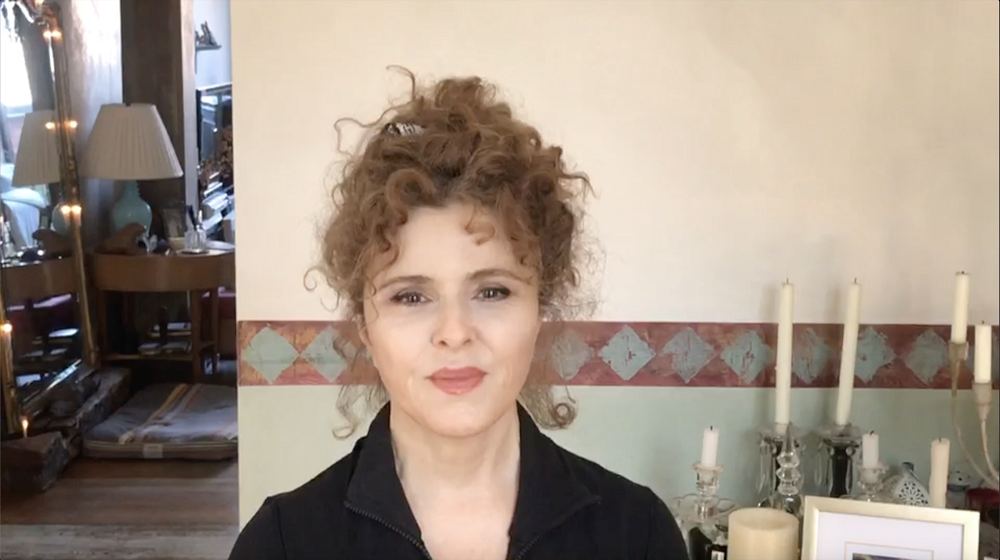 Most of those were strange and interesting rather than directly moving, including, at the top of the showbiz tree, unaccompanied renditions by Bernadette Peters (of "No-One is Alone" from Into the Woods, pictured above) and Mandy Patinkin (appropriately outdoors for Sunday in the Park With George's "Lesson #8"). Those two singular slices of music-theatre had the lion's share of the performances, in numbers which because of the through-composed nature of the beasts are at best only semi-detachable. But Melissa Errico was spellbinding direct-to-camera in Sunday's "Children and Art" and Neil Patrick Harris (pictured below) gave the first of several sex-change specials, counter-intuitively low key but brilliant with facial contortions in the Witch's Rap, the two kids he has with husband David Burtka putting in a charming appearance. Kudos, too, to the Trump troll in excelsis Randy Rainbow for appropriating Mrs Lovett's "By the Sea" from Sweeney Todd with a few social-distancing references (the state of the times otherwise not often cited).
The one major strand that single-handedly changed my mind about the set-piece in question was the oriental quartet of Ann Harada, Austin Ku, Kelvin Moon Loh and Thom Sesma in "Someone in a Tree" from Pacific Overtures. Sondheim writes in his first volume of musical self-analysis Finishing the Hat that "when I'm asked to name my favourite song of those I've written, an understandable but unanswerable request, I often proffer this one," and I can understand why: the minimalism that would become mannered in Sunday in the Park with George is fresh and spellbinding here. More thoughts on time and mortality co-existed with the patter in Elizabeth Stanley's note-perfect performance of "The Miller's Son" from A Little Night Music.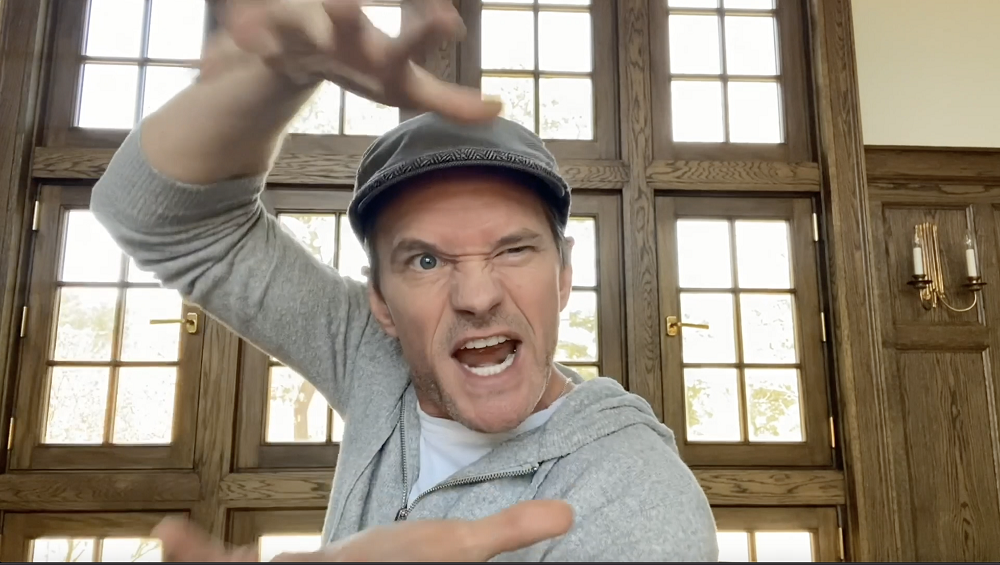 In terms of laugh-out-loud funny, there were three palpable hits: obviously the peerless Christine Baranski, Audra McDonald and Meryl Streep declaiming Company's "The Ladies Who Lunch" in bathrobes rather than kaftans, with plenty of booze as props; charmingly, 82-year old Linda Lavin reprising the hilarious song she first performed in The Mad Show, the Astrud Gilberto spoof "The Boy From..." (words by Sondheim, music by Mary Rodgers with no apologies to "The Girl from Ipanema"); and most unexpectedly (for me) Alexander Gemignani, looking more like the sound engineer but using hands, expressive face and swivelling chair to somehow pull off "Buddy's Blues" from Follies sitting, if not at all still. Nathan Lane gave the funniest speech, deadpan in his sadness that an "unsung genius" was at last getting the gala he deserved.
Veterans - some singing, some not - contrasted with relatively new faces on the scene, all very good at playing to camera and following Maria Friedman's advice to "sit in the work" and let it do the talking; was there a guiding hand here from director Paul Wontorek? Another point of contact with the Met gala was the wealth of bright young women/sopranos on the scene. So the future is bright for Sondheim's legacy, though there was a painful reminder in the streaming's taking place on the 50th anniversary of Company's premiere; Marianne Elliott's brilliant gender-swapping production of that work should have opened last month.
Let's just hope there are enough theatres still going after this catastrophe to get bums back on seats and these masterpieces back in their rightful places, communicating so vividly to a responsive audience that gives back as good as it gets. Meanwhile top UK Sondheimite performers need to do their own 90th birthday homage like this: so, Rosalie Craig, Janie Dee, Jenna Russell, Imelda Staunton, Michael Ball, Damien Humbley, Peter Forbes, Jonathan Bailey (to name but a few), how about it?
Watch Christine Baranski, Audra McDonald and Meryl Streep in 'The Ladies Who Lunch'