Best of 2022: Dance
Best of 2022: Dance
It might not be business as usual, but memorable work has come through
Passing fancy: Yuki Sugiura and Daria Stanciulescu of Birmingham Royal Ballet in 'The Seventh Symphony'
Come the end of the year, the ritual glance over the shoulder, what we crave is celebration – this year of all years. "Look, we have come through!" is what we all want to hear from arts practitioners who took such a battering in the previous one.
And it would be possible, just about, for this article to take that tone. The big ballet companies – paddling furiously beneath the surface – have for the most part kept up an impression of business as usual. There was ambition, if not wholesale success, in two big three-act creations in the first half of the year: Tamara Rojo's Florence Nightingale-inspired version of Raymonda, for ENB, and Christopher Wheeldon's unwieldy adaptation of the Mexican hit novel Like Water For Chocolate for the Royal. On more solid ground, the Royal Ballet staged a magnificent first revival of its refurbished Swan Lake, and later a wondrously detailed Mayerling, equally grand in scale. On both latter occasions, the fine playing of the House orchestra was key, despite drastic changes in the employment security of many of its musicians. Why is this relevant? Because even a back-desk violinist is part of the wider ecology of dance, and that eco-system remains imperilled at every level. Don't even ask about the small-scale companies that have simply disappeared.
Post-lockdown recovery is only part of the story. The UK dance landscape is still coming to terms with Brexit. As a receiving house, Sadler's Wells is no longer an inevitable port of call for every major contemporary-dance company in Europe. It's the long-established names that make it through: our critic David Nice was pleasurably baffled by Teresa de Keersmaeker's Bach-in-the-dark Goldberg Variations in the summer, and earlier the Pina Bausch company brought us Kontakthof, a work from the late Seventies whose revival was almost certainly prompted by a curiosity to see what new resonances it might have acquired after two pandemic years of no kontakt.
Sadler's most memorable offer from overseas was also from the Pina Bausch back-catalogue. This was her landmark Rite of Spring, unusually performed by 36 dancers (pictured above) assembled from 14 African countries. "How would you dance if you knew you were about to die?" was the question the choreographer had posed to her own dancers back in 1975. And that visceral immediacy came through vividly in this world-touring show staged by École des Sables, based in Senegal.
Exactly what special quality the pan-African dancers brought to the piece was hard to pinpoint. It wasn't only the ferocity of execution or their physical magnificence. What made them revelatory was the hot-blooded throb of the drama they enacted, releasing Rite from the frozen north of its Russian origins to render it universal. What's more, for a predominantly white audience, there was an unmistakable low hum of post-colonial guilt as the scenario unfolded. What was once a distant, archaic fable came sharply into focus: the bullied and the bullies, the victim and the mob.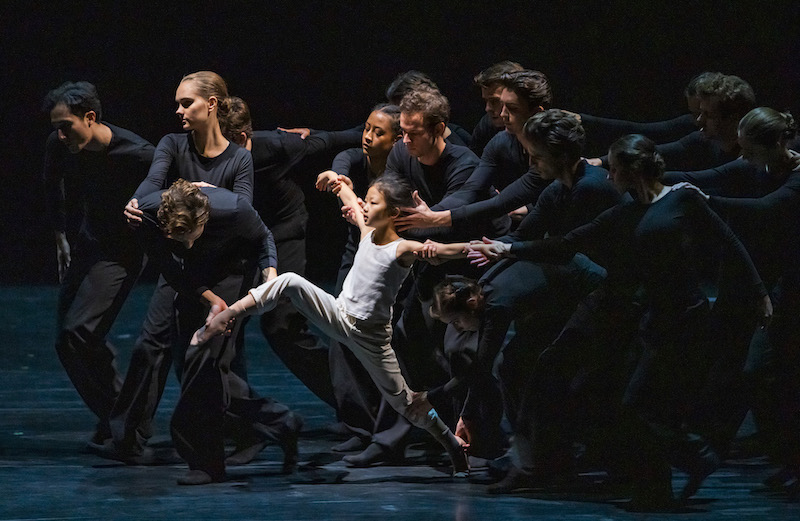 More evidence of the ability of dance to tackle meaty topics came from the Canadian choreographer Crystal Pite. Five years ago her 25-minute piece Flight Pattern – a comment on the global refugee crisis – was a left-field box-office hit for the Royal Ballet, and this year she expanded it to make a full evening work, Light of Passage, using all three movements of Henryk Gorecki's Symphony of Sorrowful Songs. Any fear of a full evening's gloom and doom was swiftly blown away by a luminous new section (pictured above) addressing the UN Convention on the Rights of the Child. This featured six very young children, angelic in white, who were guided, supported and generally dance-enabled by black-clad members of the Royal Ballet. Along with a final section dealing with what Pite called "the ultimate border crossing", featuring two silver-haired elders, it made sense of the work's over-arching title. This was serious, thought-provoking work that dared you to suppose that ballet could ever be anything less than serious. At the same time it delivered eyefuls of glorious synchronised movement that left you both wrung out and uplifted.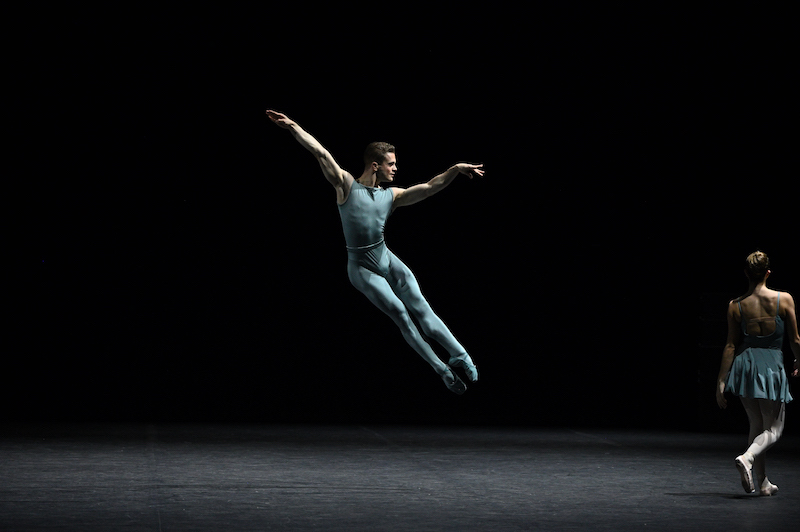 Elsewhere, triple and mixed bills supplied nuggets of brilliance. English National Ballet struck gold with William Forsythe's Blake Works I (pictured above), a confection of pure fun and fizz which set ultra-formal ballet steps to the disco ballads of James Blake. Birmingham Royal Ballet made an important discovery in the work of the late and prolific Uwe Scholz, whose Seventh Symphony (Beethoven's of course, main picture) provided a stunning showcase for the Brum company's talent in depth and breadth. Astonishingly, BRB's artistic director, Carlos Acosta, still finds time to head up his own-brand company, Acosta Danza, which recently upped sticks from its sunny base in Havana, Cuba and relocated to unsunny east London. On the strength of 100% Cuban, the mixed bill it showed at Sadler's Wells in early 2022, and the new short commute, I trust it won't be too long before we're once more invited to bask in its 100% positivity. We'll surely need it.