Berlinale 2020: Never Rarely Sometimes Always review - raw and unflinching abortion drama hits home |

reviews, news & interviews
Berlinale 2020: Never Rarely Sometimes Always review - raw and unflinching abortion drama hits home
Berlinale 2020: Never Rarely Sometimes Always review - raw and unflinching abortion drama hits home
Plus Abel Ferrara's Jungian nightmare and Decker's shrieking 'Shirley'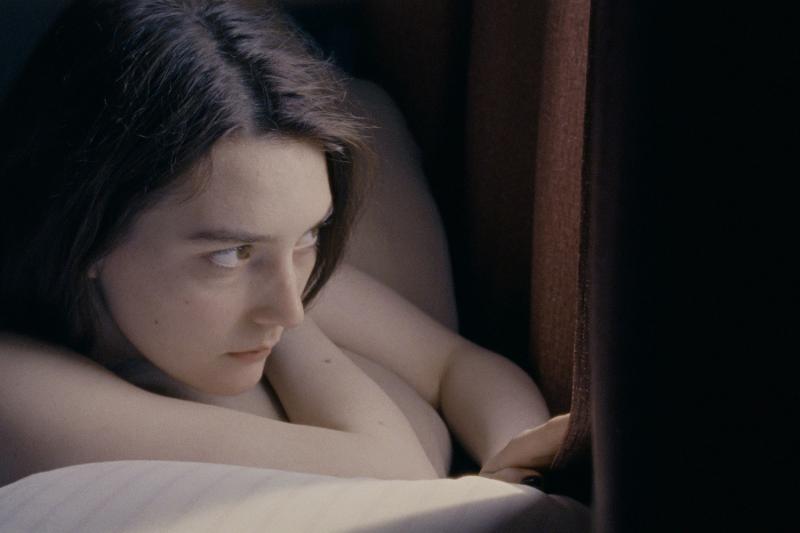 Back in 2017, writer-director Eliza Hittman won over audiences with her beautiful coming-of-age drama Beach Rats.
Her latest film,
Never Rarely Sometimes Always
, is a more quietly devastating drama, shifting the focus away from sexual awakenings to a more
politically
charged arena.
Autumn (newcomer Sidney Flanigan) first appears as your average sullen 17-year-old of few words, living in a tightknit Pennsylvania town. Then we realise that her silence might have a reason. Jocks at a school talent show taunt her with cries of 'slut!' Her parents ignore this, just as they ignore her. Autumn's only companion is her cousin, Skylar (Talia Ryder) who she works with at a local grocery store.
As a gentle bulge appears on her stomach, Autumn realises that she needs to visit the local clinic. She's met by seemingly benevolent nurses and doctors, but underneath their sweet demeanour, their attitudes towards abortion become all too clear. Too far gone to get an abortion under state law, she and Skylar pack their bags and head to New York. Once in the city, she hopes that the procedure can be carried out quickly, but it proves to be complicated.
Hittman is economic with dialogue and plot details, and avoids any form of sensationalism, relying instead on the brilliant work of Flanigan and Ryder, both of whom give outstanding performances. Hittman tackles tough, thorny subject matter, and explores it with astounding levels of empathy.
Once in New York it's clear that these youngsters are holding on by a wing and prayer to make it through the ordeal. Autumn doesn't speak much. She either can't or doesn't want to put words to what she's going through. Her relationship with Skylar exists beyond speech, their closeness perhaps due to unspoken shared experiences. Skylar diligently lugs around their suitcase, while Autumn looks after the little cash they have, and the pair keep pushing forward. Their relationship is instinctual; both are survivalists due to circumstance.
The reason for the film's title becomes devastatingly clear but, to feel its full force, is best viewed cold. What's clear is that Hittman is a master of dramatic effect, crafting a film that will no doubt resonate with many - and that's the real tragedy.


Siberia * * *
Naked dwarfs, flayed penises, and huskies abound in Abel Ferrara and Willem Dafoe's most recent - and certainly most surreal - collaboration, Siberia.
A strange and discombobulating experience, the film follows the story of a loner, Clint (Dafoe), who is living in self-imposed exile in an artic wilderness running a bar, and suffering from a profound existential crisis.
Dafoe and Ferrara's collaborations, which now count six films, have produced an intriguing, sometimes frustrating body of work. Ranging from the much-maligned cyberpunk thriller New Rose Hotel to the quasi-biopic Pasolini, you could never accuse the duo of being unwilling to take risks.
Siberia is no different, being a woozy, Jungian nightmare. Over the course of two hours we gaze on, sometimes with bafflement, as Clint travels from his remote shack to sun-scorched deserts and back again. During this dream-like walk he encounters the ghost of his dead father (also played by Dafoe), then seeks advice from a warlock (Simon McBurney), and confronts a diabolical host of demons. Then he is accosted by memories of his ex-wife, but before that he's mounted by his mother. It's enough to give a psychoanalyst a breakdown.
Fortunately, Clint isn't alone amid all this chaos. He's accompanied by a pack of loyal huskies, one of whom in a hilarious action shot, echoes the same levels of confusion that audiences are likely to experience.
There's little doubt that the screenplay, co-written with Ferrara's long time collaborator Christ Zois, mines the director's own psyche. Watching on, you're left unsure whether to laugh or cry, leaving you in a state of nervous excitement for much of the film.
Clint has feverish dream dialogues with his inner-self. He watches prisoners being executed and cremated to the sound of death metal. At one point he connects with his inner child whilst dancing around a maypole to Del Shannon's 'Runaway'.
For some audiences, this psychedelic trip might seem overly-indulgent on the director's part. But it's undeniably a thought-provoking cinematic experiment that is as bizarre as it is fascinating.


Shirley * *
Josephine Decker's shrieking biopic of Shirley Jackson, starring Elizabeth Moss, is a disappointing reflection on one of America's most fascinating writers.
Sarah Gubbin's screenplay is based on 'Shirley: A Novel' by Susan Scarf Merrell. Like the book, known details of Jackson's life are weaved with a fictionalised account of a young couple that move into the Vermont home that Jackson shares with her domineering husband and fellow writer, Stanley Edgar Hyman.
Jackson has recently found success with her short story 'The Lottery', following its publication in the New Yorker. As well as fame it has also earned her a degree of notoriety among her husband's colleagues at the local college. Her increasingly reclusive behaviour has only added to the gossip. When newlyweds Fred (Logan Lerman) and Rose (Odessa Young) move in, they are exposed to the couple's toxic relationship. However, as time progresses, Rose provides Jackson with new-found confidence to return to writing.
There's no denying the intellectual bite of the set-up, after all, the acclaimed book it's based on is terrific. But married to Decker's over-blown expressionistic style and Sturla Brandth Grovlen's hazy camera work, the viewer is left disorientated, frustrated and above all exhausted. It's all so heightened. The endless blurring of shots may seek to replicate Jackson's fraying mental state, but it's no pleasure to watch.
There's a touch of the demonic to Moss's performance, but it's overwrought to the point of pantomime - you half expect her to don a pointy hat as she clacks away on her Royal typewriter by the light of the silver moon. (Jackson did once describe herself as a "practising amateur witch"… but still).
The same can be said of Michael Stuhlbarg's performance as Hyman, which is so arch it could support a bridge. Lerman is underused, with only Young (who is the real lead), proving herself above the material.
There are moments between Moss and Young that capture something of the depressing state of affairs for women in 1950s America. Both of their husbands have significant weaknesses and show no desire to correct them. Jackson and Mary are labelled mad because they refuse to conform to the standards and expectations of the chauvinist society that they daily battle. On this point at least Decker strikes a chord, but surrounded by so many bum notes, its power is muted.
In recent years, Jackson has undergone a minor revival, in part due to Netflix's recent adaptation of The Haunting Of Hill House, alongside a slew of biographies including the excellent, 'A Rather Haunted Life'. Sadly, Decker's film is overloaded with style while lacking cohesion and substance. In the process, it fails to satisfactorily capture the author's life or even provide an engrossing drama.
Hittman is a master of dramatic effect, crafting a film that will no doubt resonate with many - and that's the real tragedy
rating
Explore topics
Share this article