Bohemian Rhapsody review – all surface, no soul |

reviews, news & interviews
Bohemian Rhapsody review – all surface, no soul
Bohemian Rhapsody review – all surface, no soul
Malek's star performance fails to save a clichéd script and characterless direction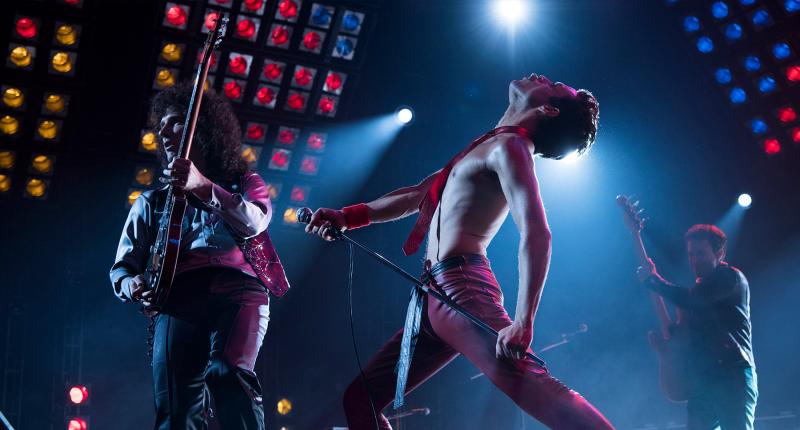 Rami Malek shines as an uncanny Freddie Mercury
If a Queen biopic called for drama, scandal and outrage, then Bohemian Rhapsody spent its fill in production.
Several Freddies had been and gone, rumours swirling about meddling
band
members, and then
director
Bryan Singer's assault accusations caught up with him. In a way, it's impressive the film came out so coherent. However, coherence does not mean it's good. Is the film as bad as some are making out? Well, yes and no.
We meet Freddie Mercury (Rami Malek, completely at one with the great one) working at Heathrow Airport, all buck teeth and flamboyant outfits. But he's not yet the confident figurehead he will become, avoiding eye contact and unconvincingly batting away racial abuse. He heads out to see Brian May and Roger Taylor's band Smile, who have just happened to lose their singer. And so starts the first of a thousand eye rolls. After trying to sell his frontman skills in the car park, he breaks into song and the other two join in unrehearsed three-part harmony. What a coincidence!
The major failing of Bohemian Rhapsody is its script. It plays like Queen fanfiction; it has one vision and it wants it all. So desperate is it to hit every major high, that all logic is thrown from the window. Within a flash, the band is recording major singles and touring the world. Every scene has to carry major importance in their career – even sweet moments between Freddie and his long-time friend/fiancé Mary Austin (Lucy Boynton) shoehorn in "Bohemian Rhapsody" chords or the band securing an America tour. By trying to fit the entire story into its runtime, each song or iconic moment needs a cute forced origin. And when Mike Myers turns up to claim no one will head bang in their car to "Bohemian Rhapsody", I know I'll never retrieve my retinas from my skull.
According to Sacha Baron Cohen (who was originally slated to play Mercury), Brian May and Roger Taylor wanted the film to continue after Freddie's death to demonstrate the band's lasting appeal. That must have been a very different script, because there's not enough personality between the three other band members to create a single character. May, Taylor and John Deacon are only there to serve the story. Freddie is even nice enough to spell as much out in case you missed it, explaining he argues with one, is musically challenged by another, while the other just smiles.
However, the actors portraying the band perform admirably, no more so than the remarkable Remi Malek. At times he's the spit of Freddie, perfectly encapsulating his irresistible showmanship, and self-destructive tendencies. He's never given time to explore his relationships with other characters, but still shows a flamboyancy that's build on insecurity and loneliness. In a stronger film, the Academy talk would carry legs.
The film manages to capture some of the band's personality when it slows down. The Night At The Opera recording is an extended sequence at Rockfield Studios. Here we're allowed to see some band dynamics and studio exploration, and it becomes a joy to watch. But in no time, we're on the road again hitting every milestone, and everyone has to explain the plot to keep you up to speed.
In Bohemian Rhapsody's climax, the band play their legendary Live Aid set, which the film recreates in full. It was here that the goosebumps force their way up. They feel unearned, preceded by so much insincerity. Is it just the memory of such a magic moment, hijacked by the film? Possibly, but seeing that crowd sing along to "We Are The Champions" with Malek is a kind of magic on its own. And that's what makes Bohemian Rhapsody such a shame. When it's good, it's very good, but when it's bad, it's near unwatchable. It's polished, inauthentic, sanitised, and plays like a 130-minute trailer. Forget sex, drugs and rock and roll – there's one pill and two pecks on the lips. It's a Queen biopic for people who don't really like Queen. It's the Paul Rodgers + Queen of Freddie Mercury movies, and this story deserved better.
It's polished, inauthentic, sanitised, and plays like a 130-minute trailer
rating
Explore topics
Share this article