Filmmaker Frank Marshall: 'People don't understand what geniuses The Bee Gees were' |

reviews, news & interviews
Filmmaker Frank Marshall: 'People don't understand what geniuses The Bee Gees were'
Filmmaker Frank Marshall: 'People don't understand what geniuses The Bee Gees were'
Director of the new Bee Gees documentary discusses the brothers' legacy in music
Tuesday, 08 December 2020
The brothers Gibb: Maurice, Barry and Robin
Frank Marshall might not be the biggest household name, but his footprint on Hollywood is unrivalled. He has produced hits ranging from Indiana Jones and Back to the Future to Jason Bourne and Jurassic World. He also takes occasional forays into directing, such as the madcap Arachnophobia and cannibalistic rugby tale Alive.
Who better then to chart the career of
The Bee Gees
, a band far more influential than ever given credit for?
How Can You Mend a Broken Heart is a top-tier music documentary, filled with world tours, lost demos and family drama. Marshall expertly balances the band's history with the wider cultural context, and you'd be hard pushed finding a stronger back catalogue to explore. From "Massachusetts" to "Tragedy", or "To Love Somebody" to "Chain Reaction", even the most ardent music fan would be forgiven for forgetting how many hits the Gibbs wrote.
To find out how the project came together, theartsdesk's Owen Richards spoke with Frank Marshall (pictured below) ahead of release.
OWEN RICHARDS: What was it about The Bee Gees' story that tempted you back into the director's chair?
FRANK MARSHALL: It was really because it was a family story. I grew up in a musical family; my dad was a composer, producer and guitar player, and he was under contract to Capitol Records.
There were a lot of things in common with The Bee Gees. I'm also the oldest, I have younger brothers, so there's the same family dynamic. We tried and failed miserably as kids to have our own band, so I kind of wanted to explore that and see what made them tick.
That comes across in the film. There's a really nice balance between the detail of their songwriting and recording, and the focus on their personal relationships. What was your approach when choosing what to focus on with their story?
It's really different with a documentary that you kind of discover as you're going along. We focused on some stuff and then I would throw it out, as opposed to my day job when everything's on a page and we know exactly what we're doing every day. I never knew, we just progressed from interview to interview, and we'd go down a different road. We kind of knew the centre points of the story, but I didn't really realise for example the depth of their songwriting.
I also wanted to understand how the harmonies came together. Was that on purpose? Did they have vocal teachers? Did they have a music instructor? No, it was all natural. They listened to The Everly Brothers and the Mills Brothers, but I guess Robin and Barry would sing and Maurice would just drop in that third-part harmony. That's incredibly difficult. Where's that come from? It was natural.
I wanted it to be an authentic story, and really celebrate their legacy.
It's amazing really that with such an incredible back catalogue, they've not really been covered in retrospectives to the same extent as other artists with the same pedigree. Why do you think that is?
Well, I think the incredible success of Saturday Night Fever made people think that they were kind of lightweight. But they weren't, they were heavyweight.
But Fever was such a huge success, people didn't understand that they wrote songs before that and after that. People freak out that they wrote "Islands in the Stream", they think it was Kenny Rogers or Dolly Parton, or they don't know that "Guilty" wasn't written by Barbra Streisand. It's so surprising, and that shows the depth of their creativity and artistry. I'm hoping to introduce and reintroduce people to their music.
How much did you know beforehand?
I didn't know much, to be honest. I mean, I knew their music, and obviously I was at Paramount in the 70s and I knew how crazy it was when that soundtrack became the number one-selling soundtrack in the music business. Having grown up in it, I went "What is that? Really, it's a movie with a TV star?" But the songs are so good.
And then to discover how casual and different that was – they didn't write the songs for the movie! How crazy is that? It's those little discoveries that you get to make as a documentary filmmaker that I really love.
Did your own personal perception and appraisal of the band change as you made the film?
Yeah, absolutely. I used to watch my dad write and he'd spend a lot of time on it. The process was much different than hearing Barry say "well, we sat on the steps and in 10 minutes we had the song for 'Mining Disaster'." I went "don't tell anybody that!", and he said "well, it just came out."
It was so natural for them, and Barry was a collaborator. Yeah, he's the older brother but Maurice didn't just play the keyboards and Robin didn't just sing, they wrote as well. It was that collaboration and that generosity, that Barry had to let them all in (probably because they're all brothers), that's why they survived.
That's what's amazing in the film, seeing them in the studio working on songs like "Tragedy". You'd think songs that perfect must have one person calling the shots. I didn't expect it to be so democratic.
And how about he says to the keyboardist Blue Weaver "oh, play that thing" and Blue starts playing that riff, and he says "oh yeah, let's use that". It's like what?!
That iconic sound comes from nowhere and now it's part of history.
Yeah, it's one of my favourite cuts where "Tragedy" hits and the billboard hits. You just remember those arrangements, that's genius. People don't understand what geniuses they were. They were incredibly gifted.
So, what was it like as a filmmaker getting to play with those songs? I love the way they jump between the demos and full hits, mixed with footage from the time.
It was incredibly exciting. I had two great editors and an amazing support team. And thank god for the internet! Because now you can find stuff quickly. In the old days you could never find all this stuff. I'd just say, "I want another photo. I don't just want the three of them looking at the camera." Two days later, they'd be like, "how about this one?". "Oh yeah!"
We were talking to Blue and he says "I used to tape sessions on this cassette player because I couldn't remember the chords or what we were doing." And I said, "You don't still have those, do you?!" And he said, "you know, I might have them," and in a shoebox somewhere in his garage, he found those tapes. So we have those moments of creativity that are golden. That's the exciting part about making the doc.
What was it like getting some of the contributors? Because you get some great insights from contemporary artists like Mark Ronson and Justin Timberlake. Was it an easy sell?
Absolutely. It was not hard at all. I expected people to be unsure, but they all wanted to do it. They all wanted in. Justin Timberlake cancelled a load of stuff to do the interview. Who gets to talk to those guys? But they all wanted to because they were so influenced and they realised how brilliant their stuff was. It was an amazing experience talking to them, but they all wanted in. Who gets to talk to Eric Clapton? It's pretty cool.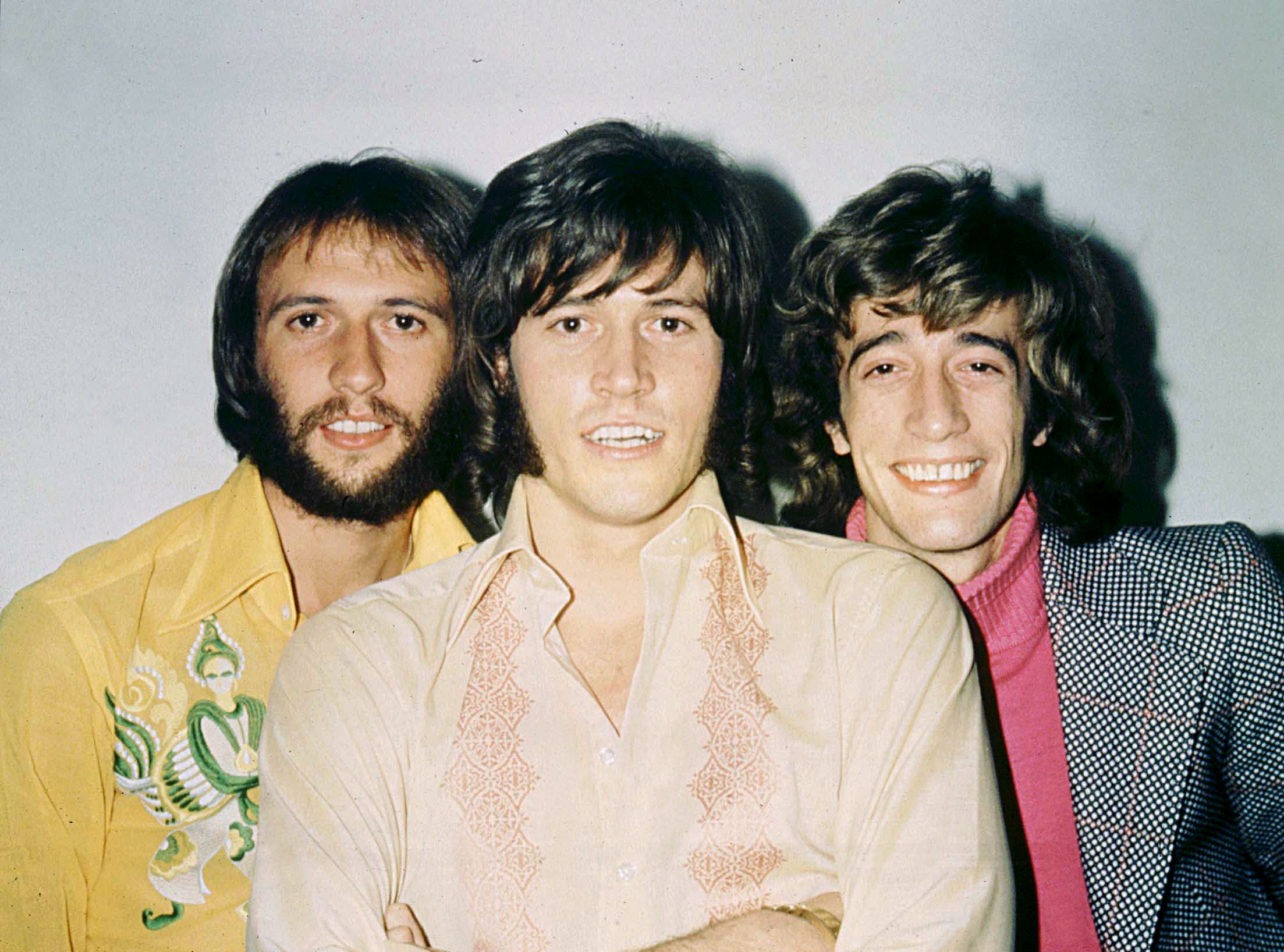 I was so happy you included the footage of Barry Gibb at Glastonbury at the end, because I was there and it was amazing seeing all those people show their love. It was almost like Barry himself hadn't realised how much his music means to people.
That's true, and that was really his coming out party. You can understand that after the tragedy of losing all the brothers, it wore him down. He was very sad, he missed his brothers, and this was him blossoming out and remembering, giving to those people and enjoying the love coming back from Glastonbury.
I was so happy I got to put it in the movie because he's back. He's celebrated, and he should be celebrated. It's life and it's so hard when you've had that kind of success and connection to people as a family. They were a wonderful family. It was their childhood dream to be together, and now they're gone. But he's not looking back now, he is back.
And in a way that music is his connection back to his family...
Yes, and I think telling the stories was like a reawakening for him. He was so generous and humble and reflective on what had happened and how he saw it. Like he said, "these are just my memories, but I need to get them down." I am so honoured to be able to tell that story.
Do you hope that this film will be part of a reappraisal of The Bee Gees' place in music?
I do, I really do. I hope people realise how brilliant they were, and what an impact they had on popular music and other artists.
The Bee Gees: How Can You Mend a Broken Heart is on Sky Documentaries 13 December and available on DVD and Digital Download 14 December
It was that collaboration and that generosity, that Barry had to let them all in... that's why they survived
Explore topics
Share this article