Francofonia |

reviews, news & interviews
Francofonia
Francofonia
Profound insights: the Louvre opens its doors to Russian director Alexander Sokurov
The Russian director Alexander Sokurov has never been afraid of tackling weighty, often philosophical issues head on, and his latest film Francofonia is as pioneering – and, some might say, unnecessarily uncompromising – as ever. It's nothing less than a meditation on civilisation, its potential for preservation or destruction, and history, seen through the prism of Paris's Louvre. Stretching, and evading, the conventions of both documentary and fiction, it's perhaps best considered as an art project in itself.
Sokurov's cinematic fascination with the museum as a concept stretches back to his remarkable 2002 Russian Ark, a single-take engagement, at just over an hour and a half, with 300 years of Russian history that was filmed in the Hermitage in St Petersburg. Technically ground-breaking, it brought to the fore the interrelationship between the museum as a repository of history, and as a space in itself, in which history unfolds. (Interestingly, it seems to have spawned a new sub-species of cinema – from Johannes Holzhausen's The Great Museum to Frederick Wiseman's National Gallery – investigating the museum as an entity in itself, with all its various accretions of cultural and human history.)
It feels too much like a metaphor imposed from outside
The Louvre duly followed the Hermitage in opening its doors, developing the programme "Louvre Invites Filmmakers" which sought "unusual, non-institutional views of the building, the collections, and the institution itself", which made Sokurov's appearance there completely natural. Francofonia is certainly "non-institutional", mixing as it does an eclectic variety of elements. Its most direct level involves dramatic reconstruction of the life of the Louvre during wartime German occupation of Paris, and a story concentrating on the relationship between its then director, Jacques Jaujard (played here by Louis-Do de Lencquesaing), and the German officer Count Wolff Metternich (Benjamin Utzerath) who was the Nazi cultural overseer for France.
Beginning as formal, distant players on opposing sides, these two highly cultured contemporaries somehow become united by a shared determination to secure the Louvre's collection. Shortly before the outbreak of war, everything except some sculpture had been evacuated into storage in chateaux cellars around France, and ultimately it was in no small part Metternich's achievement that so little was removed as trophy plunder to Germany.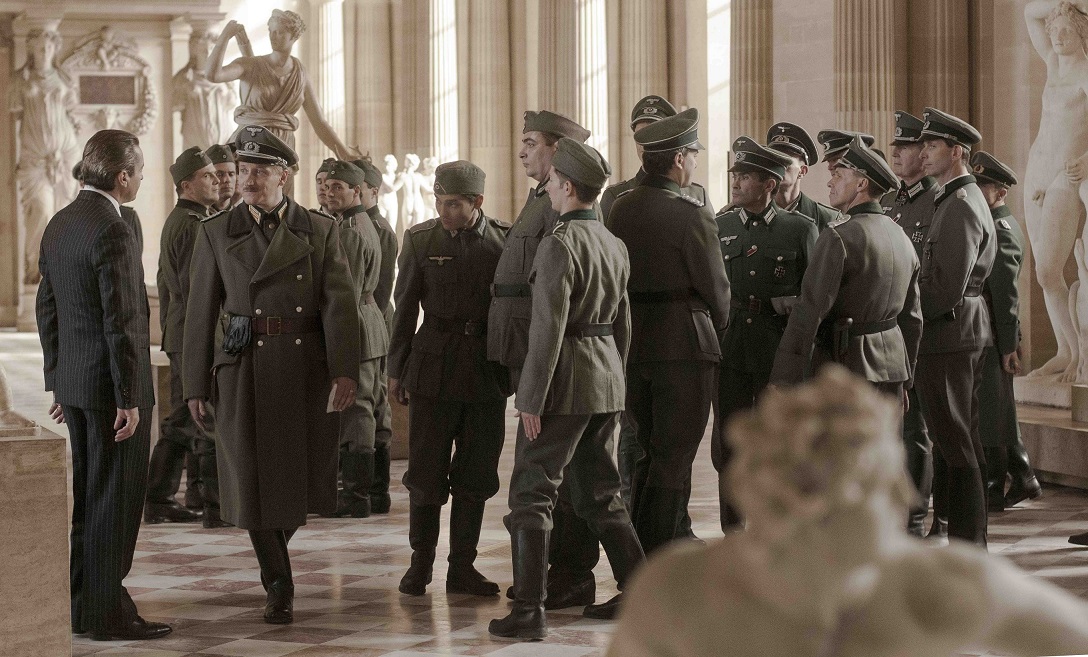 Those two historical figures, living in their clearly defined moment, are joined by another couple, less directly but somehow more organically connected to locus. Stalking the museum's halls Sokurov gives us the memorable pairing of the Emperor Napoleon (Vincent Nemeth) – responsible, of course, for much of the enlargement of the Louvre's collection, as well as its establishment as a public gallery – intoning periodically "C'est moi"; and the tricolour personification of France herself, Marianne (Johanna Korthals Altes), visually appropriated from Delacroix's Liberty Leading the People, with her chant of Liberté, égalité, fraternité. In one scene, the two of them ponder the Mona Lisa: not the least advantage of having unfettered, after-hours access to a great space like this is the chance to see it without any other visitors. (Pictured below left: Johanna Korthals Altes, Vincent Nemeth.)
As the film's narrator, Sokurov is himself – literally – caught up in both strands: he is equally observer, the eye of the camera if you like, and participant, engaged in dialogue with the characters, as well as with the space itself, the works in its collection, and its history. He creates the story that tells us how it all started, how the building grew and its galleries developed, all illustrated through depictions of that process in works of art from the collection itself.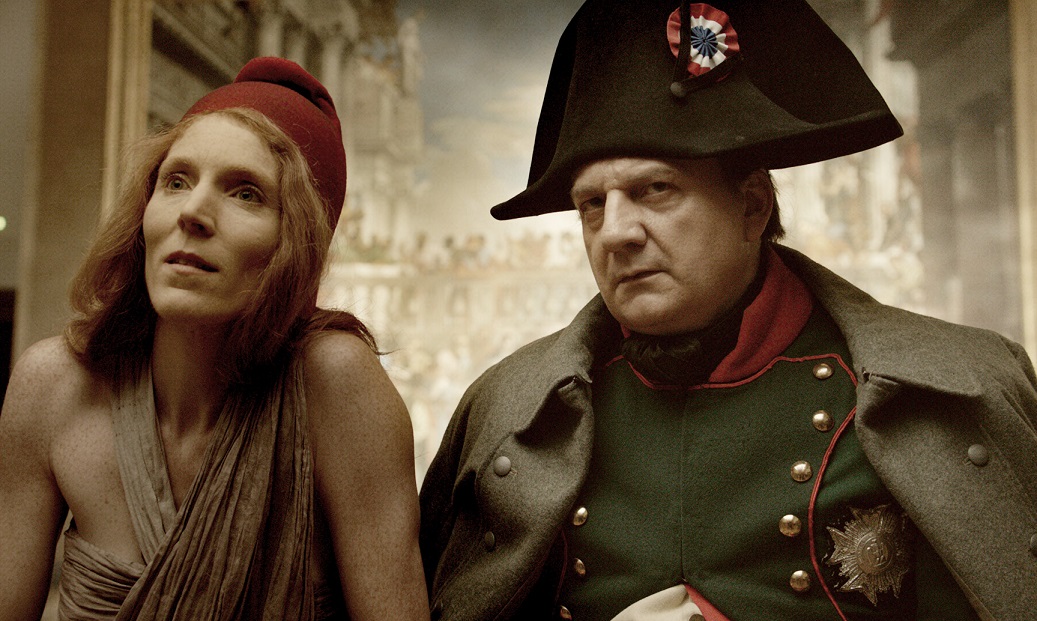 He also weaves in a third truly varied element, best described as philosophical meditation, which is by some distance the hardest thing to describe about Francofonia. It ranges from invocations to the icons of Sokurov's own cultural world such as Tolstoy and Chekhov, to a digression on the very different wartime fate of the director's home city, St. Petersburg/Leningrad. The wartime devastation wrought by the Nazis on their Eastern front is set against the apparent tranquillity – although it is very much a selective tranquillity, from which many of the actualities of the time (most acutely, the fate of France's Jewish population) have been banished – with which Paris engaged with her occupiers.
And behind that is Sokurov's most abstract concern of all, his meditation on the fragility of civilisation – our culture, in the broadest sense – in history. To convey this he introduces himself in his everyday life: we see the director in his study, engaged in a film project, as well as in skype conversations with a friend, the captain of an ocean-going container ship that is transporting, among other things, items from a museum collection, through a perilously stormy sea.
Literally, as we see huge waves break over the bow of the vessel, this cultural freight is at risk (it's symbolically linked to Géricault's The Raft of the Medusa, too). It's a rich mix, but this last element is somehow the least persuasive: or rather, it demands a total commitment, on Sokurov's terms alone, which viewers may not be ready to make. It feels too much like a metaphor imposed from outside on the structure of an already heterogenous film, making it solipsistic almost to the point of pretension.
The variety of technical forms that Sokurov and his cinematographer Bruno Delbonnel employ is every bit as diverse, but the result there is endlessly fascinating: the textures and hues, patinaed or distressed with age, sound strips and other elements left visible – it all comprises a work of art in itself. It's a visually sombre film, combining pellucid black and white archive footage of Paris of the period with human encounters filmed in faded, treated colours. Murat Kabadokov's score is, if anything, even more impressive: it rumbles richly throughout the film before dominating its final minutes – there are no end-credits where we would expect them – with a demonic riff on the Soviet (now Russian, too) national anthem. Mannerism seems the right term: if on the visual and audio side, Francofonia's experiments in that direction never tire, the same cannot always be said of the content. A curio, albeit a fascinating one.
Overleaf: watch the trailer for Francofonia