Mosul, Netflix review - gruelling story of Iraq's Nineveh SWAT team |

reviews, news & interviews
Mosul, Netflix review - gruelling story of Iraq's Nineveh SWAT team
Mosul, Netflix review - gruelling story of Iraq's Nineveh SWAT team
Close-up view of the brutal battle against Islamic State
Saturday, 12 December 2020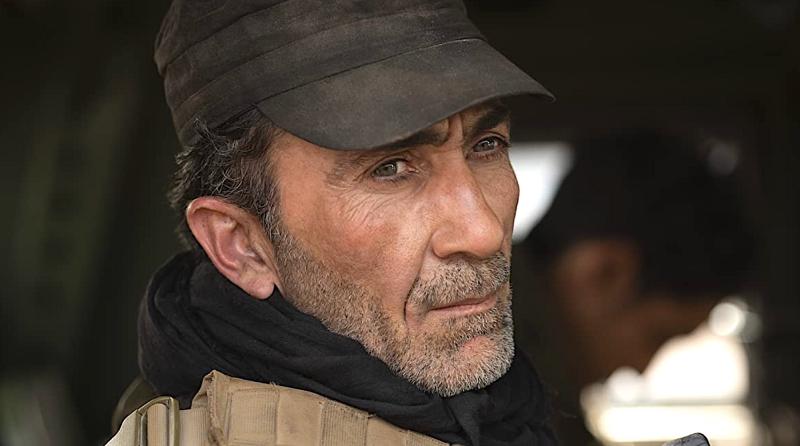 Formidable: Suhail Dabbach as Major Jasem
It may seem incongruous that a factually-based film about Iraqis battling against murderous Islamic State invaders should have been produced by the Russo brothers, famous for Marvel's Avengers and Captain America blockbusters.
However, Hollywood giganticism is happily absent, and
Mosul
(
Netflix
) is a claustrophobically intense battlefield movie which also throws some penetrating light on the terrible costs borne by the long-suffering Iraqis.
Writer/director
Matthew Michael Carnahan has crafted a spare and purposeful narrative in which character and incident are allowed to tell their own story without heavy-handed editorialising.
The action opens with a small group of Iraqi policemen besieged by ISIS gunmen, whose frenzied attacks have steadily whittled down the defenders, who are almost out of ammunition. Just as the end seems nigh, the attackers are suddenly silenced by bursts of heavy automatic fire. The two surviving policemen then find themselves face to face with their rescuers, the totemic Nineveh SWAT team (pictured below), whose relentless efforts against Islamic State have earned them an almost supernatural reputation.
The film is an account of the team's determination to complete an unspecified mission, one which is so important to them that they've defied orders from their headquarters and gone rogue. They're led by Major Jasem (Suhail Dabbach), a former homicide detective whose formidable leadership abilities have given the squad its purpose and shaped its collective identity. Like most of his men, Jasem has had his family slaughtered by the invaders, including a brother beheaded on video, and their response has been a scorched-earth determination to drive out IS (or Daesh, as they call them) or die trying.
Having saved the two cops, Jasem invites 21-year-old rookie Kawa (Adam Bessa) to join them, since his uncle has just been killed in the gun-battle, and we learn about the Nineveh team as Kawa experiences his own ferocious learning curve. As they proceed through a shattered landscape of destroyed buildings, wrecked vehicles, refugees and bloodied corpses, they have to cope with snipers, enemy drones loaded with explosives and suicide attacks. They feel the full horror of hidden booby traps. Director of photography Mauro Fiore earns his spurs for some scintillating work with close-in, handheld cameras, lending the combat scenes a palpitating air of panic and claustrophobia. The impact of grenades and explosives is delivered with bowel-loosening force.
Kawa is initially squeamish about Jasem's uncompromising approach (he doesn't think twice about slitting the throats of a couple of Daesh captives), but after a couple of his own near-death experiences he begins to develop both a thick skin and a laser-like focus on getting a dirty job done. For all that, there's always a strong emotional pulse somewhere under the noise and the rubble.
The stone-faced Jasem reveals a human heart when the squad come across two young brothers pushing their father's body on a cart, and he manages to give one of them, at least, a shot at survival. "We can rebuild everything," he promises. "We just have to kill them all first." An encounter with the Iranian Colonel Afsahani (Waleed Elgadi), leading his own anti-Daesh group, prompts a fierce argument with Jasem and illustrates the scale of the task ahead. "You aren't a real country," sneers the Iranian. "You haven't been since Babylon."
The climactic scene, where we finally learn the purpose of Jasem's mission, cuts to the core of the Islamic State nightmare that had engulfed the city. This is an action movie with a brain, as well as a tribute to some heroic Iraqis little known to the wider world.