Munich: The Edge of War review - Jeremy Irons excels in a revisionist portrait of Neville Chamberlain |

reviews, news & interviews
Munich: The Edge of War review - Jeremy Irons excels in a revisionist portrait of Neville Chamberlain
Munich: The Edge of War review - Jeremy Irons excels in a revisionist portrait of Neville Chamberlain
Persuasive screen treatment of Robert Harris's historical novel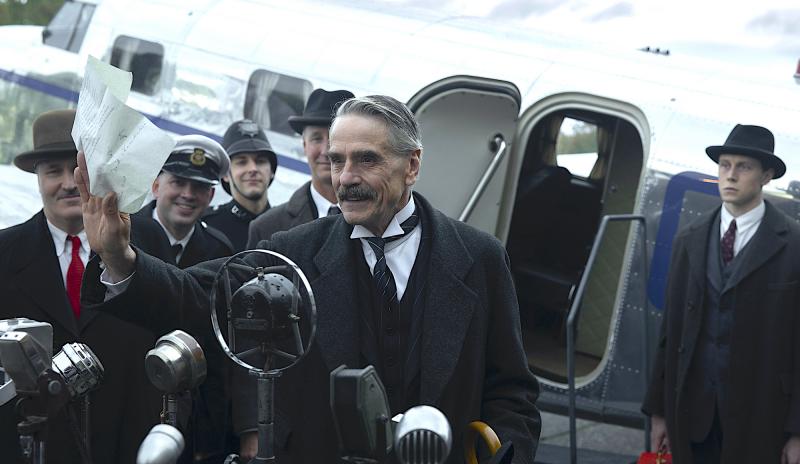 'Peace for our time'. Jeremy Irons as Neville Chamberlain
The name of Neville Chamberlain and the term "appeasement" have become indelibly linked, thanks to his efforts to accommodate Adolf Hitler's bellicose ambitions in the run-up to what became World War Two.
This film version of Robert Harris's novel Munich seeks to draw a more nuanced portrait of the British Prime Minister, putting the case that the agreement Chamberlain signed with Hitler in Munich in September 1938 delayed the outbreak of war long enough to allow Britain and her allies to prepare themselves for hostilities and eventually defeat Germany.
It's a thesis which might be deemed to view the unloved Chamberlain through rose-tinted spectacles. After he arrived back at Heston airport and waved his infamous piece of paper, claiming to have achieved "peace for our time", Winston Churchill declared that "you were given the choice between war and dishonour. You chose dishonour and you will have war." That's not quoted here, though (pictured below, George MacKay and Alex Jennings).
Nonetheless, German director Christian Schwochow (along with screenwriter Ben Power) has created a tense and atmospheric account of this fraught and fateful episode. It accumulates considerable power by keeping a tight focus on its core group of characters and doesn't waste its energy by trying to evoke panoramas of German military might, but carefully builds a menacing portrait of a Germany in thrall to the manic ambitions of the Fuhrer through measured attention to detail. Hitler's chief henchmen, including Göring and Himmler, make discreet appearances as part of his entourage, with Benito Mussolini on hand to bag himself a share of the spoils. The Munich to which Chamberlain and French Prime Minister Daladier travelled to sign the deal which handed the Sudetenland region of Czechoslovakia to Hitler on a plate – shamefully, the Czechs weren't allowed to join the discussions – is depicted as a cockpit of threatening swastika-waving Nazism, with the various components of the Third Reich strutting around in their black, brown or field grey uniforms.
Jeremy Irons may well find himself in gong country for his superb portrayal of Chamberlain, even if many observers may not agree with his personal assessment of the PM as "a great man". Chamberlain was probably a more capable politician than posterity has given him credit for, even if he wasn't the one the Munich moment required, and Irons catches his schoolmasterly old-world demeanour while also offering glimpses of a shrewder and more calculating player within. He gets a telling little monologue, while strolling in a misty early-morning garden in Downing Street, about how hideous memories of the carnage of the Great War have made him desperate to keep the peace and avoid further hostilities, which feels wholly plausible. As the action develops he proves himself able to react, albeit belatedly and within strict limitations, to evidence which shows that Hitler never had any intention of negotiating in good faith.
However, this is a dramatised alternative history rather than a factual account, and Harris spun his narrative around two friends from early-1930s Oxford University, Hugh Legat (George MacKay) and Paul von Hartman (Jannis Niewöhner). Von Hartman (based on the real-life anti-Hitler conspirator Adam von Trott) becomes a devoted enthusiast of Hitler's new Germany, but the brutal fate of his girlfriend Lenya (Liv Lisa Fries) turns him against the regime. With Legat and von Hartman employed by the respective foreign offices of Britain and Germany, the plot pivots on von Hartman's attempt to pass Legat a document – not unlike the factual "Hossbach Memorandum" – which details Hitler's true plans for a European war of conquest. A suspenseful game of cat-and-mouse ensues as the pair must elude Hitler's suspicious SS bodyguard Franz Sauer (August Inglourious Basterds Diehl, pictured above with Niewöhner) and penetrate the fusty phalanx of British bureaucrats surrounding Chamberlain.
There's flavoursome support from Alex Jennings as Sir Horace Wilson, Jessica Brown Findlay as Legat's wife Pamela, Robert Bathurst as Sir Nevile Henderson and Ulrich Matthes as a creepily sinister Hitler (Matthes played Joseph Goebbels in 2004's Downfall). This isn't the way it was, but the film persuades you that it could have been.
Munich: The Edge of War is in cinemas now and debuts on Netflix on 21 January