Murina review - her father, her jailer |

reviews, news & interviews
Murina review - her father, her jailer
Murina review - her father, her jailer
A Croatian teen fights patriarchal abuse in a nerve-jangling coming-of-age drama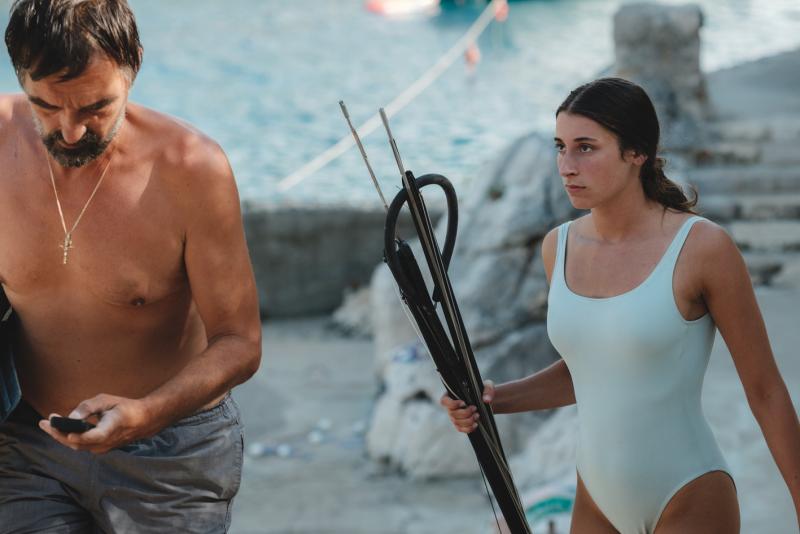 If looks could kill: Leon Lučev and Gracija Filipović as father and daughter in 'Murina'
Murina, the suspenseful first feature written and directed by the Croatian filmmaker Antoneta Alamat Kusijanoviće, depicts a cruel dance that three of the four participants can't or won't stop. Its instigator, a father and husband in thrall to his ruinous machismo, is clueless. The steps – based on love, desire, avarice, jealousy, manipulation and anger – make for a discomfiting coming-of-age drama that won the Camera d'Or at Cannes last year.
Filtered through the subjectivity of 17-year-old Julija (Gracija Filipović), as mettlesome as she is callow, this benighted waltz involves her tortured interactions with her father Ante (Leon Lučev), a poor, insecure bully; her pliant, unhappy mother, onetime beauty queen Nela (Danica Curcic); and Javier (Cliff Curtis), Ante's old friend and former boss, a suave, self-satisfied multi-millionaire, whom he has foolishly invited to visit them.
Ante thinks he can broker a deal to sell a nearby island to Javier; the commission, he believes, will enable him to move the family to Zagreb. Hosting a welcoming party for Javier and his entourage, ferried in from the tycoon's floating castle, Ante has Nela dress as eye candy and Julija spout a poem, all to sweeten the deal. The rebellious daughter disobligingly omits the verse extolling fatherhood.
A gradually unfolding back story – oddly similar to that of Robert Louis Stevenson's Kidnapped – reveals that, some 30 years earlier, Javier and Nela had been romantically involved, to what extent is unclear. However, she married Ante, who worked for Javier's family for 13 years until he was fired after making a mistake that cost seven men their lives. Ante has never recovered and is a failure. (Pictured below: Gracija Filipović and Danica Curcic)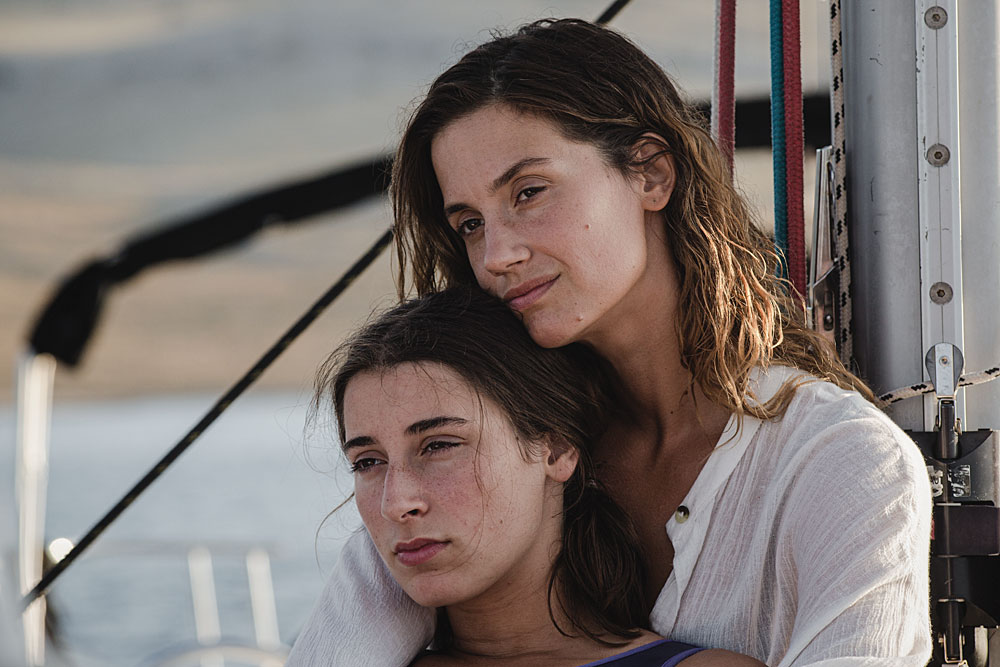 To spite Ante, who controls and relentlessly humiliates her, Julija wilfully informs him that Javier hasn't come to buy the island but to steal Nela away. Julija wants to go with them and encourages their flirtation, yet indicates she's sexually available to Javier. Because the performances are impressively ambiguous, it's unclear if Nela has any intention of leaving Ante, or why Javier – who sees more than the others – encourages Julija's attention. Patronising though he is, it's possible he's sincere in his advice she should "go to Harvard", even if he expresses her value to the college in appallingly sexist terms. If Julija throws herself at Javier, it's because he's her hated father's rival and her passport from her domestic misery. She's much more attracted to a boy her own age holidaying with his friends on a boat moored near her home and whom she spies on with binoculars.
That's not to say Kusijanoviće champions the female gaze – or does she? Sea worker Julija unselfconsciously wears one-piece swimsuits, on one occasion prompting a greying labourer who has done a job for Ante to rebuke her for "walking around like a tease", a remark, cravenly addressed to her parents, that says more about him than her. It seems surprising at first that Kusijanoviće and her cinematographer Hélène Louvart made shots that isolate Julija's bottom, crotch and an arched leg. A subsequent series of shots foreground Nela's naked breasts on the right of the frame as she stands changing and talking to Julija, who's in the centre background of the shot. At the time, Julija is encouraging Nela to use her "power" to get Javier to take her away from Ante, as she wishes she could herself.
None of these shots is erotic, but in bluntly presenting Julija and Nela's erogenous zones as the film's epicentres of sexuality, Kusijanoviće celebrates them as sources of strength, precisely what the labourer and Ante, as Julija's oppressive father, cannot handle. A male director and cinematographer could not get away with this, but Kusijanoviće is effectively saying, "Women are eros – deal with it'.
What does the sea signify in Murina? One doesn't have to be a semiologist to tell that the choppy blue Adriatic – from the opening shot of the shingled waters, anointed by ethereal music – is charged with meanings. The open water, it gradually becomes clear as Julija power-swims through it, represents the escape route she soon must take. The deep, meanwhile, suggests both Julija's entrapment and sexual vulnerability, as well as her unconscious desires.
Ante insists Julija go spear fishing with him every day to catch Moray eels (from the Latin, murena). These phallic creatures – encased in slimy skin that's poisonous in some species – are prized for their succulent chicken-like meat, which can leave the eater with neurological and gastrointestinal problems. Hello, toxic masculinity.
After father and daughter have boated to shore following the unsettling first underwater sequence, Julija glares with hatred at Ante behind his back (main picture). There are implications of worse abuse than his sneering at and eventually imprisoning her – as when he drags her onto a dance floor and suddenly hauls her onto a shoulder so he can pat her behind. (Pictured below: Cliff Curtis and Gracija Filipović)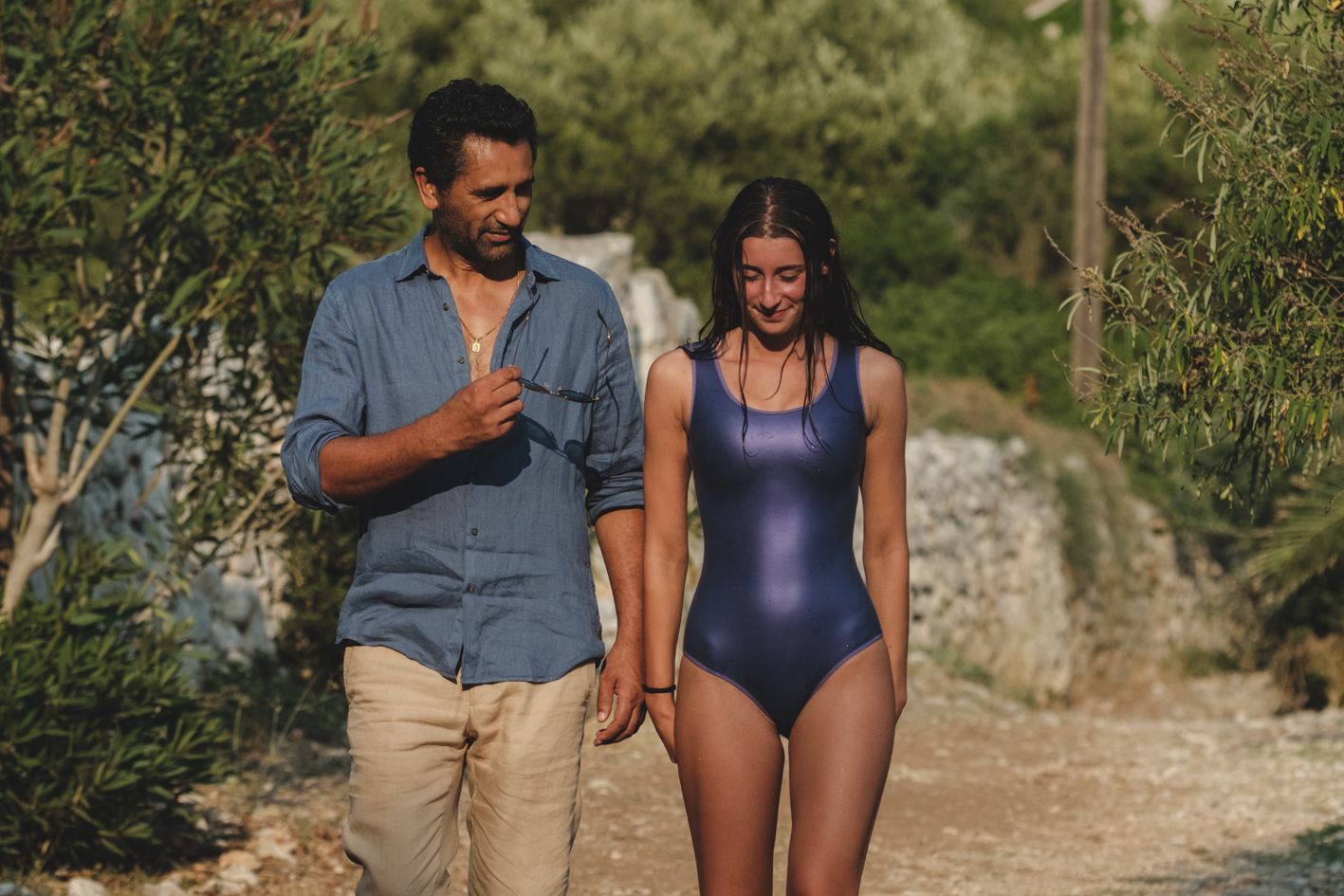 The initial shore scene is full of harbingers. Julija glances with disgust at a skewered eel in a pail, emblematic of Ante's later emotional emasculation by Javier. Julija also clutches spears, one of which she'll fire in anger at a non-eel. Kusijanoviće has suggested that the Moray eel, which will bite its own flesh to escape a fisherman, is a symbol for Julija.
She herself is left in no doubt of its other resonance when, surreptitiously digging around in Javier's briefcase, she pulls out a carving of an eel with a bell-shaped head. Julija's unfazed reaction to the objet d'art would seem to endorse feminists' enduring scorn for Freud's theory of penis envy, but what are we to make of her sketching it and casually handing the drawing to its smirking Alpha owner? It's moot if Kusijanoviće is overdoing the psychoanalysis here or having fun.
To her credit, the moment-by-moment tensions created by her storytelling mean neither symbols nor metaphors impede the movie's flow; mostly, they stay under the surface. Though Filipović performs physically demanding actions toward the end after Julija's surroundings change, the newcomer is an especially exciting discovery for the reticence, watchfulness and apparent dispassion she brings to the role as she carries the film. Hopefully, Kusijanoviće will direct her again.
The director Kusijanoviće is effectively saying, 'Women are eros - deal with it'
rating
Explore topics
Share this article