Operation Mincemeat review - Colin Firth and co practise the fine art of deception |

reviews, news & interviews
Operation Mincemeat review - Colin Firth and co practise the fine art of deception
Operation Mincemeat review - Colin Firth and co practise the fine art of deception
Lots of great performances in John Madden's World War Two subterfuge saga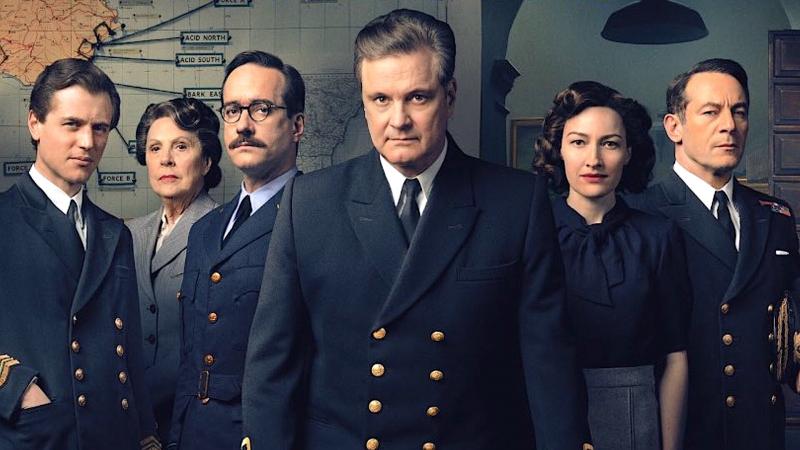 Battle stations for messrs Flynn, Wilton, Macfadyen, Firth, Macdonald and Isaacs
The story of the fictitious Major William Martin, whose waterlogged corpse washed up on the Spanish coast in 1943 bearing bogus documents designed to fool the Germans, was previously filmed in 1956 as The Man Who Never Was.
That version took a few liberties with the facts (not least a wholly invented episode with a pro-German Irish spy), but
Operation Mincemeat
,
directed
by John Madden and
based on
Ben Macintyre's book about the event, mostly plays it with a doggedly straight bat.
This is more of a behind-the-scenes howdunnit than a big-bang war movie, and could function credibly as a stage play. Michelle Ashford's screenplay affords scope for a cluster of strong performances. Colin Firth plays Naval intelligence officer Ewen Montagu, who together with Squadron Leader Charles Cholmondeley (Matthew Macfadyen) conceives the notion of using a dead man, supposedly killed in an air crash, to pass plans to the Germans suggesting that the Allies are about to land in Greece. This was to draw attention away from the real target, which was Sicily. Firth is in his finest Buttoned-Up British Chap mode, the scion of an aristocratic family and the acme of discretion (at least until 1953, when he would write the book The Man Who Never Was). Macfadyen's Cholmondeley, by contrast, is a little nerdier and more obsessive, but, spurred on by the death in action of his brother in India, makes major contributions to the creation of the "William Martin" character.
Wartime London is atmospherically evoked, with its air-raid precautions and streets peppered with a variety of uniforms, but with an urgent sense of purpose bubbling underneath. Within the secret corridors of Whitehall, Montagu's team pore obsessively over their task. Morale is boosted by the capable and energetic office manager Hester Leggett (Penelope Wilton), while Johnny Flynn plays Lt Commander Ian Fleming (yes, that one) while also supplying the voice-over that helps oil the wheels of the narrative.
On the scale of probability, Operation Mincemeat would rank somewhere between hare-brained and delusional, so it was fortunate that Winston Churchill – puckishly played here by a barely-recognisable Simon Russell Beale – found the riskiness of it irresistible. The sceptical viewpoint, on the other hand, is gruffly expressed by Rear Admiral John Godfrey (Jason Isaacs).
The scenes where the team are working up the back story of "William Martin" – his real identity was Glyndwr Michael, a tramp who died after eating rat poison – are some of the strongest, as they fuss forensically over the tiny details upon which the success of the mission will turn. They needed to settle on a name, a rank, and what unit he was attached to. Cholmondeley insists that his uniform must exhibit "the right patina of wear". What kind of letters, possessions or ticket stubs might be found in his pockets ("pocket litter", as it was known)?
One significant item was a photo of his girlfriend, "Pam". This is supplied by one of their office staff Jean Leslie (Kelly Macdonald, pictured above), and a whiff of melodrama seeps in when Leslie becomes part of a love-triangle subplot as Montagu and Cholmondeley vie for her affections. However, both of them are too excruciatingly reticent for this to progress very far.
Madden delves entertainingly into the furtive shenanigans on the Spanish side, and might profitably have done so at greater length. The British plan depended for its success on the Spanish authorities handing over Martin's documents to the Germans, so there's a spasm of panic when a sympathetic Spanish official wants to hand the documents straight back to the British Embassy. Some quick thinking, plus the administration of louche sexual favours, saves the day.
This is a solidly entertaining film liberally sprinkled with excellent performances, only let down by somehow never being quite as exciting as it ought to be. I'd give it three and a half stars, but theartsdesk's ratings system won't let me.
On the scale of probability, Operation Mincemeat would rank somewhere between hare-brained and delusional
rating
Explore topics
Share this article