The Seagull review - Chekhov classic gets the all-star treatment |

reviews, news & interviews
The Seagull review - Chekhov classic gets the all-star treatment
The Seagull review - Chekhov classic gets the all-star treatment
Annette Bening unleashes her inner diva as the latest screen Arkadina
Saturday, 08 September 2018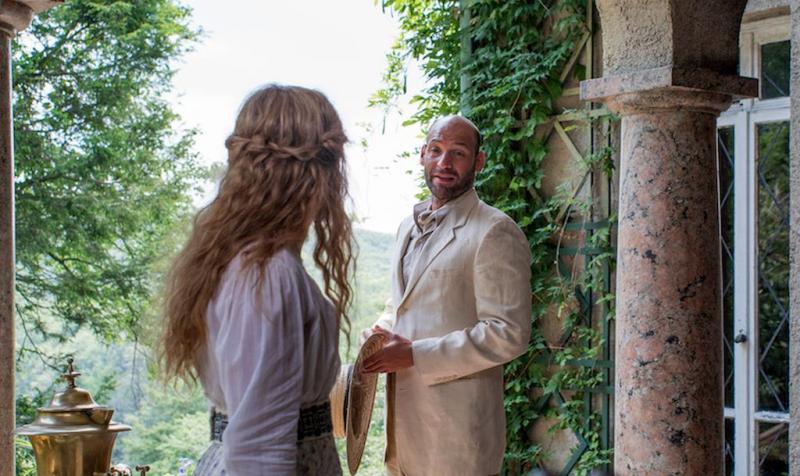 She is a seagull: Saoirse Ronan as Nina (left) opposite Corey Stoll in 'The Seagull'
A starry and mostly American cast does well by The Seagull, Chekhov's eternally moving portrait of egomania run wild and self-abasement turned tragically inward. Combining two major players from the New York theatre world in director Michael Mayer (London's Funny Girl, Broadway's Hedwig and the Angry Inch) with a Tony-winning adapter in The Humans' Stephen Karam, the film suffers only from an occasional literalmindedness that exists at odds with the multi-layered nuance of the source material. Still, Annette Bening in full flow is always worth one's attention, and a distinguished supporting cast for the most part matches her a large part of the way.
Karam's Broadway treatment of The Cherry Orchard (with Diane Lane in the lead) was fairly savagely dispatched last autumn, and his Seagull has similarly come in for some hard knocks that, to this observer at least, aren't altogether deserved. True to the emotional geometry of the play if sometimes inclined to underscore it too intently, this Seagull captures the cat's cradle of crossed affections that animates Chekhov's merciless portrait of vanity and ego and of a mother (Bening's Arkadina) who surely loves her son (Billy Howle's impressive Konstantin) even as she can't help wreaking havoc with both his professional and personal aspirations.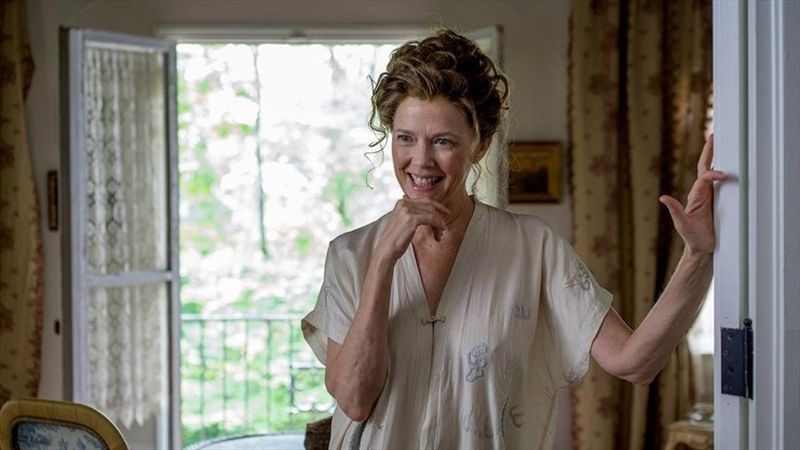 This version provides a prologue for Arkadina that find this vainglorious actress in her natural theatrical habitat, before the narrative of the play itself kicks in with the return to her brother Sorin's rural estate of Arkadina and her retinue, which includes the spineless if charismatic Trigorin. (In that crucial and difficult role, New York theatre regular Corey Stoll manages to be both imposing and weak, as required by the dictates of a plot that spans several years on the way to its tragic finish.) And whether revelling in the applause of her unseen audience or interrupting her son's play to proffer a deflating aspersion or two, Bening (pictured above) is in full command of the ever-mercurial Arkadina, a part this terrific actress should at some point revisit onstage; while we're at it, she'd be an excellent Ranevskaya, as well.
Funny and spiky (Bening gets a laugh proffering a nominal tip to the household help which, she announces, is to be shared three ways), her Arkadina captures better than most this mother's belated awareness of the the full damage being wrought on a hyper-sensitive son whom she both cossets and destroys. You feel at once her essential blindness to the reality of the scenario unfolding around her, alongside a slow-aborning realisation that her recklessness has consequences, for sure. Stoll's Trigorin, by contrast, knows that he is one of life's destroyers but carries on regardless, his psychic evisceration of Konstantin's beloved Nina (Saoirse Ronan) running in tandem with the imploding artistic despair of the young writer, Konstantin, doomed to exist on life's margins.
A name-heavy cast (a pragmatic Jon Tenney here, a tearful Mare Winningham there) includes Elisabeth Moss (pictured right) in terrific form as the mordantly funny, black-clad Masha, trapped in a marriage that roils her to the soul, and Brian Dennehy as the ailing Sorin, who at least is allowed to expire in something resembling the natural order of events: a luxury not always available to the younger generation around him. Amongst that blighted lot, I expected rather more from Ronan's Nina, the self-described seagull of the title, who seems hampered by an American accent that never sounds as lived-in as the one this three-time Oscar nominee assumed so well for Lady Bird. That said, this Seagull compels and wounds as it must and ends with the requisite moment of hinted-at recognition as Arkadina and co get on with life, even as they exist forever to be shadowed by death.
Overleaf: watch the preview for The Seagull