A Thousand and One review - fighting the system in 1990s New York |

reviews, news & interviews
A Thousand and One review - fighting the system in 1990s New York
A Thousand and One review - fighting the system in 1990s New York
AV Rockwell's beautifully crafted first feature captures the struggles of a black woman determined to make a family life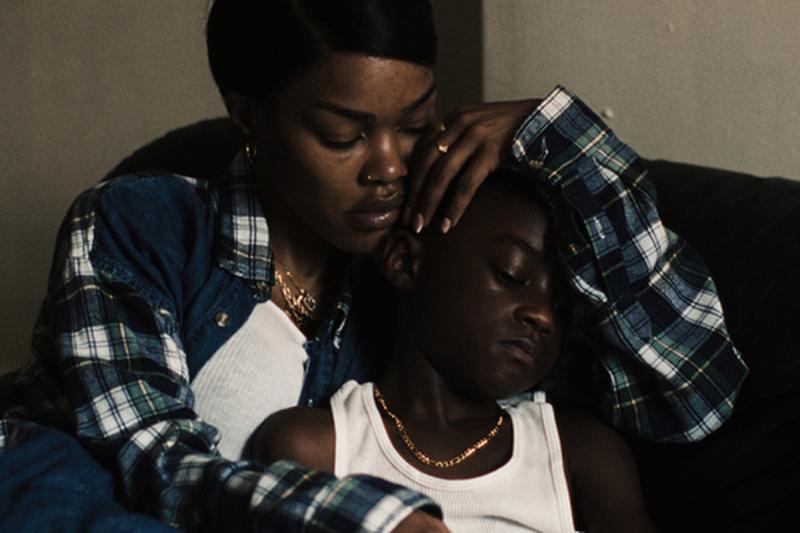 Hold on tight: Teyana Taylor and Aaron Kingsley Adetola
AV Rockwell well deserved the Grand Jury award at Sundance in January for her debut feature film, A Thousand and One.
It's hard to believe that this subtle portrait of a troubled young woman trying to raise a child is the work of a first time writer-director, or that Inez, its gritty protagonist, is played with no vanity by the glamorous choreographer, singer, and reality TV star Teyana Taylor.
We first meet Inez in prison where she's doing her cellmate's hair. It's 1994 and she's about to be released after a year inside. Back in her old Brooklyn neighbourhood, she is determined to get her life together. Inez finds six-year, Terry (Aaron Kingsley Adetola), who was taken in to foster care while she was in prison.
The little boy is wary of her after so much disruption, but she's set on winning him back, even if it means effectively kidnapping him and hiding from social services in Harlem. Their relationship isn't easy. Inez has a temper and she likes to have a good time, but she's determined to give Terry a home and encourages him when he's put in a school for gifted children.
Inez also grew up in care. A Thousand and One doesn't shy away from showing the longterm emotional damage that shapes children who grow up without a family and the difficulties they have when they, in turn, become parents. Aaron Kingsley Adetola is superb as Terry and the scenes between him and Teyana Taylor are a master class in naturalistic acting. As the narrative moves on in time, the boy's role is taken by two other young actors (Aven Courtney plays Terry at 13, and Josiah Cross at 17) who are a little less engaging on screen, mainly because Adetola is such a hard act to follow.
Inez's on-again/off-again boyfriend Lucky (William Catlett) is not always the most faithful of partners, but he becomes a good father. The couple's wedding is one of the warmest scenes in the film. The complexity of family relationships are a powerful thread through A Thousand and One, but one that's hard to describe without giving too much away. (Pictured below: Catlett as Lucky, with Adetola as Terry)
Rockwell's work as writer-director would be impressive if her film was just about these vivid characters and their intricate relationships, but they are framed by her oblique observations of how her native city changed in the '90s. The colourful Harlem neighbourhood where Inez first makes a home for Terry becomes gentrified; a crisis is forced when their run-down apartment building is allowed to rot so its owner can sell it to a developer.
Television news chronicles the change in policing policy ordered by Mayor Rudy Giuilani; when Terry becomes a teenager, he and his friends suffer intimidation on a regular basis. Rockwell never resorts to didacticism in her nuanced drama. She doesn't hector the audience on the injustices of gentrification or racist policing, as Spike Lee did in Do the Right Thing, but credits us with the capacity to work it out for ourselves.
A Thousand and One – with its classical camerawork and atmospheric sound track – is reminiscent of the work of John Cassavetes (particularly Shadows and Gloria), and also shows the influence of black American directors like Charles Burnett, Leslie Harris, and Barry Jenkins. It's altogether a powerful debut and not to be missed in the cinema.
Rockwell never resorts to didacticism in her nuanced drama
rating
Explore topics
Share this article