A White, White Day review - white heat |

reviews, news & interviews
A White, White Day review - white heat
A White, White Day review - white heat
Gripping Icelandic portrait of grief, love and vengeance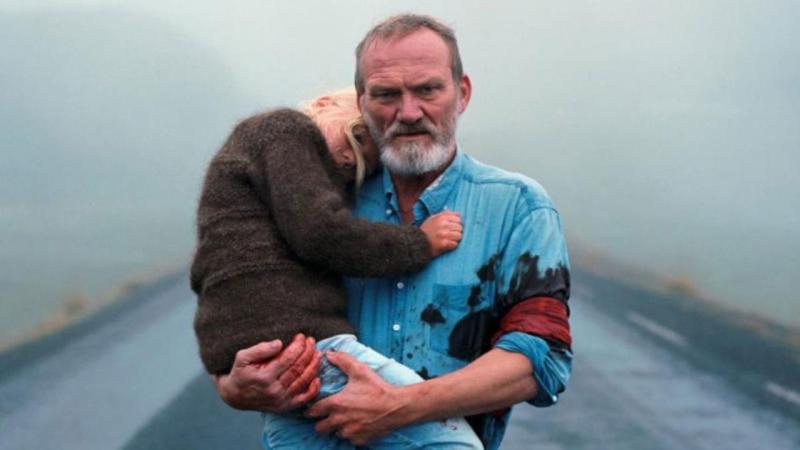 Family values: Salka (Ída Mekkín Hlynsdóttir) and Ingimundur (Ingvar Sigurdsson)
This Icelandic film begins in the titular land of steam, as rain and mist envelop an erratic car which soon tumbles to its doom.
The
wife
of rural
policeman
Ingimundur (Ingvar Sigurdsson) was driving, and the mystery of her death and open, infinite wound of their love consumes him during the course of this gripping dissection of damaged masculinity and desperate devotion.
Ingimundur's relationship with his 8-year-old granddaughter, Salka (the director's daughter, Ída Mekkín Hlynsdóttir, unsentimentally superb, pictured below) just about anchors him in the present. So too does his affectionate, mourning daughter, and the house he's building for her ("And Stefan," he reluctantly mutters of the drippy son-in-law disappointing them both). They are a convincingly chaotic, tight-lipped, close-knit clan. But when a box of his wife's belongings triggers suspicions of an affair, and provides a local suspect, too, his investigation takes on worrying momentum.
Sigurdsson is Iceland's greatest male star, and his bony bear of a patriarch is a towering creation, with a Lear-like beard and half-broken but formidable physicality. His simmering performance promises unknowable, terrifying release, and successive passages are pregnant with violence, till blood is finally spilled.
Director Hlynur Palmason offers oblique asides: when a rock is heaved from a road, we follow its fall to the ocean floor, and the cast pause to stare at the camera like a bleak Nordic chorus, rhetorically contemplating this modern saga. Deadpan black humour also enlivens this tragedy, not least in an apocalyptically unsuitable kids TV show, whose existentially exhausted hero tells weeping children, "Everyone dies...your dreams will die!" as Salka blithely looks on. When she asks for a hammer to smash ice at an adult party, she's handed a huge chopping knife to happily hack around her fingers, while a bonding bedtime story from granddad includes fried corpse liver and a vicious ghoul. Ingimundur's crushing burden later falls onto Salka, as his vengefulness spins from his grip.
Icelandic cinema prefers rural life, the dead black interior or treacherous surrounding sea to recently cosmopolitan Reykjavik, finding the soul of this young nation in sparse isolation. Even last year's hit, Woman at War, sent its urban eco-heroine stalking power-lines in hills and hollows. A White, White Day's eastern fjords offer their own atmosphere, from the almost literally one-horse police station which apparently retired Ingimundur proprietorially roams to the austere water, big sky, and white days where these elements blur and, an opening proverb contends, the dead speak to the living.
Though he ensures the satisfactions of a high-class thriller, Palmason keeps sight of the mystical, enigmatic love story at A White, White Day's heart, deploying a song from Leonard Cohen's own most crazed period for a climax which finally cracks his stoic policeman. As impossible emotions fugitively chase across Sigurdsson's face, springing open buried chambers, he embodies a personal journey of suppressed meanings, mythic power and moving intimacy.