10 Questions for DJ / producer Rob Smith of Smith & Mighty |

reviews, news & interviews
10 Questions for DJ / producer Rob Smith of Smith & Mighty
10 Questions for DJ / producer Rob Smith of Smith & Mighty
Bristol bass movers and shakers rightly getting their due
Saturday, 24 November 2018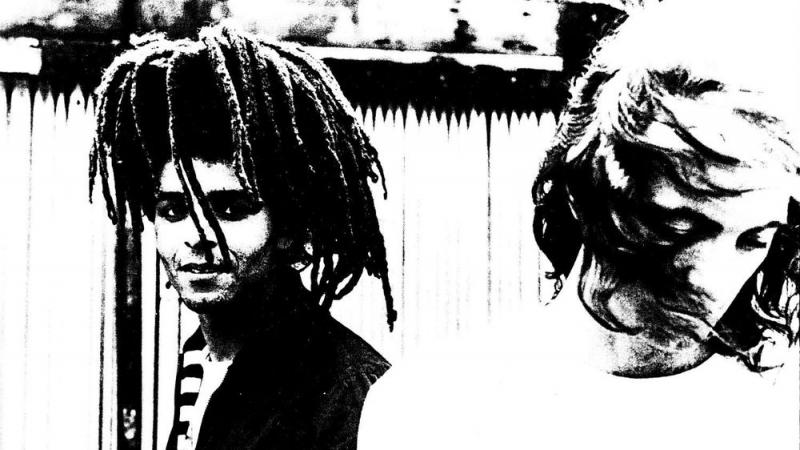 Rob Smith & Ray Mighty are truly the unsung heroes of British bass music. Coming out of the same cultural melting pot in Bristol that gave us Massive Attack, Tricky, Portishead and mega-producer Nellee Hooper, they looked to be among the city's big successes when they first emerged in 1987.
Their debut single, a cover of the Bacharach / David classic "Anyone who had a Heart" on their own Three Stripe label was a club success, they produced Massive Attack's debut single "Any Love", and Fresh 4's 1989 rave and
chart hit
cover of "Wishin' on a Star".
However an uncomfortable major label deal saw them stuck in the proverbial "development hell" as they tried to record their debut album through the early 90s, and they appeared to miss their moment. In fact their creative powers never dimmed; freed from their deal and pressure to record in expensive London studios, they returned to Bristol and set up their own More Rockers label, putting out of some of the greatest reggae, jungle and drum'n'bass records of the mid 90s, working with fellow bristolians like Roni Size and DJ Krust. And they've not stopped working since, releasing with important labels like Berlin's !K7 and Manchester's Grand Central, and finding common cause with the dubstep movement of the 2000s, which unsurprisingly caught on quickly in bass-loving Bristol.
So there's a nice circularity to it being Bristol dubstep prime movers Rob "Pinch" Ellis and Tom "Peverelist" Ford who have combined their respective Tectonic and Punch Drunk labels to release a new compilation of unreleased material from the early days of Smith & Mighty. The tracks on Ashley Road Sessions (1988-1994) cover the precise period they were being dragged through the major label wringer, and document the stuff they were doing back in Bristol: mainly pure soundsystem digital dub reggae and the kind of rolling rave breakbeats that appeared on their 1992 Stepper's Delight EP, heavily influencing the birth of jungle and thus altering the history of UK and global underground music. We spoke to Rob Smith to find out how it all began.
An extended version of this interview will appear in Joe Muggs and Brian David Stevens's book BASS MIDS TOPS in spring 2019.
How's it feel having the archive stuff coming out - has it brought back memories? Are you proud that this older work can find a place in the world now?
Yeah. Yeah, it's good. Ray mentioned it last year. He said, "You know that next year was our 30th anniversary?" I thought, "Oh my god, I didn't realise it was that long!" So the fact Pinch and Peverelist are doing this for us is great, and obviously the anniversary is good publicity for us too. It fits perfectly.
Do you play those tracks out? Did you have them in your arsenal as you DJed over the years or have they been locked away?
One or two them I have played in the past. But most of them don't fit tempo-wise, so yeah, mostly in the vault. Back in the day we were recording on to DAT tape, but our DAT machine buggered up and started chewing tapes. So we had to borrow a machine off at someone and then we started concentrating on trying to archive everything. So I started going through stuff I hadn't played for years and years, and I found hearing a lot of it was getting me kind of reminiscing of that time - of being back in the studio In Ashley Road. That's how it started: compiling those unused bits and pieces and working from there.
And how did the joint venture between Tectonic and Punch Drunk happen? Obviously you've released with both labels in the past…
I met up with Pinch earlier this year, and I'd been thinking "Oh bloody hell, what are we going to do? We've got to mark this 30th somehow..." I'd sent a load of stuff off to a friend of mine in Japan who's put my older stuff out before, and he didn't get back to me for ages and ages, so I didn't know what we were going to do really, and it's been a long time since we'd done a label ourselves. So I thought, oh well Rob's on the circuit, maybe he can let us use his contacts and that, through is distributors or whatever. So I met up with him in a pub, we ended up really drunk and I was trying to ask him, and he was going "Come on Rob, what is it? What is it?" I was going [bashful] "Look I've got all these tracks, and..." He's going "Come onnnnn, tell me what it is, tell me what it is..." I was going "Aww, well..." He was going "Come onnnnn, you want to release something on Tectonic don't you?" I went "No no no" and he went "Come onnnnn!" Eventually he went "Look, I'll get Tom in, we'll do it together, let's do this, whatever it is." And I was really nervous! I mean I had to play them these tracks, and it's really old stuff, I hadn't played it to anyone before, and they were really quiet... I was going "Oh fuck", but at the end they went "Phwoarr, there's some gems there, yeah we'll definitely do something. So again, I'm really, really indebted to them! They're young guys, and I really admire them a lot, they're really hard workers. And that's the thing about Bristol - wave after wave, generation after generation, people keep putting the work into doing really good stuff.
There's this real sense of continuity in Bristol, for sure. Did you have a sense of something special growing up there?
Well, I grew up I grew up in mainly white area in the north of Bristol, in an estate, but in my school there was quite a big black community. Because I just couldn't get into football, but all my mates would play football in the dinner time, during the lunch hour I just wandered round the school, like, with nothing much to do - but one lunchtime I discovered a room that older girls were allowed to use, with like a portable record player. So I kind of sneaked in, and they were playing reggae sevens - seven inch singles. Now, the thing that fascinated me was that they were turning them over and then it was a version on the other side. So that was, I guess, the first time I saw I got this thing about there being a deeper side to reggae.
And did you want to make music as a kid?
So yeah, we got the letraset out, the photocopier, got a label designed, then 3D from Massive Attack, he did a logo and that's the label we stuck with all those yearsNo. I was fascinated by the sound, but up until punk, I felt that music was something that an elite set of people were allowed to do and I probably wasn't part of that. But punk, with this "Do what you want, think for yourself" kind of attitude and then seeing your mates grab a guitar and start singing and stuff, it was like "Oh, alright" - that kind of made it mentally seem possible. I liked punk, and I played guitar a little bit, but it wasn't until I got on a YOPs [Youth Opportunity Programme] , like £23.50 a week to do training in something or other, and my training was playing in this theatre show, that I got to do it properly. It was a reggae musical, and then when that folded the band stayed together and we toured around for about five years as a reggae band called Restriction – we made a single with Mad Professor, that was the pinnacle of our achievements… then shortly after that, was the time I met Ray.
How did that come about?
Well the very first time I met Ray... I don't even know if he remembers but we there was a rock Against Racism thing up in London somewhere in the all kinds of bands playing: Matumbi and The Ruts and stuff. So me and my mate and a couple of girls got on a train, went to that - and on the way back, Ray was in one of the coaches with some of his mates and we all just got really drunk and got to this... not a fight but like a pretend fight, you know, like "Heyyyy!" "Heyyyy!" messing and mucking around. Yeah. Just a drunken sort of like fun thing. Yeah. Like I said, I'm not even sure if Ray remembers that, but that was the first time I was aware of him. And then another time there was a blues clubs across the road from where I was living in St Paul's... And yeah, he just reminded me yesterday - they were just doing some filming for something or other, Grant was playing, a load of other people were playing, and Ray was behind the bar with another guy. I went to buy my drink and the other guy tried to rip me off and I just went "Uhh, oh well," shrugged my shoulders and walked away - but Ray ran after me to give me the right change. I don't know why, but I suppose that made a good impression. Then the next time was when some other friends asked me to join the band they were doing called Sweat, and Ray was playing synthesiser. I can't remember what I played for them - bass, a few guitars... We stuck it out for a little while and then when the band folded, we had a similar interest in stringing synths together - like MIDI was quite new and we were super into it.
And how soon did you put tracks out?
Not for a long time. We were just selfish really, mucking about making sounds we liked. We didn't think about it that seriously. We were hanging out at this club the Dug Out, it was just a little place like a youth club… All kinds of people went: punks, rastas, soul boys, jazz people, so there's a lot of cross-fertilisation, all those polymerisations in that in that club and people exchanging ideas. That's what I mean when I say it just felt like a local thing and nobody was thinking about what was going on everywhere else. There was a lot going on in Bristol people from the bands and people all mixed, the bands would just change personnel, people would switch it up and keep changing - and at the same time The Wild Bunch [the soundsystem collective that would spawn Massive Attack, Tricky and Soul II Soul producer Nellee Hooper] were starting up their thing... just a lot of stuff going on - we were quite spoiled to be honest. Everybody was trying to do a thing really: Wild Bunch had their thing, someone else had their thing... it was quite fluid.
How did you come to make that record in the end?
What happened was, I'd met Jackie [Jackson], the singer, when she was she was one of the actresses in that theatre company that I was touring around with. So fast forward a few years, we were still friends and I met her one day. She said, "Oh what you up to these days?" I said "Oh I've got a little studio you should come up and have a look," so she came up. I was like "Oh it does this, it does that, yeah yeah yeah," and she went "Can I have a go?" and I went "Sure." I think she started doing "Walk on By" first, actually. Not sure what it was we recorded it on, probably some crappy little eight-track Fostex, reel-to-reel thing, so I got some random beat up sequenced onto the multitrack, and she did "Walk On," then she went "can I do another one??" So basically she did "Anyone..." on a different track, on the same beat, and we ended up with two vocals on the same multitrack tape, sung to the same beat. We thought "Anyone..." was the one to go with, but It took us ages and ages, like seriously probably a year just changing the beat, mucking around, and then Grant - Daddy G from Massive Attack - heard it pretty much finished, and said "Yeah, you should put it out!" We didn't know how, so he introduced us to Lloyd Harris who was working to Revolver Distribution [Bristolian record distributor which had helped finance the careers of Bristol reggae acts Talisman and Black Roots]. Now actually we were just discussing this yesterday, Ray and I, how it was kind of chance that it happened at all. We went we went to the warehouse, the other guy who's working there, called Mike , he came out and said "What is it?" We said "we've got this track", he said "Ahh I'm not interested, go away." "Oh, okay," so we turned around and were just about to walk out, but just as we got to the door Lloyd came out of the office and went "Here, what is it? What have you got? Come in let's have a listen. OK, this is good, let's do it!" We were like "Oh wow." Two or three minutes earlier or later and it might not have happened, I don't know how it would've gone. But he was really supportive. He was just a really good guy, and he just wasn't really interested in making loads of money out of us or anything. He just wanted it to happen. So yeah, we got the letraset out, the photocopier, got a label designed, then 3D from Massive Attack, he did a logo with another guy called Ollie, and that's the label we've used and stuck with all those years...
And where does the first Massive Attack single come into this - because you produced that as well, right?
Yeah, I think shortly after "Anyone..." Grant came around with Carlton... and maybe Tricky. I'm not sure if Tricky come on the first visit... but yeah he said, "Yeah, we're going to do this track, could you record it for us?" "Okay... how's it go?" So Grant literally went [semi beatboxes] "Shewww shewww shew-shew" like that, he said "That's the beat," then Carlton started singing "Any Love", we started mucking around, I got a beat together... I remember saying "Shall I put a tambourine on?" and Grant going "No, no tambourine!", then I did one anyway and he went "Yeah, put the tambourine on!" Then Carlton started singing, I thought "Yeah this is alright," locked it down, then Tricky came in and did the last couple of bars at the end. That was that.
So there was no sense that any of this was going anywhere?
Not at all! [laughs] I mean we were really happy we had a bit of what we've always wanted. Certainly me, since being a kid all I'd wanted was some kind of the studio. And from knowing about dub music I just really wanted the technology to be able to separate sounds the way dub music does. Yes. So for me, I was just completely in my element of the fact that you can record these things on one track and drums on another - just wow, it was all my Christmases at once, it really was. Ray too. We were really happy, totally content. We'd just got a record out and then remember friend of ours, a guy called Dizzy from City Rockers, he'd been to London for the weekend, he came back, came in the studio the and he's just got this shocked expression and he's like "You know what's happening?" We went "What?" He went "Oh my god, oh my god, I've been to this party and they played 'Anyone who had a Heart', oh my god, it tore the place up, oh my god, oh my god!" We looked at each other like, "What? What's he on about?" We had no idea!
All kinds of people went: punks, rastas, soul boys, jazz people, so there's a lot of cross-fertilisation, all those polymerisations in that in that club and people exchanging ideas.
Explore topics
Share this article