theartsdesk on Vinyl 52: Yardbirds, Fad Gadget, Spoon, Cate le Bon, Cabaret Voltaire and more |

reviews, news & interviews
theartsdesk on Vinyl 52: Yardbirds, Fad Gadget, Spoon, Cate le Bon, Cabaret Voltaire and more
theartsdesk on Vinyl 52: Yardbirds, Fad Gadget, Spoon, Cate le Bon, Cabaret Voltaire and more
Possibly the most extensive monthly vinyl reviews in the world
Needle to the plastic
Welcome to the latest edition of theartsdesk on Vinyl, the monthly online musical resource that knows no genre boundaries as it treks through every release on plastic that it can find.
This time round we've everything from
death metal
to obscure
jazz
to
electropop
, sounds for almost every musical taste. Dive in!
VINYL OF THE MONTH
Dona Onete Rebujo (Maid Um)
Known as the "Grande Dame of Amazonian song" Dona Onete, now 80, only recorded her first album at 73. She's now a sensation in her home country of Brazil. She's seen as representing the country's minority peoples and is as much a folk anthropologist as a musician, regularly playing benefit shows for the indigenous rain forest peoples. All that is good news and timely – those interested should look into her as there's a whole lot more to her tale than that – but she wouldn't be VINYL OF THE MONTH were it not for the fact her latest album stews local styles such as carimbó, bangues, cumbia, brega and samba into an explosive party of joyousness that's irresistible. With the energy of a woman a quarter of her age Onete commits to her music with a passion that translates with easy, effusive charm. Arrives on bright red transparent vinyl in lyric inner sleeve with translations.
Spoon Everything Hits at Once: The Best of Spoon (Matador)
What's strange, if you really think about it, is that Texan band Spoon are not one of the biggest bands in the world instead of The Killers or Coldplay or wotnot. This collection showcases a cross-section of imaginative, sprightly band-made pop built round raw organic groove that bubble with imagination, easy spirit and hummable tunes. It's mostly singles, dating back to 2001's "Everything Hits at Once" but also including the catchily strummed 2005 album track "I Summon You" and a new cut, "No Bullets Spent", which is the equal of anything here. Spoon's default setting is songwriting underpinned by a steady, unforced – even slow! – rhythm section, over which an engagingly thoughtful but catchy song is constructed, with lead singer Britt Daniel's distinctive voice at the heart of things. This AZ Greatest Hits set is, of course, a good place to get to know them. Comes in lyric inner sleeve.
The Vision featuring Andreya Triana Heaven/Home (Defected) +JKriv featuring Adeline Yo Love (Glitterbox)
Two hunks of disco goodness. First off comes The Vision, a collaboration between KON, of Boston crate-diggin' DJ sorts KON & Amir, and Brit jazz-house-hip hopper Ben Westbeech. Together they put together an ebullient old school, hand-in-the-air disco corker with enough housey underpinning to be usable on contemporary dancefloors. Setting everything off is a pure diva vocal from Andreya Triana, many miles away from the downtempo, alt-hip hop style she's often found fronting. She shines in a whole new light here. The flip is a
slower, more orchestral jazz-balladic affair but it's "Heaven" that DJs and disco lovers will be returning to. New York DJ-producer JKriv (who's also in disco band Escort) drops a 12" featuring four different versions of "Yo Love", the main feature of which is the contagious Chic-meets-"Another One Bites the Dust" bassline. In fact, the dub is quite as much of a blast as the Adeline-featuring vocal version. It's loudly mastered dancefloor golddust.
Cancer Ballcutter EP (Peaceville) + My Dying Bride Towards the Sinister (Peaceville)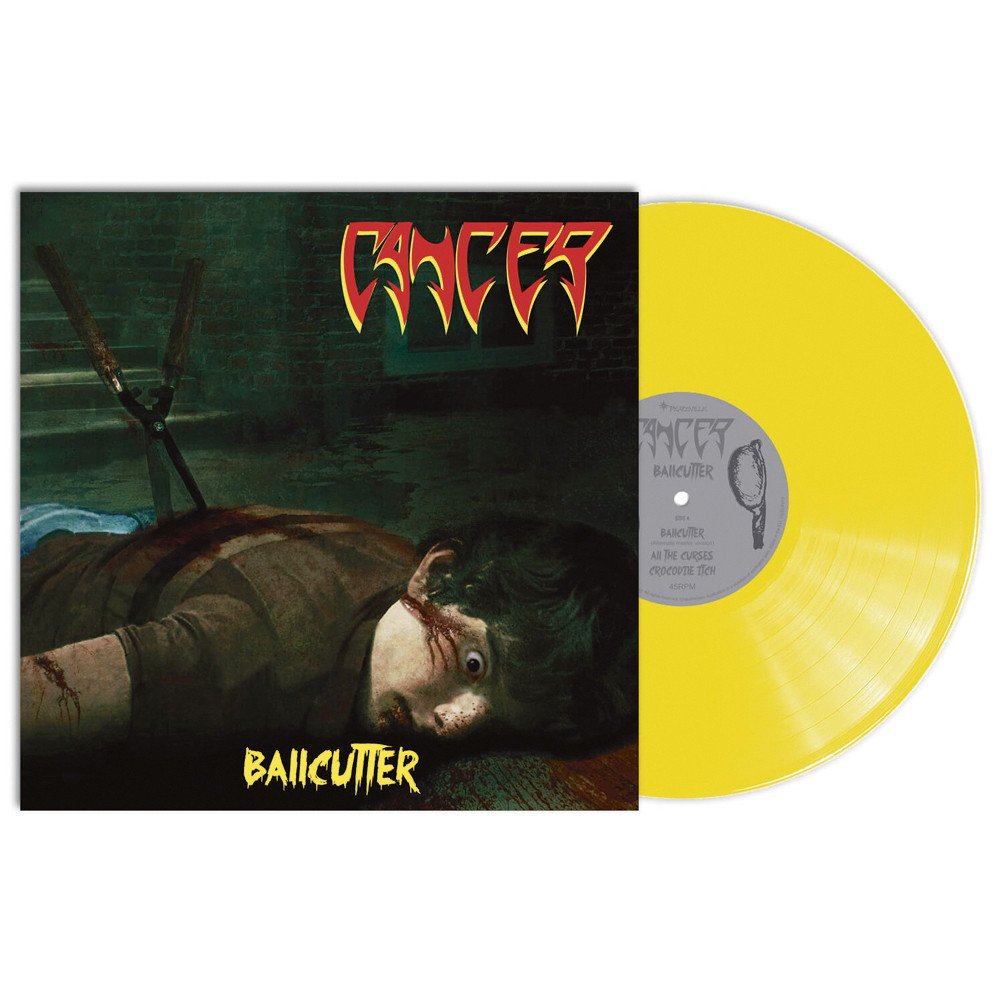 A couple of doses of death/doom metal mayhem from the reliable Peaceville label. Midlands band Cancer have been going in various forms for 31 years (although there was a seven year hiatus from 1996). Their album return last year with Shadow Gripped proved there was still petrol in the tank and the new limited edition EP arrives as back-up. It's all sturdy grinding stuff, with precisely enunciated growled occultism on the mic, a tasty guitar solo on newly released song "All the Curses", and an appearance by Bloodbath's Anders Nyström shouting along to the terrace chant chorus of the title track. It also contains ballistic demo versions of Shadow Gripped's "Garrotte" and "Organ Snatcher" amounting to a forceful horror-themed five-tracker on bright yellow vinyl.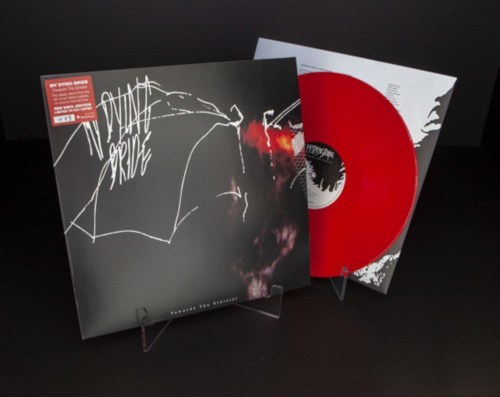 The EP by My Dying Bride is a treat for aficionados of doom metal as it contains, for the first time on vinyl, the Yorkshire four-piece's original 1990 demo versions of "Symphonaire Infernus et Spera Empyrium", "Vast Choirs", "The Grief of Age" and "Catching Feathers". While lumbering along in classic head-nodding doom fashion, these songs also have a blurred, druggy edges, the gargled vocals murked into the mix and a smeared almost psychedelic quality. Particularly notable is "Vast Choirs", built around a kind of low Gregorian chant-style backing vocal (or is it a synth?). My Dying Bride effectively pre-empt places that doom would go during the next decades. Comes in photo/lyric inner sleeve.
Gabriel Olafs Absent Minded (One Little Indian)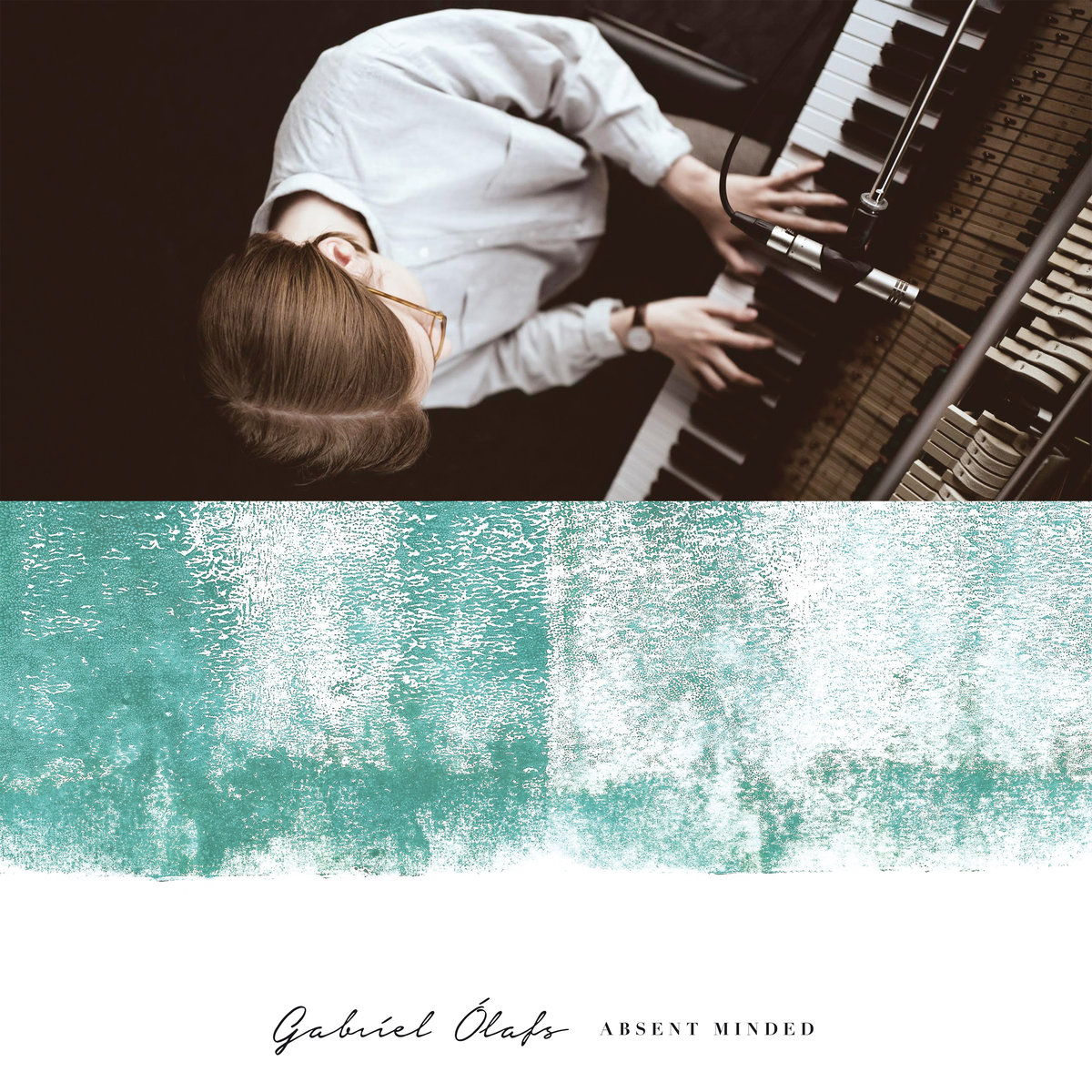 Because theartsdesk on Vinyl is one of the few places where modern classical is given a decent hearing alongside every other kind of music, from metal to hip hop, we have been somewhat inundated with material in this vein. By "this vein", I mean music that "sensitively" combines (usually) a small ensemble with a lead instrument (piano/violin/cello/etc) and subtle electronic trimmings setting the whole thing off. The trouble is that – just like minimalism – it's very hard to do this well, and not to come over as simply bland, forgettable background fare or pointless art wafting. 19 year old Icelander Gabriel Olafs, however, succeeds in creating a beautifully atmospheric debut. He's a pianist and his reverb-laden lonely instrument is at the heart of things but strings sometimes join him, leading to an overall effect that has something of the stark, wide open, sunlit, artic landscapes of his homeland about it. Given he's a teenager, his future career is to be anticipated. Comes in info inner sleeve.
Christopher Schwarzwälder & Iannis Ritter Out The Window (Hold Your Ground)
There is a tendency among modern vinyl not to state whether it's to be played at 33.3 or 45 RPM. Mostly it's obvious what the speed should be but for a chunk of the first side of this album I was bemused. It's the track "Colder" that really throws the cat among the pigeons, with its slowed-down vocals/sped-up vocals and plodding rhythm. Eventually I deduced it's 33.3 RPM for this quirky, moody downtempo electronic outing that occasionally verges on dirge-like but still retains interest via twitchy studio effects and oddball mumbled/gargled vocals. Created by a Berlin-based duo, the title track may have a dancefloor pulse of sorts, but the rest of the album adopts a sedate pace and is keener on wandering into off-piste sounds that are held together by a loose pop sensibility.
Various Alefa Madagascar: Salegy, Soukous & Soul from the Red Island 1974-1984 (Strut)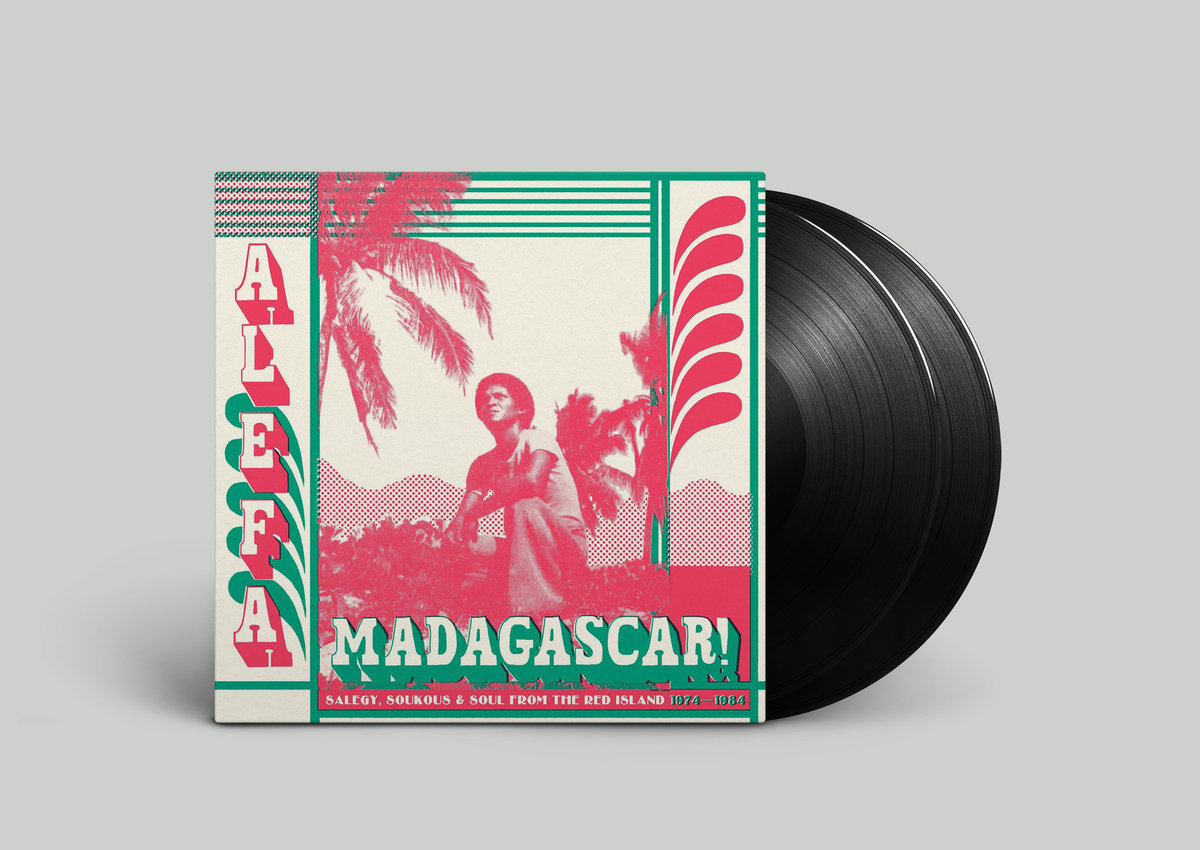 Another mighty double collection from Strut offering a window into roots pop from the other side of the globe. This time the focus is on Salegy, a musical style unique to the Indian Ocean island of Madagascar, wherein their own trad musical style crashed head first into Sixties Afro-pop sounds that reached them via radio waves. It's often a fast-blasting music and regularly rides a predominant organ (check out Charles Marin Poty's Booker T-esque "Amboliako Fary"). Songs such as Terak' Anosy Group's "Soaliza" boast appealing harmonised vocals over rolling, familiar-sounding Afro-guitar patterning, but other tracks are hair-raisingly out there. Kaiamba Orchestra's "Toka Toka" rushes along at an outrageous rate, further derailed by curious rhythmic backing, meanwhile Jean Kely Et Basth's "Andosy Mora" is one of the most deranged pieces of music I've heard all year, featuring a drum pattern that sounds like it was recorded backwards in a meth-amphetamine frenzy, a chirruping organ freak-out, buzzsaw guitar and rough-shouted vocals. It's a (sort of) deranged garage-punk classic! Aside from such raw lunacy there's much else to enjoy and it comes with an eight page 12" x 12" booklet that tells all.
Fad Gadget The Best of Fad Gadget (Mute) + Cabaret Voltaire Chance Versus Causality (Mute)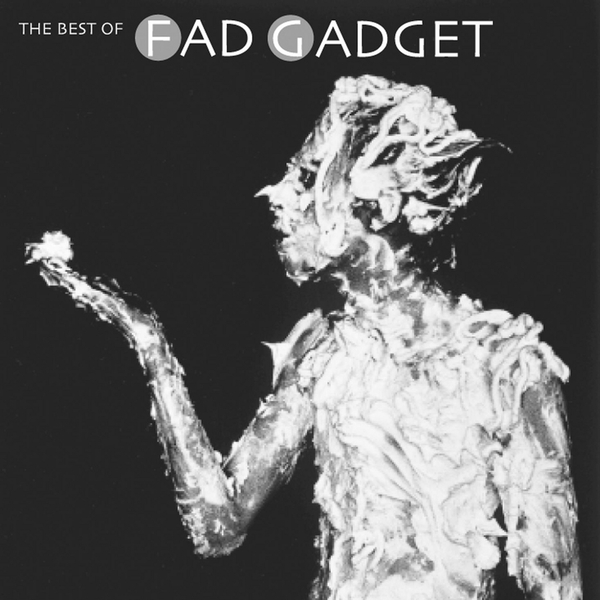 Two dirty old peaches from the ever-reliable Mute Records. When iconoclastic Artaudian musical maverick Frank Tovey – AKA Fad Gadget – died at the start of the 21st century he left a body of under-explored work, the juiciest of which is to be found on this Best of… double album, on vinyl for the first time. It contains singles and B-sides released between 1979 and 1985 and follows him from being Mute's first signed artist, making the dark, punkily electro-pop "Back to Nature" with label head honcho Daniel Miller, the second single released on Mute after Miller's own "Warm Leatherette" (as The Normal), through to the "Luxury" single, an opulent, faintly funky piece of tuneful techno-pop that has a touch of both David Bowie and Heaven 17 about it (the latter is the only cut here that was originally released under the name Frank Tovey, which he used more in later life). Along the way there's the punk-funk of "Make Room", the Depeche Mode-y "Collapsing New People", the burlesque harpsichord-waltz of "Saturday Night Special" and a whole lot more, wry interesting lyrics balanced with crunchy musical adventure and actual tunes. Well worth re-investigating. Comes on silvery-grey vinyl toned like
melting Terminators. The Cabaret Voltaire is less approachable and more for electronic connoisseurs and Mute geeks. Back in 1979, around the time of their breakthrough single "Nag Nag Nag", the original three-piece Cabaret Voltaire were asked by Abel Ferrara's pal, Dutch avant-garde film-maker Babeth Mondini, to create a soundtrack to her experimental, two projector film Chance Versus Causality. Recorded live, mashing up vocals snippets, synths and tape manipulation, it was lost for many years but now reappears on double in gatefold semi-transparent parakeet green vinyl. It's on the ambient side of things in places but spiked with enough rhythmic interest and strangeness to be of interest to the community it's aimed at. Comes with a 12" x 12" double-sided Cabs discography insert.
Ebo Taylor Palaver (BBE)
Another selection of music that the unstoppable BBE Records have trawled up from the archives of Nigeria's Tabansi Studios. Ebo Taylor, now 83, is the longstanding emperor of Ghanaian highlife sounds. Back in 1980 he popped into Tabansi while on tour and recorded these five tracks which have sat on the shelf ever since. Until now! It's a luscious set that bleeds upbeat guitar play and brass-baked boogie but also – especially on the lovely "Make You No Mind" and "Help Africa" – a thoughtful, socially aware lyrical imperative. The gatefold sleeve explains the back story but the songs – which are not as frantic as some of Taylor's better known material – eloquently speak for themselves.
The Yardbirds Roger the Engineer (Demon)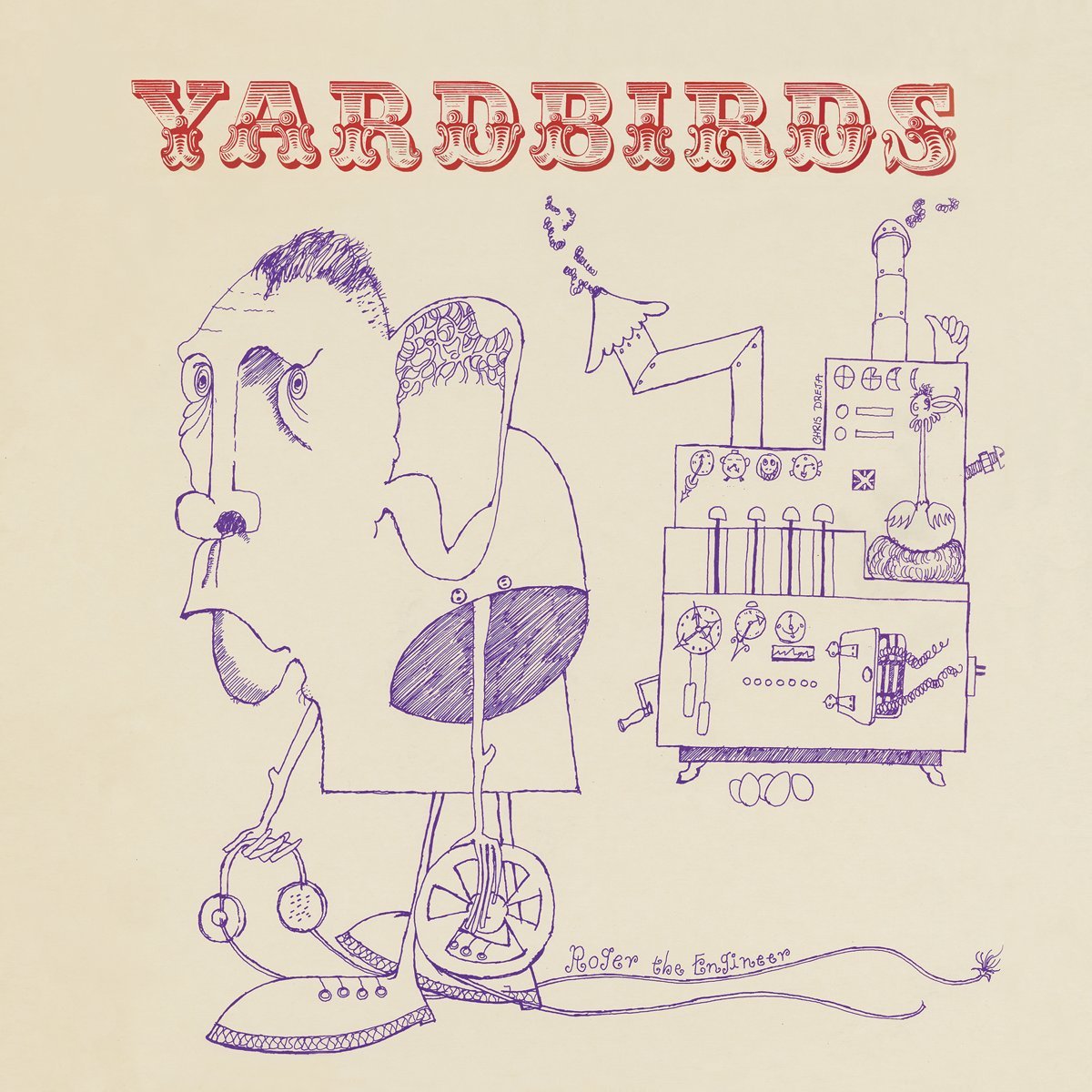 The Yardbirds weren't really an albums band, they were a touring unit whose singles rocked the mid-Sixties charts, majoring in bluesy pre-rock guitar attack that was – at least by the standards of the time – hefty. However in summer 1966, following a series of albums cobbled together for the US market, they produced the Roger the Engineer album (otherwise known as Yardbirds). It features Jeff Beck as the star guitarist, alongside vocalist Keith Relf, guitarist Chris Dreja and the rhythm section of Paul Samwell-Smith and Jim McCarty. It boast one of their more famous hits in "Over, Under, Sideways, Down" but is of as much interest for the wide range of proto-psychedelia on board; the whimsical baroque style generally associated with British psychedelia on "Farewell" and "Turn Into Earth", the call'n'response drum boogie of "Hot House of Omagarashid", garage guitar-led tracks such as "What Do You Want" and the fret-worrying, showy "Jeff's Boogie". Arriving on vinyl divided into red, white and blue segments, it's a treat of an album that showcases the 1960s just revving into what they would soon become.
Various Deep Jazz Vol.3 (BBE)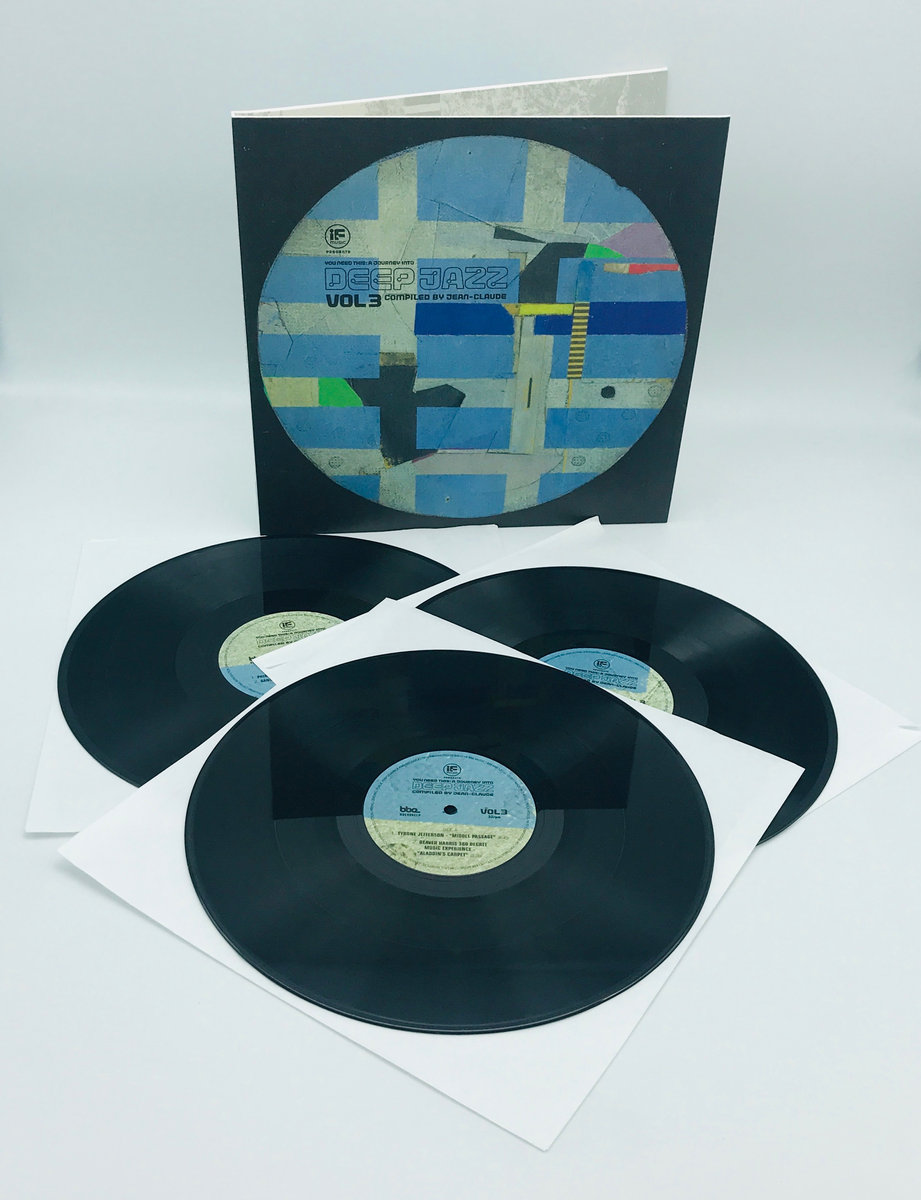 DJ and owner of London's If Music record shop Jean-Claude Thompson once again shares his apparently encyclopaedic knowledge of the far flung fringes of jazz. The result is another three record set in a gatefold that does its best to explain the background of the musicians involved. For jazz fans it's an offbeat treat, for DJs and those searching for little-heard breaks, it's a treasure trove, and for the rest of us, it's a fascinating window into the unexpected. Take the excellent "Dawn" by the Jazz Yatra Sextet: based around fluttering female vocalising in tabla scaling, with a jaw harp sound underpinning the backing, it's taken off the single album recorded by an Indian band visiting German in 1981 before vanishing back whence they came. Elsewhere the styles vary massively, from the Hispanic percussion'n'piano assault of Copu Salvo's "Hasta la Victoria Sempa", which actually flew out of Japan in 2006, to the side-long, faintly Arabic-flavoured slow-funk groove of "24 Carat" led by the guitar of Hungarian Gabor Szabo and originally out in 1979. In fact, I'd hazard that this volume of Deep Jazz is the best yet.
Iamthemorning The Bell (KScope)
Prog sneaks in everywhere, from Kate Bush to defunct Brit-poppers Mansun and beyond. Russian duo Iamthemorning are much closer to the former than the latter with vocalist Marjana Semkina channelling La Bush's style but this band are a more melodramatic beast. Behind Semkina's airy soprano is classical pianist and studio wizard Gleb Kolyadin who doesn't stint with his grand, theatrical backdrops, which rise from and descend into accomplished piano work. Arriving in gatefold with a 12" x 24" poster of the artwork, there's occasionally a touch of mid-Seventies Fleetwood Mac about Iamthemorning, a hint of pastoral folksiness, but their third studio album is eventually lusher and more self-consciously orchestral than any of this review's comparisons. In fact, it's all a bit over-the-top for this writer, but there's no denying it has an opulent potency that should find wide appeal.
Alex Banks Beneath the Surface (Mesh)
I have long wished that techno producers and creators of innovative electronica didn't feel it necessary to signal their aesthetic seriousness via faceless black'n'white art-photo covers. What works in a gallery, coffee table book or even a friend's phone becomes faceless beside as album cover art. Thus is the case for Alex Banks' second album (an undulating shoreline/rock form affair) but let's leave such irrelevant moaning behind because, once we crack open this double on gatefold from the underrated Brighton electronic wunderkind, we find that his second album is a step sideways from his Monkeytown Records debut. He has moved further into cracked technoid adventuring with less concern for the commercial imperative. Highlights may be numbers that feature vocal appearances by Icelandic singer Asgeir, notably the enormous "New Wonder", but all four sides boast well-mastered production depth and bass that sets the walls shaking, while combining edgy sonics with an underlying approachability. It is – tricky to avoid this overused phrase – a journey, a finely calibrated one that amalgamates the gnarly with the pleasing.
Various Steve Lamacq: Lost Alternatives (Demon)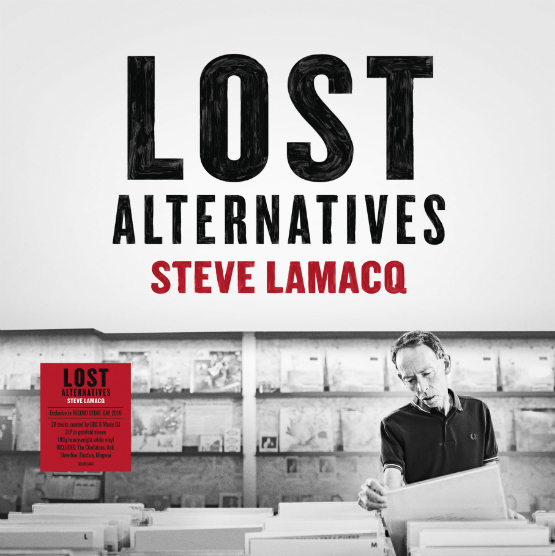 Indie kingpin Steve Lamaqc celebrates his music. As he writes on the back of the this gatefold double on white vinyl, "What's here represents, at least one version, of the evolution of guitar music through the Nineties, as told, not by the big hits, but by the limited edition singles, the Evening Session cult favourites, and the bands who maybe never made it, but in some cases never wanted to anyway." Statements don't come much more indie than that. A good attitude. Thus, it's a raucous often lo-fi collection that features reasonably well-known names of the era (Elastica, Mansun, The Charlatans, Ride, Senseless Things, Ash, Cornershop, etc) alongside noisies such as Silverfish, ultra-indie outfits such as Bis, mavericks such as Arab Strap (yes, it's "The First Big Weekend"), oddballs such as Clinic, and even bands who have built careers to this day, such as Mogwai. It's a heartfelt selection, full of vim, punky attitude, lyrical post-modernism and more but, while I'm drawn to the early baggy outings of no-hopers such as Northside ("Shall We Take a Trip?"), to me the Nineties were so, so not about guitar music and this was music listened to by Luddites whilst digital bedroom studios, drum machines and synths took over. That said, if there was a similar compilation reflecting Eighties indie I'd be all over it. But is that because the Eighties was pre-acid house so indie noisiness was often the best option? Or is it because it was my youth? Who knows! The inner sleeves add to the nostalgia trip with details on each band. Dive in, retro guitar-heads!
ALSO WORTHY OF MENTION
Los Retros Retrospect (Stones Throw): Los Retros is California-based 19 year old Mexican-American Mauri Tapa and Retrospect is his debut release, a mini-album, for that staple of West Coast cool, Stones Throw Records. The music is idyllic, loaded with the region's sunshine, his lazy, sometimes falsetto voice, fronting a slow-funk pop stew that showcases a talent who can clearly write songs. While soul-funk is the base ingredient here, there's also a heavy dose of classic lounge flavour which only strengthens his game. The summer may be ending but put this on and it can continue indefinitely. One to watch.
The Cigarettes You Were So Young (Optic Nerve): Optic Nerve Records really go town on this double collection containing everything obscure teenage Lincoln new wave band The Cigarettes ever did. Before even putting the records on, it's clear that much care and fan love has gone in to this project. The inner sleeves contain interviews with band members Stephen Taylor and Rob Smith and there's a poster featuring a mass of photos and ephemera. Existing between 1978 and 1980, and only releasing one single and one EP during that period, the music here, including a side-long John Peel session and much that's never been in the public realm before, is as good – and better – than many of their peers who made it. It mostly sounds like a scuzzier, more lo-fi Buzzcocks, with the same sort of lyrical snap and tight guitar bristling, while also boasting songs that move away from high velocity power-pop into other territories (as did Buzzcocks' later career), for example the slow-burning "Run". For fans of the punk period, this compilation should prove a joyous discovery.
Hurtling Future From Here (Onomatopoeia): Hurtling are a London trio formed and fronted by My Bloody Valentine's keyboard-player Jen Macro. Their sound draws from pre-grunge quiet-loud-quiet-loud acts like The Pixies, but they have as much in common with contemporary outfits such as Wolf Alice. Their sound, in fact, boasts variety, at least within an indie guitar rock context. Macro holds the whole thing together with a voice capable of whispering vulnerably or centring a storm. "Noise-pop" the press release calls it but it's not really properly cacophonic, just amplified and loud when they need to make a point. Primarily, it showcases songwriting skills alongside imaginative instrumentation and arrangements.
Sarasara Orgone (One Little Indian): French singer Sarasara's 2016 debut album Amor Fati was a spooked gothic beast. Coming from a background haunted by sudden parental bereavement this was, perhaps, unsurprising and it was a bold, bleak opening shot. Her second album drops the gloom'n'glitch in favour of Sneaker Pimps' Liam Howe producing an unashamed trip hop long-plater that would have fitted well during the Morcheeba/Moloko/Lamb/Mono/etc late-Nineties boom. Albeit Orgone is tweaked with contemporary sonic trimmings and the vocals have a whispery chanson quality, alongside occasional spacey lyrics along the lines of "Je suis le galaxie". Comes in lyric gatefold in art/photo inner sleeve and features Pete Doherty on one track. Decent blue late night beats.
The Golden Filter Autonomy (4GN3S): + Alice Hubble Polarlichter (Happy Robots): Two decent slices of female-fronted electro-pop. If the whole album was as good as the glitched, doomed synth-pop of "Coercion", the Golden Filter's third album (excluding The Vinyl Factory's three curated collections) would be one of the year's finest. As it is, the latest from the London-based Australian-American duo is classy synth-pop with dark bite and shiny chrome edges that glimmer with tunes and robot sex. Not in thrall to the Eighties – but with just enough of that decade in there – Autonomy is solidly likeable bleak-pop. The press release for Londoner Alice Hubble, on the other hand, suggests her music is for fans of Tangerine Dream, Jane Weaver, Goldfrapp and Delia Derbyshire but she sounds more like Eighties synth-pop, albeit keen on flavoursome instrumentals. If comparisons are the game, then prime time OMD would be this writer's call. Not as edgy as The Golden Filter, Hubble's work is friendly and, upon occasion, as on "We Are Still Alone", even has a bucolic, pastoral quality.
Dytomite Starlite Band of Ghana Dytomite Starlite Band of Ghana (BBE); Nigeria's Tabansi Studios was a hothouse of talent in the Eighties and, while it seems no-one knows who this band were (are?), BBE Records' 12" x 12" insert notes reckon that many of the studio's usual team may have been involved. Whatever the musical weather, these six tracks bustle with highlife's joyful dance-shuffle, interspersed with weird ear-tingling keyboards. Great fun.
Sacheko Kanenobu Misora (Light in the Attic): Back when those Laurel Canyon hippy singer-songwriters were lighting up the album charts of the early Seventies their influence was wide-reaching. Over in Japan female singer Sachiko Kanenobu was enamoured and, working with Japanese music mainstay Haruomi Hosono (later of Yellow Magic Orchestra), created this album in 1972. "Misora" is a word meaning sky but also, as far as I can gather, referring to open creative space. All in Japanese, it's very directly Joni Mitchell-esque but is still light and lovely and listenable. Geek factoid: Kanenobu moved to California and become a good pal of sci-fi writing legend Philip K Dick. Comes in gatefold with a very readable 12 page 12" x 12" booklet full of photos, background info and interview material with the singer.
Clark Kiri Variations (Throttle) + Henrik Lindstrand Nattresan (Lime Tree Beach): Two modernist-classical studio-grown small ensemble outings that take different paths to achieve differing ends. Warp Records regular Chris Clark steps away from his brain-faddling electronica to expand on his music for Channel 4's Sarah Lancashire-starring crime drama Kiri. It's veers all over the place, taking in everything from the expected soundtracky string pieces to the plucked bizarreness of "Kiri's Glee" which sounds like the a cross between a 19th century insane asylum and something from an 1970s Oliver Postgate children's programme. The best word to describe Kiri Variations would be "mischievous". Danish pianist Henrik Lindstrand has written orchestrally for TV and films and is a member of the rock band Kashmir but Nattresan is a much quieter affair. Composed at night, his lone piano reverberates, against subtle electronic tones and rustling backdrop. The whole conjures a sense of peace, while, from, time to time, there's actual hooks in there too. It's perfect music to aid those who find the world too busy a place. Comes in gatefold.
Angie McMahon Salt (AWAL) + Merival Lesson (Canada Factor): Two female singer-songwriters who come at their craft from a fresh musical angle. Angie McMahon's debut album was a Top 5 hit in her native Australia earlier this year. Her vocal style is heartfelt, falsetto voice-breaking and her lyrics lovelorn, very much the usual sort of thing for her chosen genre, but what sets her apart is that rather than an acoustic guitar or plinky electronica, she accompanies herself on an electric guitar which veers between delicacy and clanging jangle. This creates an ear-engaging counterpoint. Think Courtney Barnett fused with Laura Marling. Sounds unlikely but it works. Merival is on a label that's not even a label so much as an organisation promoting Canadian musicians. She has a terrible cover, a blurred photo that's supposed to be arty but just looks dull. All that aside, her album is a lovely, delicate thing, lyrically astute. On it, in the form of the stately, ghostly "Novel" and the forcefully sung, catchy low level jangler "Sinner", she has two songs that could well put her the map. The rest is more solemn but crafted and a worthwhile bet for jilted lovers. It's very much the usual I'm-so-vulnerable-me singer-songwriter stuff but she's good at it and it's only her debut so let's see where she goes….
Laid Blak About Time (Sugar Shack) + El-Jay Burner My Thing (Fabyl): The core of Bristol outfit Laid Blak is sound system old hands DJ Bunjy and MC Joe Peng who were there, flying the flag, back in the rave days but are now taking things easier. That's not to say that their second album doesn't have bounce, it fairly bubbles with it, but their latest music is sunshine reggae-pop, brassy, filled with hooks and an upbeat ambience, leavened with toasting and singing. Bet they'd be great live too. London duo El-Jay Burner, meanwhile, are vocalist Leroy Smokes and producer Jimmy Plates who fire out the 7" "My Thing". Smokes brings a reggae feel to his easy-going vocals that silkily disguises a commentary on those who would critique his "thang". It has a catchy chorus as it rides over a chunky mellow hop hop break.
The Rails Cancel the Sun (Psychonaut Sounds): Arriving on a label called Psychonaut Sounds, The Rails do not make psychonaut sounds at all. Their blend of country harmonising and plangent mainstream rock music is about as far from psychedelic as it's possible to be. However, the second album from the male-female pairing, produced here by Stephen Street, has moments of guitar oomph and lyrical bite (check out "Save the Planet" – "Save the planet, kill yourself"!) which, in a BBC Radio 2/arena rock sort of way, eventually add up to something that makes its presence felt with aplomb. I know I'll regret saying nice-ish things about this if it ever fills arenas but, hell, you have to go with your gut. Comes in photo/info inner sleeve.
Lost Souls of Saturn The Awakening (R&S) + MMMΔ Egoismo (Antifrost): Two pieces of progressive electronic noodle that will either take your mind off on a journey of make you bored, depending on your mood and personality. The Awakening is a two track 12" single by the pairing of DJ doyens Seth Troxler and Phil Moffa but this is many miles from Troxler's festival-slaying party persona; it consists of synth washes and choral vocals interludes that ebb in and out with occasional hints of a pulse. On the flip, meanwhile, more regularly oddball-leaning DJ-producer James Holden's "Past Life Rave Regression" version adds a little more bite to the percussion but it's still no dancefloor banger. It's an intriguing clubland aside that comes in gold cardboard inner sleeve. Even noodlier is the new six-tracker from Greek strangeness-merchant MMMΔ. The last theartsdesk on Vinyl heard from them was a horror film soundtrack last year (Hagazussa: A Heathen's Curse) and Egoismo is similarly haunted, reverberating tone music that hums and gloobs. Unexpectedly, it does sometimes hypnotise and pull the listener in, notably on the slow-rolling bass motifs of "Ipokrisi", but this is still very far from any kind of pop music. Comes on red vinyl.
DJ Yoda Home Cooking (Lewis): Turntablist master DJ Yoda continues his cuisine-titled run of albums, following Breakfast of Champions and Chop Suey with Home Cooking but the musical flavour is rather different. This time round he's tuned into a jazzy downtempo route and turned his back on the flighty humour that's one of his trademarks. To aid him on his way are cutting edge talents such as tuba-player Theon Cross (of Sons of Kemet), sax empress Nubiya Garcia and Kamaal Williams keys-player Henry Wu. The tone is smoothly soulful with singers such as Joel Culpepper and Omar aiding the cause, although The Jungle Brothers are on hand to bring Daisy Age block party vibes to "Afrika". Arriving on bright scarlet transparent vinyl in a cartoon-filled black'n'white inner sleeve, this just might be Yoda's best work yet.
Cate Le Bon Reward (Mexican Summer): LA-based Welsh musician Cate Le Bon is a weird one (for me) in that I can appreciate what she's doing but it doesn't sweep me off. Her new album, her fifth, arrives in gatefold and is full of small-ensemble pieces such as, say, "The Light" with its detuned woodwind and lolloping bassline, and light tunefully offbeat slowies such as "Daylight Matters", an eccentric love song. The lyrics are equally enigmatic. She's doing something different, always a good thing, even if this writer doesn't quite "get it". Comes in gatefold in a red art inner sleeve.
Jeb Loy Nichols and the Westwood All-Stars June is Short July is Long (Compass): Brit-based American singer Jeb Loy Nichols swerves easy categorisation with glee. Sometimes he's country and at other times he's cutting music with dub kingpin Adrian Sherwood. This time out he's created an album of thoughtful soul music, all brushed drums and gentle imagery and love (or, in the case of "You Got It Wrong", advising against loving him). It goes down easy, sweet on the ear but, to this listener, is not as memorable as many of his other outings. Comes in photo info inner sleeve.
It's a treat of an album that showcases the 1960s just revving into what they would soon become
Share this article