Peaches, Royal Festival Hall review - blissful anarchy |

reviews, news & interviews
Peaches, Royal Festival Hall review - blissful anarchy
Peaches, Royal Festival Hall review - blissful anarchy
A lewd, loud and lush return to London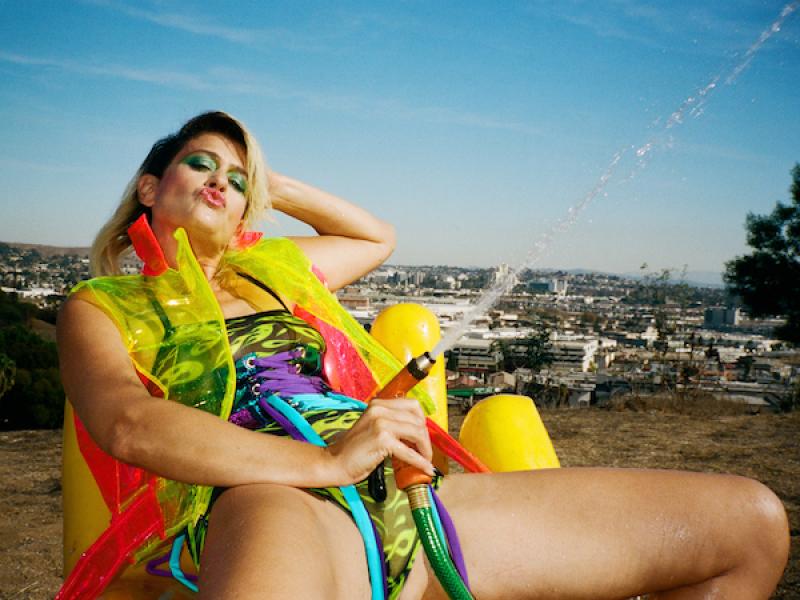 Ignore at your peril
"Thank you for making us so fucking special!" It's the end the set and both adjectives are appropriate. "Yes I had to say fucking special," Peaches yells, combative and loved.
The audience howls back. The Royal Festival Hall is hardly a natural environment for anarchic
art
-
punk
scuzz but Peaches knows how to work her crowd. She's played here before and saw Grace Jones perform live, after all.
When she crashed into the mainstream with The Teaches of Peaches, she was already a few records off obscurity. Years on and she's still offering up obscenity, snark and attitude with abandon. Up in your face? Macerating your gizzard, more like.
The Royal Festival Hall is hardly an easy venue, but "Rise for me!" she commands — and the crowd obeys. "Jump to me!" and they do. For an hour and half a few hundred people are out of their seats and wholly hers. There's dancing, heat and sweat. It's not quite basement but budgets for the two giant inflatable penises presumably wouldn't otherwise include dancers crawling up their interiors.
If it's not already obvious from the dancers dressed up as sperm and vaginas, Peaches is all about sex. It's fair to say that some of the songs early in her set don't quite deliver on the euphoric foreplay — Vaginoplasty, from her most recent album Rub, dips half-way through, as does AA XXX and Close Up. But what they lack in stamina they make up for in climax: brief lulls are excusable when the highs are so good.
In Free Drink Ticket, an enormous, baggy, parachute costume stands in for the interminable hold of disappointment and disgust following a broken relationship. The choreography of Boys Wanna Be Her includes multiple acts of cunnilingus and Slippery Dick is danced to vertical columns of green lasers and a white light sabre which is - really - a massive glowing dildo. All the while, a topless Peaches growls and spits and deadpans. It's fabulous.
If you don't like her music — which is a crucible of heavy hip-hop, punk-thrash and glam rock among other things — there's consolation in spectacle. In a pre-record of Kick It with Iggy Pop, his videoed kick sends her flying hammily off-stage. A trapeze artist with a laser butt-plug is lit from underneath by dancers wearing strobing thongs. An all-female band of violins, drums, trumpets and a tuba, play throughout, sending up the mores of the college band aesthetic with relish. A group of dancers from New Orleans cavort with a bevy semi-naked contemporary dancers. It's anarchy. It's also radically democratic.
Come the end of the show, she thanks every member of her group. Musicians, dancers, producers, costumiers, techies… All get a look in. After songs weighing in on listeners to "keep it nasty", Peaches is anything but (or differently so). Her shows are hardly for the faint-hearted (or prejudiced) but, in her own words, "You gotta handle that stuff."
If it's not already obvious from the dancers dressed up as sperm and vaginas, Peaches is all about sex
rating
Explore topics
Share this article