DVD: The Kids Are All Right |

reviews, news & interviews
DVD: The Kids Are All Right
DVD: The Kids Are All Right
The lesbian parenting movie loved by everybody... almost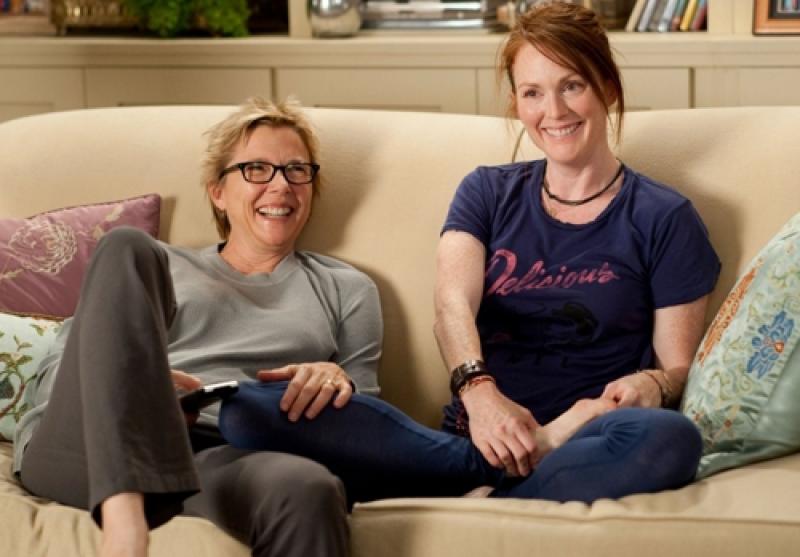 Annette Bening (left) and Julianne Moore feel the agonies and ecstasies of motherhood
Hailed by swarms of critics for its wit, warmth, compassion and daring challenge to conventional notions of gender and matrimony, Lisa Cholodenko's The Kids Are All Right strikes your correspondent as an exhaustingly solipsistic exercise in Californian smugness.
The supposedly bold notion of casting two senior Hollywood dames - Annette Bening and
Julianne Moore
- as lesbian couple Nic and Jules does raise an eyebrow when Moore supposedly pleasures Bening under the bedclothes with a vibrator, while male gay porn plays on the TV.
Yet otherwise, Nic'n'Jules's relationships with each other and their teenage children Joni and Laser (Mia Wasikowska and Josh Hutcherson, struggling heroically to overcome their screen names) are a mundane mix of suburban angst and mid-life crisis. In this case, at least, lesbians discovering that long-term relationships can grow stale and parenting is difficult isn't any more interesting than seeing a straight couple grappling with the same issues.
Cholodenko's device for starting a landslide under Nic and Jules's complacent Californian idyll is the arrival in their midst of the children's hitherto unknown sperm-donor father, Paul (Mark Ruffalo), when the kids decide they want to meet him before Joni leaves home to attend college. Paul, a laid-back, casually promiscuous organic restaurateur, is the flick's saving grace, and about the only amusing thing in what is supposed to be a comedy. In particular, his first meeting with Joni and Laser is handled with a gentle awkwardness that feels convincingly spontaneous.
Paul is temperamentally the polar opposite of Bening's shriekingly uptight Nic - this is a woman capable of singing Joni Mitchell's "All I Want" all the way through at full volume at the dinner table without blushing - but lights a sudden heterosexual fire within the bosom of Jules. Soon they're bonking like teenagers, pushing Nic and Jules's 20-year marriage to the brink of destruction. It's hard to count the ways in which this isn't convincing, especially when Paul is already on a roll with the lissom young waitress in his restaurant (Yaya DaCosta). But the truly miraculous aspect of this movie is that in Hollywood, it passed for revolutionary.
Extras include a routine Making of..., a micro-doc with Cholodenko and co-writer Stuart Blumberg called The Writer's Process, and The Journey to Forming a Family, where Cholodenko explains that "this movie is a celebration of rootedness and of tribe". Oh please.
Nic is a woman capable of singing Joni Mitchell's "All I Want" all the way through at the dinner table without blushing
Explore topics
Share this article