theartsdesk at the Berlin Festival and Music Week |

reviews, news & interviews
theartsdesk at the Berlin Festival and Music Week
theartsdesk at the Berlin Festival and Music Week
Sigur Rós, Franz Ferdinand and the world come to Berlin and Speer's monolithic airport
Tuesday, 11 September 2012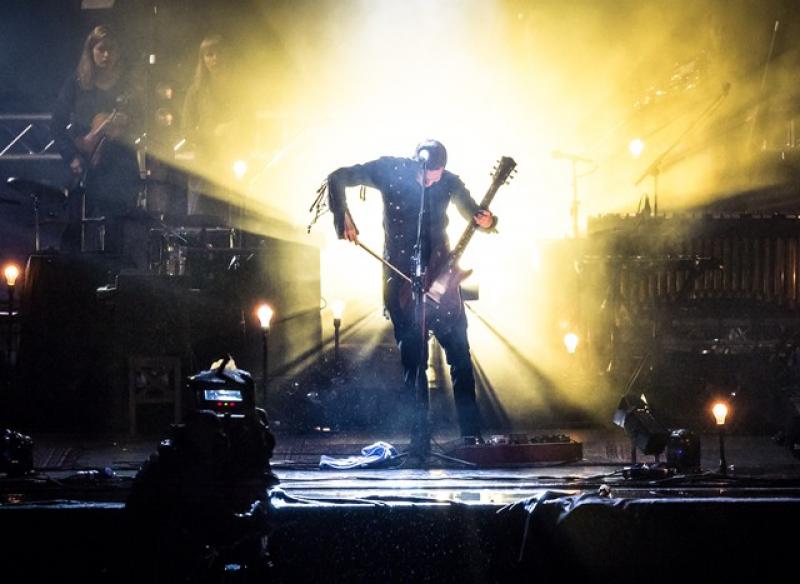 Sigur Rós' Jonsi at Berlin Festival: magnetic and intense
Sometimes, it doesn't matter who you are. You might be a charismatic performer, or the most energetic band in the world. But some settings can't be outperformed. Holding Berlin Festival at the city's astonishing out-of-commission Tempelhof airport sets a challenge that's almost impossible to rise to. Although it began working in the late 1920s, the surviving buildings were completed in 1941 and form a single block over a kilometre long, wrapped around an open quadrangle.
The gleaming, pale buildings dwarf anything.
The entrance hall is a cathedral to Albert Speer's vision of a modern, world-class Berlin (pictured below right, photo © Geert Schäfer). If that weren't enough, the city is also hosting the sister festival Berlin Music Week, where the bars and clubs of Kreuzberg and neighbouring Friedrichshain host dozens of shows.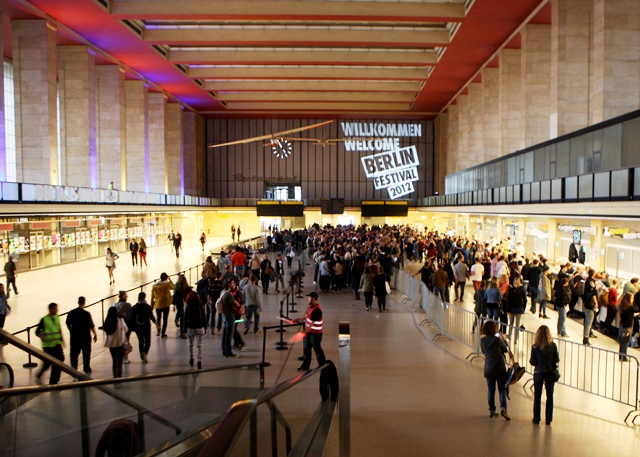 Tempelhof sets the bar high. So do the scale of Berlin Festival and Berlin Music Week. It's impossible to keep on top of everything. A flavour can be assimilated, but you'd have to clone yourself and then acquire a matter transporter to get more than a sniff of the 31 venues that operate at the same time as Tempelhof's four stages. Choices have to be made.
At the airport, the stages range across the concrete apron hugging the airside of the terminal building. It saw its last flights in 2008 yet a couple of planes sit out there, stranded between the beer and noodle stands, the dodgems and the art being created. The check-in desks are still in place. So are the signs. Passport control booths line the cavernous corridors. The festival's staff sport faux-airline caps. Fittingly, the hard surfaces mean sound bounces back and forth. If you move away from a stage it coagulates into a white noise-rumble underpinned by a dull thudding – an inadvertent homage to the sounds of jets taking off. No wonder the main stage is flanked by graphics of wings (pictured left, photo © Stephan Vlad).
Still, some performers cut through. Mostly those who kept their heads down and pumped the music out. None more so than Franz Ferdinand. When they briefly borrow Donna Summer's "I Feel Love", it's clear they know how to read the environment. Which was the opposite of The Killers, whose wafer-thin dress-up take on Bruce Springsteen veers uncomfortably close to a mélange of Bat Out of Hell Meatloaf and "Summer of '69" Bryan Adams.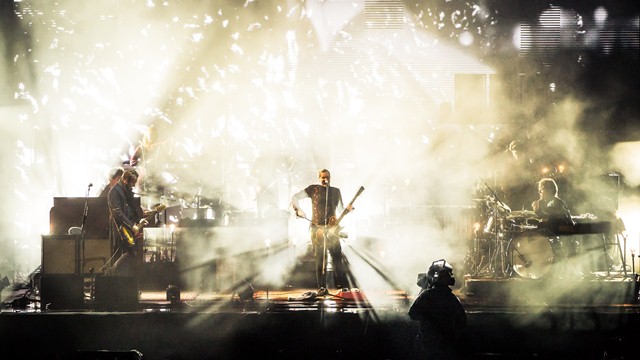 On a smaller stage, sat back in a hanger, First Aid Kit are lost and small. Music this organic would never work here and you wonder what they said to their booking agent afterwards. Grimes made it work on the same stage, as the live show is more about texture than reaching out to make a connection. Equally, Nicolas Jaar – who's arguably the definition of the anonymous that's claimed a face – was more at home in an environment suited to the communion of a mass dance music event.
Like Franz Ferdinand, others made the connection to varying degrees. If you got close enough to the stage, it could be fine. Kate Nash's guitar skronk and scratch did the business (pictured below right, photo © Geert Schäfer), so did what was trailed as the last-ever show by Sweden's hard-psyche rockers Soundtrack of Our Lives. But Denmark's WhoMadeWho ended up sounding like an accident in a hardware store. It was just as well that Switzerland's Bonaparte – a sort-of rock-rave version of The Tubes – were more about spectacle and none-too dressed ladies on stilts than subtlety.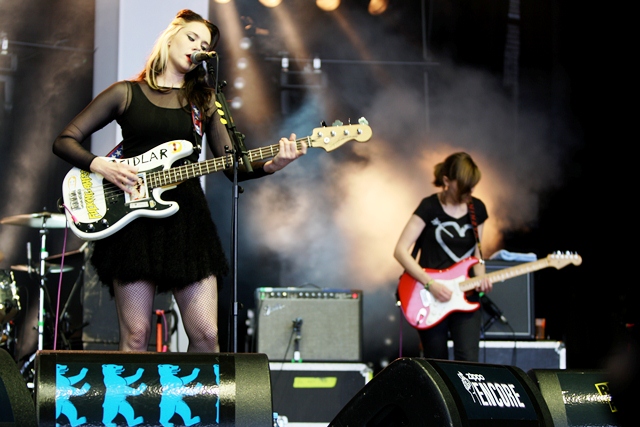 Only Sigur Rós managed to bridge the gap between the shortcomings of the sound and the overwhelming setting (pictured above, photo © Stephan Vlad). Their music is architectural, yet still about texture. So the sound coming from the stage rose, rather than folded back into itself. It helped that Orri Dýrason's drums were as powerful as John Bonham's. Sigur Rós though are at an interesting point. Having reconvened after Jonsi's solo albums to reclaim the sound they had before their last album, 2008's Með suð í eyrum við spilum endalaust, they've also lost long-term keyboard player Kjartan Sveinsson, who upped and offed before their 2012 live dates.
Although their Berlin Festival set had some extraordinary, transporting, highpoints – "Hoppípolla" and recent album Valtari's "Ekki múkk" amongst them" – and Jonsi was magnetic and intense, it was impossible - with them sandwiched between other performers and limited by the clock - to decide whether they're recapturing the momentum they had pre-2008.
Handily, out on the streets of Berlin, it wasn't necessary for such brow-furrowing. Berlin Music Week is a showcase for music from across much of the world and a rare chance to take in performers from almost anywhere in the highly alternative Kreuzberg. This is an area of Berlin where a branch a of the US-owned sandwich chain Subway was forced out. In its place now is an independent kebab shop. The local MacDonald's has the glaziers on speed dial.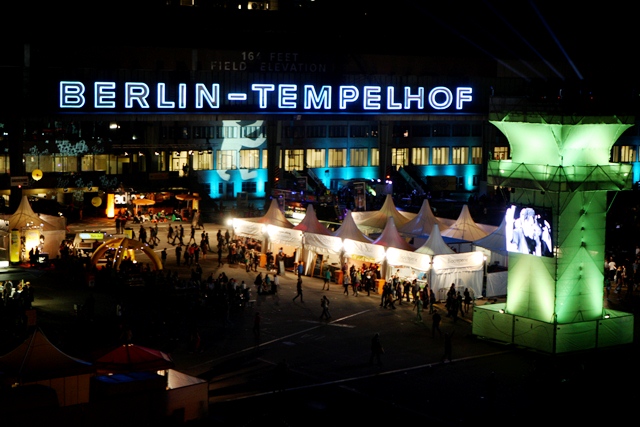 The small bar Tante Emma hosted Estonia's Tiit Kikas, an electric violinist with a fondness for treatments that results in shimmering, filmic atmospheres. The similarly reflective Tiny Ruins, from New Zealand, worked a treat here too.
Ten minutes walk away at Lido, a former cinema, it was the turn for France to take over. Brigitte are two women (one with Nana Mouskari glasses) in sparkly silver dresses and three men in Clockwork Orange-style white outfits and bowler hats. Veering between moody balladry and rockified Euro cheese, they took on Survivor's "Eye of the Tiger" and won through on sheer chutzpah. They've achieved Platinum sales in France. Following them, the modern varieté pop of La Grande Sophie needed no such gimmickry. Showcasing her recent La place du fantôme album, her flawless songs have a melancholic melodic arc that's directly traceable back to chanson. Wonderful.
Across the river Spree from Kreuzberg in the former East Berlin district of Friedrichshain, the venues were even less traditional. Turn left after the bridge, walk along a stretch of the Berlin Wall and you reach Postbanhof, the massive brick block associated with the former postal service railway station. Ironically, this conversion is slap-bang next door to the new O2 Arena, Berlin's specially constructed enormo-dome. Postbanhof hosted a Scandinavian night with Finland's winning dance-popsters LCMDF and Denmark's Spleen United, who play a form of techno/rave live as a band. Banging.
Heading north-east you eventually reach Rosi's, a venue within what appears to be a series of former farm buildings. Showcasing another aspect of the Scandinavian takeover, the highlight there was Waldo & Marsha, an eight-piece (four guitars) Danish band named from a Velvet Underground song who are clearly one today's top meta-Slowdives. One of their songs borrowed both the refrain and drumbeat from The Beatles' "Rain". Belgium, Austria, Poland, Israel and Russia were represented elsewhere too. Depending on where you fancy travelling to, there's no need to leave Berlin. But, in the end the chance to do so comes back to cloning and that matter transporter.
Back at Tempelhof, choices weren't so hard. The international roaming from stage to stage was easier. And less tiring. What set both Berlin Festival and Berlin Music Week apart was that no one appeared to care where anyone was from. It wasn't an issue that Bonaparte were Swiss – their show was what mattered. Did anyone give a hoot that this band was Danish or even that that band was German? No. Berlin's genuinely open audiences were a tonic.
Move away from a stage at Berlin Festival and the sound coagulates into a white noise-rumble – an inadvertent homage to the sounds of jets taking off
Explore topics
Share this article