Don Pasquale, Glyndebourne Festival Opera |

reviews, news & interviews
Don Pasquale, Glyndebourne Festival Opera
Don Pasquale, Glyndebourne Festival Opera
Donizetti's late opera buffa sparkles in production that prefers style to problematics
Don Pasquale (Alessandro Corbelli) 'marries' Norina (Danielle deNiese), helped by Malatesta (Nikolay Borchev)
Her tongue firmly planted in her cheek, Mariame Clément grumbles in the Glyndebourne programme that Don Pasquale "poses no specific 'conceptual' challenge" to the opera director. Sighs of relief all round. Donizetti's final comic masterpiece turns out to be "about" nothing but its own subtly nuanced retelling of the stock tale of the old buffer who plans to marry his ward, nephew's sweetheart, or some such, but is outwitted by her with the help of a smart confederate.
But that, it also emerges in Clément's witty and intelligent production first staged on the tour two years ago but new now to the Festival, is quite enough to be going on with.
Above all, we're spared any updating: Don Pasquale as Berlusconi etc, etc. Clément sets the piece, if anything, back in time, circa 1780, though Donizetti – writing in 1843 – doesn't specify period in his stage directions. She has a few tweaks of her own. Instead of the flock of servants hired by the profligate Norina, she gives us a stage audience, Gozzi-style, in white outfits and powdered wigs, an idea that won a round of applause from the real audience but for me slightly undermined the profligacy. And she has, in Julia Hansen, a brilliant designer with a sure sense of idiom. Her tripartite revolve not only makes for rapid scene changes to match the speed of the action, but it's a delightfully witty concept in its own right.
The work's original Paris cast could hardly have matched this for sheer presence and vitality
More importantly, Clément seizes on Malatesta, the manipulative doctor, and adds a new and all too believable liaison dangéreuse between him and Norina. Does this contradict Donizetti's happy ending, as my colleague David Nice suggested in his review of the tour? The problem with Don Pasquale, if there has to be one, is that the presumed hero Ernesto (as the only tenor in a work full of baritones) is little more than a cipher with a couple of charming songs and a decorative rather than passionate love duet, staged here as a kind of Embarquement pour Cythère amid the powdered wigs. The flighty Norina will surely tire of him pretty quick. Then Malatesta, too, had better watch out.
So even Donizetti can set you thinking while you revel in his adorable bel canto tunefulness and exquisite orchestration, delivered here with incomparable style by the LPO under Enrique Mazzola. And what a cast! Possibly the work's original Paris cast, which had four of the greatest Italian opera singers of the day (Lablache, Grisi, Tamburini and Mario), would have outsung the Glyndebourne team, if not by much. But they could hardly have matched it for sheer presence and vitality.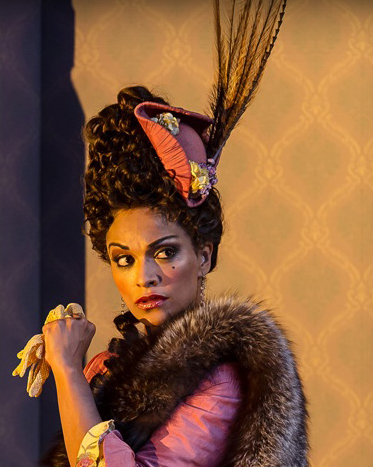 Alessandro Corbelli's Pasquale is both a stock character and something more, as Clément suggests in her note, a target for affection as much as ridicule, with his hangdog face and quick grasp of what's what. His patter duet with Nikolay Borchev's clever, impassive Malatesta is a high point of the evening, and – in true Donizettian fashion – was encored. The Ernesto, Enea Scala – the one survivor from the tour cast, and a late stand-in here for the indisposed Alek Schrader – made the best of this slightly under-coloured role, delivering its ornate vocal lines with complete aplomb, if in a somewhat reedy timbre that might not please everyone.
But perhaps the real manipulator, after all, is Norina herself, the original merry widow (pictured above right), a match for anyone in Danielle de Niese's hands and voice. She took time, on the first night, to warm up, not helped perhaps by Clément having her seated, not very elegantly, for most of her first aria. But once in her stride, she's unstoppable, as much in control of the coloratura as of the situation, and as ever compulsively watchable.
Even Donizetti can set you thinking while you revel in his adorable bel canto tunefulness
rating
Explore topics
Share this article