What's It All About?, Menier Chocolate Factory |

reviews, news & interviews
What's It All About?, Menier Chocolate Factory
What's It All About?, Menier Chocolate Factory
Off Broadway hit shines in Off West End transfer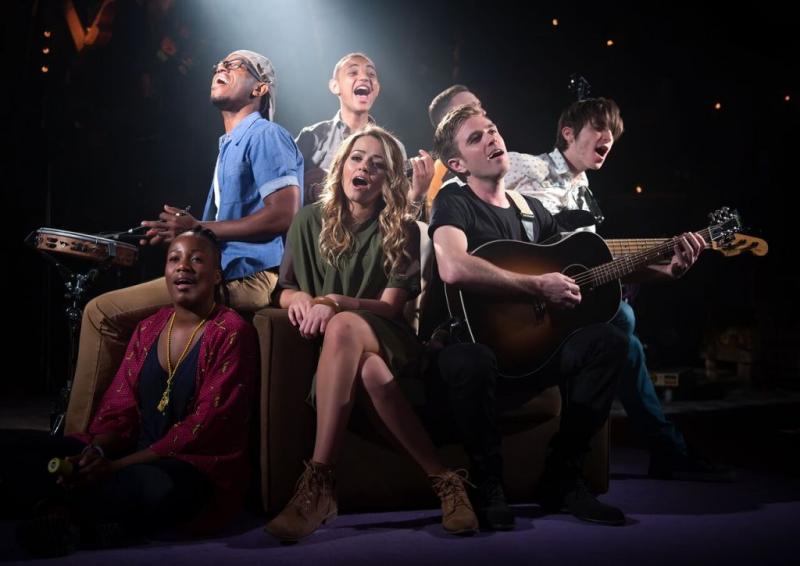 What's new, pussycats: the cast of 'What's It All About?' at the Menier Chocolate Factory
Burt Bacharach, existentialist? That's among the surprising thoughts prompted by the searchingly titled What's It All About?, the altogether delightful but also touching musical revue that trawls Bacharach's back catalogue – and that on opening night found the 87-year-old tunesmith tinkling the ivories for a moment or two during the curtain call.
First seen Off Broadway 18 months ago, director Steven Hoggett's jukebox musical-with-a-twist proves even more winning on a second viewiing. The material may well be a bit too sincere – that's to say, in-your-face earnest – for more jaded playgoers, but everyone else will likely share the vibe of a surpassingly happy summer's entertainment. Not another greatest-hits plunder, I hear you moaning? The difference here is that co-creators David Lane Seltzer (the originating producer) and Kyle Riabko (the irresistibly puppyish leading man, pictured below) aren't interested in tenuous narratives intended to connect the music that is the reason why everyone has shown up in the first place.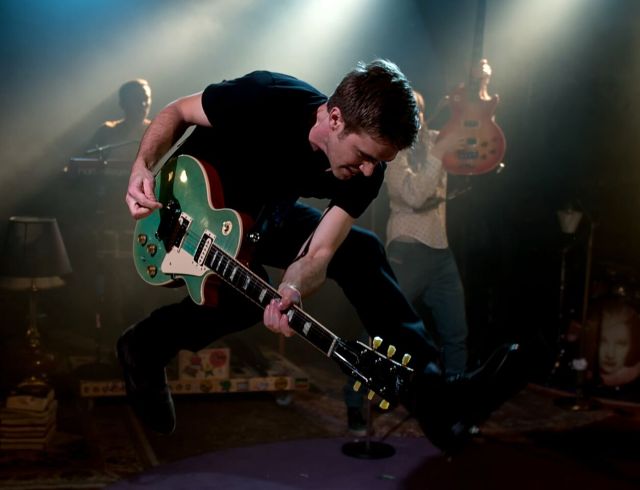 Instead, this is Bacharach (and his longtime lyricist Hal David, who died in 2012) as you're unlikely to have previously heard him: refashioned, refreshed, and reinvigorated by a youthful cast, none of whom were even glimmers in their parents' eyes when the composer was first hitting paydirt with the likes of "Alfie" and "What's New Pussycat?" in the mid-1960s. With Canadian performer Riabko leading the charge on any of a dozen or so guitars, the Sartrian impulses of Bacharach's enquiries into the byways of love and loss and marital break-ups and emotional meltdowns find a newly mournful or jaunty or indie-pop pulse, as required.
Think of it as a jam session held in a musician-friend's lamp- and sofa-filled underground hideaway, and you begin to get the measure of an evening pitched somewhere between an impromptu concert and a happening, albeit as held in a space that happens to feature a turntable set so that, for instance, the plaintive qualities of "Walk On By" can be visually amplified by so many revolving empty chairs. Loss is the abiding leitmotif here, as evidenced especially succinctly by "A House Is Not a Home", a song about solitude which finds an immediate corrective in the companiability of the notably fresh-faced cast. (Riabko welcomes us at the start as his "friends," urging those who are so inclined to sing and dance along.)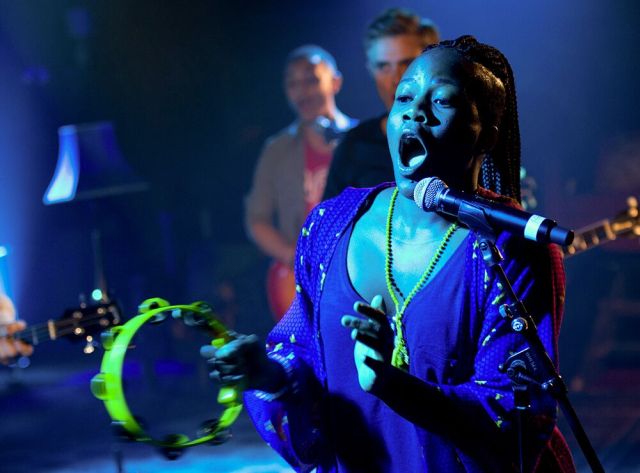 As someone who grew up hearing Bacharach in a Muzak context that was largely anaesthetising, I wasn't prepared in New York for the emotional appeal of a show that packs a comparably unforced punch here. "Make It Easy On Yourself" emerges anew as an exhortation that contains within it the prospect that such self-commands are often easier said than done, and when the company's two (wonderful) women sing (during "Raindrops Keep Fallin' On My Head") of "the blues they send to meet me", they deliver the follow-up line about being greeted by happiness as if saying it might make it so – which perhaps it will. Stephanie McKeon and Anastacia McCleskey (pictured above) are treasurable, whether separately or together.
The ensemble make for a singular and sweet unit on group numbers like "Close to You" (a hit way back when for The Carpenters), but they also get individual moments to seize the lamplight, so to speak, and one sometimes wishes Riabko had found a way to spread the wealth even more thoroughly among some of his colleagues. A newcomer to the show for London, Renato Paris gives off the air of someone who could rock out all night, while James Williams – a hold-over from New York – seems to occupy a finger-drumming universe all his own. Of course, few performances will have the added attraction of Bacharach himself in the house, but the man's spirit is everywhere evident: for the next two months, this playhouse is a home, indeed.