The Big Short |

reviews, news & interviews
The Big Short
The Big Short
Director Adam McKay successfully makes a drama out of a crisis
Although terms like "collateralised debt obligations" and "credit default swaps" were much bandied-about after the banking crash of 2008, they still make sense to almost nobody except bond traders and arbitragers. However, director Adam McKay has come as close as is humanly possible to getting the baffled layman inside the belly of the financial beast in this complex but absorbing movie, and he's done it with wit and flair.
The Big Short is based on Michael Lewis's book The Big Short: Inside the Doomsday Machine, a true story of how a handful of maverick investors discerned that the financial industry was perpetrating a fraud of historic proportions based on bullshit and sleight of hand. Some of the names have been changed, but one which hasn't is Dr Michael Burry (Christian Bale), a former neurologist with a glass eye, a passion for playing heavy metal drums, and Asperger's syndrome. Subsequently running his own Scion Capital hedge fund, Burry had the monomaniacal tenacity required to sit down and read through all the individual mortgage agreements which had been bundled together to create the "mortgage-backed securities" which became a critical component of the banking Armageddon. He discovered that many of them were worth much less than the paper they were printed on, and thus the financial instruments derived from them were doomed to crash.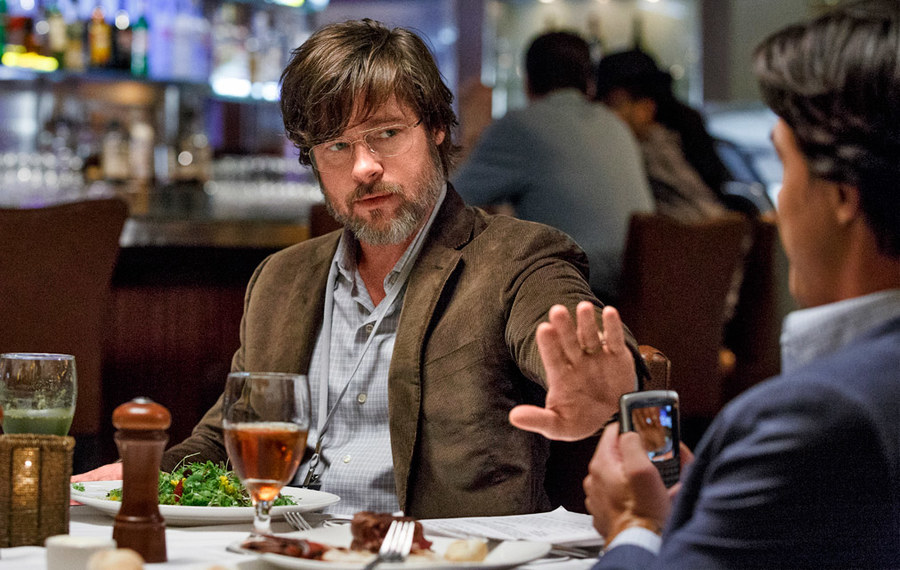 But that was only the start. In order to exploit his startling insight, Burry had to persuade the bankers to create the credit default swap, whereby he could bet large on the collapse of the US housing market. Since everybody had convinced themselves that the housing business, anchored on the personal investments of millions of honest Americans, could never go wrong, they were delighted to oblige.
The rest is history, but McKay has transformed it into a rollercoaster of big characters, moral hazard and blackly comic digressions. He's hugely assisted by a powerful cast. Bale, ever the method fanatic, was a shoo-in for the charm-free, obsessive Burry. Brad Pitt (also one of the producers, pictured above) does a senior statesman turn as veteran finance-Einstein Steve Rickert.
Steve Carell is superb as Mark Baum, a bull-headed, bad-tempered hedge fund manager who gets wind of Burrell's activities and leads his team of wisecracking whippersnappers (including a sparky Rafe Spall) through their own personal investigation into the looming financial tsunami. Down in Florida, they find insanely overstretched buyers being fed lavish mortgages by lenders who haven't a clue what they're selling. In a scarily comic climactic scene, Baum shares a debating platform with a senior banker who's blithely declaring his faith in his company's shares while assembled financial journalists are watching the price plummet to oblivion on their Blackberrys.
Rude and crude as he is, Baum does at least feel shock and remorse as the full extent of the crisis becomes clear, with its crushing impact on millions of fellow-citizens. McKay sprays moral outrage over the bankers, but his protagonists aren't much better as they rejoice in being clever enough to create a personal jackpot out of this collective purgatory. Particularly smarmy is Jared Vennett, played by Ryan Gosling like a weasel dipped in Brylcreem, and the most eminently punchable banker on Wall Street (Gosling and Carell pictured below). McKay also uses him as narrator, letting him break the fourth wall with asides to the audience ("yes, this meeting really did happen").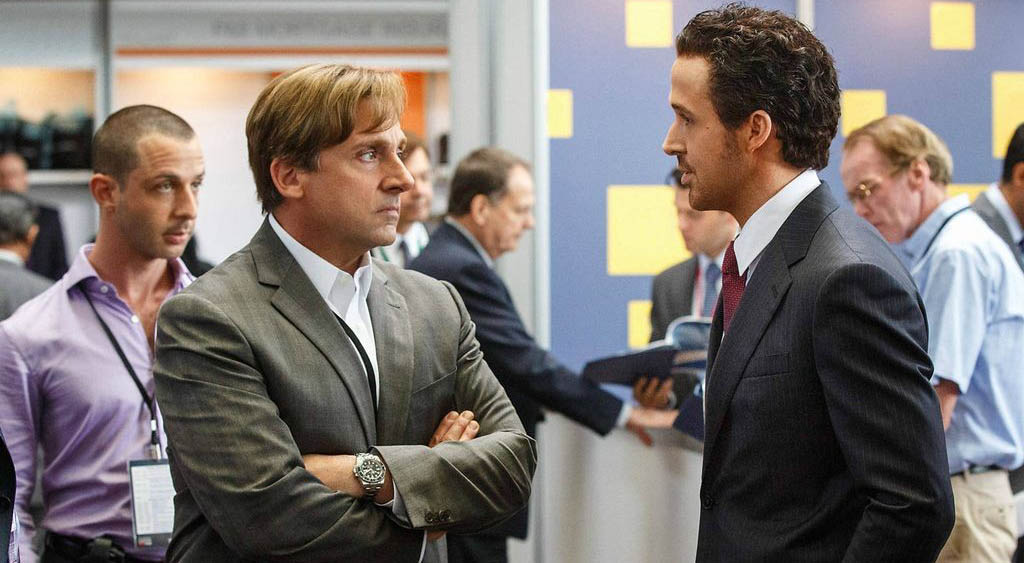 That's just one of several devices the director shuffles to fend off glazed-eye syndrome. On-screen text might pop up helpfully, while spliced-in flashes of pop-culture imagery add a subliminal timeline. A deadpan sequence of how staid and boring banking used to be before the 1980s evokes a sleepy world of sludge-green and taupe, where bankers were mostly at lunch and two per cent was considered a handsome profit. The best trick is the unashamedly gratuitous introduction of celebrities to explain thorny plot points – "to tell you about subprime mortgages, here's Margot Robbie in a bubble-bath", or svelte popstrel Selena Gomez teaming up with economist Richard Thaler to give y'all the lowdown on "Synthetic CDOs".
Smart and sharp as the movie is, turning arcane financial activities into mass entertainment is like Splitting the Atom II, and on top of that there's no avoiding the fact that this is a movie all about men, most of them not very pleasant. Marisa Tomei gets a bit of room to shine as Baum's wife Cynthia, but Melissa Leo's Georgia Hale is little more than a stick with which to beat the corrupt ratings agencies which played a contemptible role in the crash. Nonetheless, as an investigation of a bout of collective insanity which almost destroyed the civilised world, this is a ride worth taking.
BRAD PITT'S BIG MOMENTS
Allied. Doomed but entertaining attempt to revive 1940s Hollywood

Fury. David Ayer and Brad Pitt take the war film by the scruff of the neck
Inglorious Basterds. Pitt is gloriously absurd in Tarantino WW2 alternative history
Killing Them Softly. Brad Pitt cleans up an almighty mess in Andrew Dominik's high-calibre crime ensemble
Moneyball. How Billy Beane created a revolution in Major League baseball
The Counsellor. Ridley Scott ensemble thriller is nasty, brutish and short or mysterious, upsetting and alluring
The Tree of Life. Terrence Malick's elliptical epic leads us through time, space and one family's story

PLUS ONE TURKEY
World War Z. It's World War with a Zee as Brad Pitt battles the undead and a zombie script
OVERLEAF: RYAN GOSLING'S FILMOGRAPHY
Blue Valentine (2010). A controversial break-up melodrama sees things from the male point of view
Drive (2011). Ryan Gosling's brilliant, bruising ride into LA darkness (pictured)
Crazy, Stupid, Love (2011). Ryan Gosling teaches Steve Carell how to score in a film that doesn't
The Ides of March (2011). George Clooney's star-packed morality tale superbly anatomises political chicanery
The Place Beyond the Pines (2013). Derek Cianfrance and Ryan Gosling follow Blue Valentine with an epic tale of cops and robbers
Gangster Squad (2013). Ruben Fleischer swaps zombies for gangsters with mixed results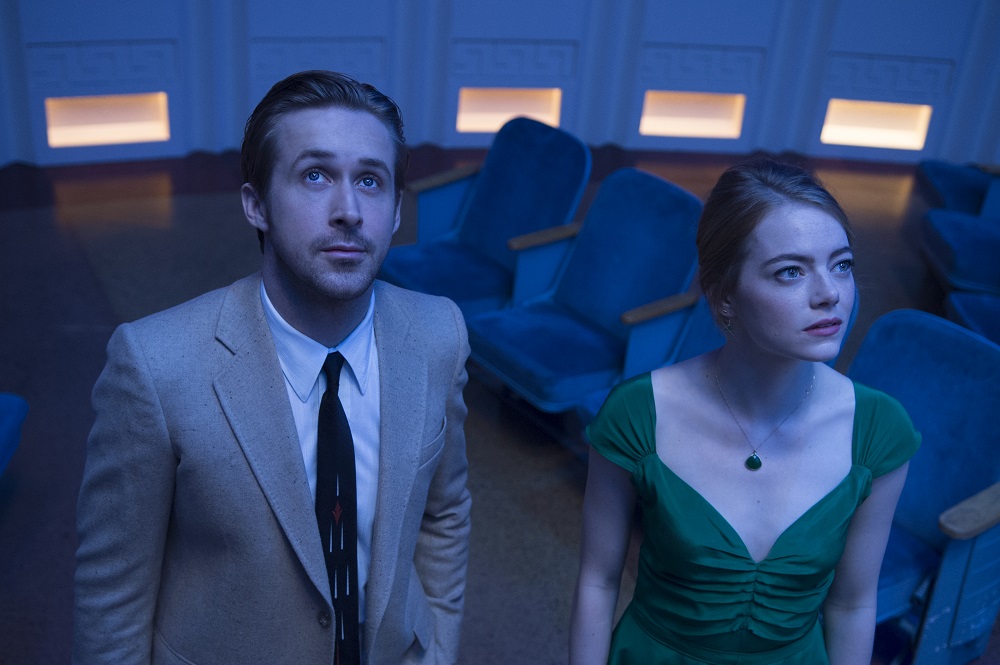 Only God Forgives (2013). Nicolas Winding Refn and Ryan Gosling follow Drive with a simmering tale of vengeance
The Big Short (2015). Director Adam McKay successfully makes a drama out of a crisis
The Nice Guys (2016). Russell Crowe and Ryan Gosling buddy up to crack jokes, bones and crime in 70s LA
La La Land (2017). Ryan Gosling and Emma Stone (pictured above) will have you floating out of the cinema on a cloud