Happy Valley, Series 2, BBC One |

reviews, news & interviews
Happy Valley, Series 2, BBC One
Happy Valley, Series 2, BBC One
Sally Wainwright and Sarah Lancashire return to police work in Yorkshire laden with BAFTAs
Wednesday, 10 February 2016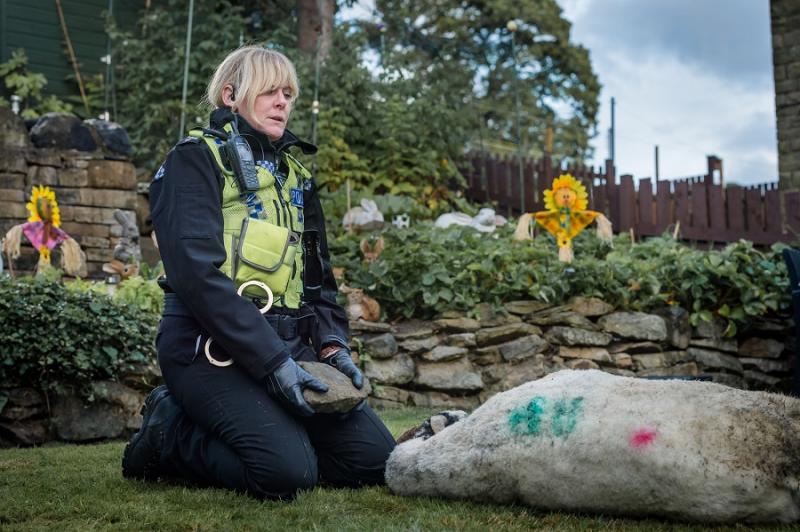 Sarah Lancashire and a dead sheep: 'Happy Valley'
"It's routine, it's procedure." "It's wank, it's toss." As you can tell, Happy Valley is back. If Sally Wainwright made bespoke ironmongery or dry stone walls or exceedingly good cakes, her work would come by royal appointment.
Instead you can tell she's good because she accumulates awards, including most recently a couple of BAFTAs for series one, and attracts actors from the farthest-flung corners of northern drama such as
Cucumber
and
Downton
's downstairs, all gagging to speak her pearly dialogue.
The BBC iPlayer has been running a five-minute recap of where we're up to pending this second tightrope walk between violent procedural and dry salted comedy. Do watch if you missed it and join in here. Mainly you need to know that Sergeant Catherine Cawood (Sarah Lancashire) apprehended Tommy Lee Royce (James Norton), the thug who raped her daughter and sired the grandson she is now bringing up after the former's suicide, and that Royce is safely stuck in front of brain-rotting daytime TV in his prison cell. Or is he?
Series two opened with Clare talking her recovering alcoholic sister Clare (Siobhan Finneran) through a comic case of sheep-rustling during which she accidentally discovered a putrefying corpse in a lock-up. A typical Happy Valley switchback. You chortle all you want, and then your heart is hauled into your throat. The deceased was identified as the addled mother of Royce, who cried a river when he was informed (after War and Peace, this half of the week is essentially a James Norton showreel).
Absurdly, because she forcefully advised the deceased to observe the court's injunction and steer clear of her grandson Ryan, Catherine must now provide an alibi for not one but three murders. "It's routine, it's procedure," explains her boss. "Where are you going?" "I'm going to strangle a few more prostitutes and stick some more broken bottles where the sun don't shine." Always says it like is, our Sarge.
Meanwhile Mr Molesley is being blackmailed by DCI Jill Murray from Scott & Bailey. As it were. This muddled double vision is the only unwanted side effect when the nation's favourite actors all make a beeline for the same brilliant script. Kevin Doyle (pictured above), nerves even more a-jangle than when carrying dinner up to Lord Crawley, plays John Wadsworth, a detective whose attempt to call off his affair with a clingy beautician called Vicky (Amelia Bullmore) goes thrillingly awry. Bullmore isn't the only merciless stalker to keep an eye on. Shirley Henderson is convincingly batty as one of those obsessive women who fall for violent criminals, in this case Royce, whose mother's death she seems eager to avenge.
At the heart of it all is the splendid Lancashire, incarnating Wainwright's unarguable position that the world is an altogether disappointing place but we struggle on. "Forget everything they taught you in training school," she tells a new recruit, "because none of it works in the real world." The new copper happens to be Ann Gallagher (Charlie Murphy), Royce's kidnap victim from series one. From any other writer you'd think, oh come off it. But Wainwright likes to keep everything in the family. She's even directing half of this series. Beautifully.