Alan Bennett's Diaries, BBC Two |

reviews, news & interviews
Alan Bennett's Diaries, BBC Two
Alan Bennett's Diaries, BBC Two
Portrait of the artist as a diarist: Leeds to London, past to present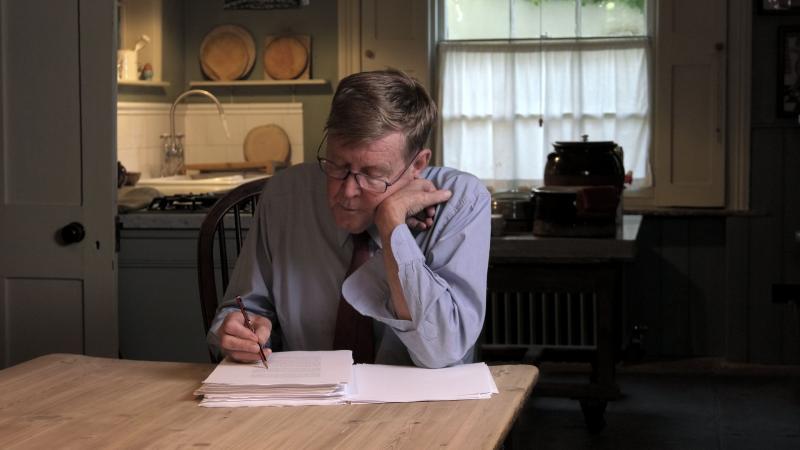 Alone with the blank page: Alan Bennett
Gather round the fire, friends: no Santa down the chimney this Christmas Eve, but the curiously comforting Alan Bennett, with his sardonic and occasionally optimistic diaries. The latest published instalment has the slightly wry title Keeping On Keeping On; Bennett tells us the original title was to be Banging On Banging On.
Bennett is 82 now, and lives much of the time in NW1 – the very street once home to the Lady in the Van, who parked in his front garden, in a neighbourhood memorialised in the Mark Boxer comic strip, Life and Times in NW1. Now much has gone: the real-life Mr and Mrs String-Along, the publishers and writers and journalists and artists. But the nation's favourite endures. But how do you present this Living National Treasure without an overdose of "There, there, dear"?
Bennett is an absolute genius at backing into the limelight
His own indignation about increasing unfairness and the dismantling of the virtues of the welfare state, as well as his relish in absurdity, provided enough seasoning to overcome any cloying sentiment. Bennett's observations are not cutting-edge; he sneaks up on you, slyly subversive. He is probably everybody's favourite Christmas present, and this hour spent in his company was a provocative delight. We actually got to see the diaries, written out in longhand on sheets of white A4 paper. Piles and piles and piles of them go to his long-time typist, whose greatest fear is dropping the lot (the pages are unnumbered).
The billing for Adam Low's film was that this was Alan Bennett as we have never seen him before: not quite true, since there have been several volumes of diaries before, plus memorabilia, stories often with autobiographical elements, and he has featured lightly disguised or with no disguise in the writings of others, like Nina Stibbe's Love, Nina as well as on television and radio, at literary festivals, not to mention the long-running diary in the London Review of Books. Running through it was the discussion and recording of Bennett's Private Passions, with interlocutor Michael Berkeley: they first met, as they jokingly confided, at No 10 Downing Street. Bennett is an absolute genius at backing into the limelight. He is also, as he does not point out, resolutely unhonoured.
Music was one theme: he loves the classics. The theme from the Brahms second piano concerto, first heard in 1951, hummed by a school friend. 1951, Rosenkavalier at Leeds Grand Opera House, Bennett so naïve at 17 that he did not understand about the Marshallin's lover; but he did understand in the third act the renunciation of love, and thought that that was how his life would be. What has stuck in Bennett's ears was heard live during his childhood at Leeds Town Hall – cue many an image of its superb interior replete with uplifting mottos in mosaic. In church he first heard the St Matthew Passion, which still reduces him to tears. Elgar's Dream of Gerontius, Walton's First Symphony, and Bewitched, Bothered and Bewildered, the last introduced by Nicholas Hytner: it figured in The History Boys. (He was hilarious about the play winning the Tony Awards in New York, when he was asked whether the award will kick start his career.)
Throughout he delved into boxes of old photographs – parents, family groups, and Beyond the Fringe (pictured right in a BBC image). They failed in Brighton, half-full at the beginning, only a quarter at the end. The old photographs of Moore, Miller, Cook and Bennett embarrass him, although since he is a master at embarrassment, you don't quite believe him.
Politics featured, obviously, with both a big and a small "p". His house has "Save Our Libraries" in its window, and Bennett's passion was profoundly evoked when he told us that he owed everything to the state – his education, the NHS. He is furious about the current state of affairs, with poverty coming to bear a social stigma. His preaching is of course tolerable, coming in his Yorkshire accent and laced with self-deprecating humour. He recounted his immense depression after the election, calling the ruling party self-seeking liars, and wonders how long it will be before "this lot" turns its attention to the BBC, destruction in mind. He noted David Cameron preaching on the smart state to Leeds businessmen, observing that for Cameron "smart" means doing as little as anyone can get away with, calling it enterprise, smart as in smart alec. The notion of the state as a villain offended Alan; for him, it is a maternal provider.
If this was partly a none-so-subtle reminder of the virtues of old-fashioned Labour, it also included touching photographs of his civil partnership with partner Rupert in 2006 at Camden Registry Office. He thinks they didn't even go out for a celebratory dinner; it was a small group, Jonathan Miller's daughter Kate, Rupert's best friend, Owen, Rupert's brother and his parents. The simplest possible occasion: it might as well have been a funeral, but AB actually giggled, saying "Well, it has lasted." We saw Rupert only once, on the side when Alan was giving a talk – in a church. Bennett would like to be religious only to have someone – God – to whom he could express his gratitude. This may have been a programme ostensibly for Christmas Eve, but there was something for all seasons and all moods.
How do you present this Living National Treasure without an overdose of 'There, there, dear'?
rating
Share this article