Goodbye Christopher Robin review - no escape for a boy and his bear |

reviews, news & interviews
Goodbye Christopher Robin review - no escape for a boy and his bear
Goodbye Christopher Robin review - no escape for a boy and his bear
Director Simon Curtis explores the unhappy origins of Winnie-the-Pooh
Friday, 29 September 2017
"Isn't it funny/How a bear likes honey?/Buzz! Buzz! Buzz!/I wonder why he does." Those immortal words, said by the bear of very little brain in chapter one of Winnie-the-Pooh, don't sound quite the same after watching a shell-shocked AA Milne (Domhnall Gleeson) react to bees buzzing when out for walk in the Hundred Acre Wood with his son (Will Tilston, making his debut, pictured below). Milne, known as Blue, is traumatised after serving in the battle of the Somme and various triggers – bees, champagne corks, bright lights, popping balloons – create flashbacks. "Bees are good, aren't they?" says Christopher Robin, known to his parents as Billy Moon. Milne's mouth twitches.
Directed by Simon Curtis (My Week with Marilyn) with a script by Frank Cottrell-Boyce, the film is based loosely on fact. It's frightfully full of clichéd stiff upper lips – "We don't blub in this house," declares Blue's glamorous wife Daphne (a one-dimensional Margot Robbie) – and wry, suppressed smiles. And dimples: Christopher Robin's are wearyingly prominent, along with his girlie haircut and clothes. "More smocks?" sighs the indispensable nanny (an impressive Kelly Macdonald) when Daphne hands her a to-do list before she swans off to London to check out the wallpaper collection at Whiteley's. All too, too English for words (though accents do slip a bit, which is partly why Macdonald's natural Scottishness is such a relief), and the East Sussex scenery looks enchanting.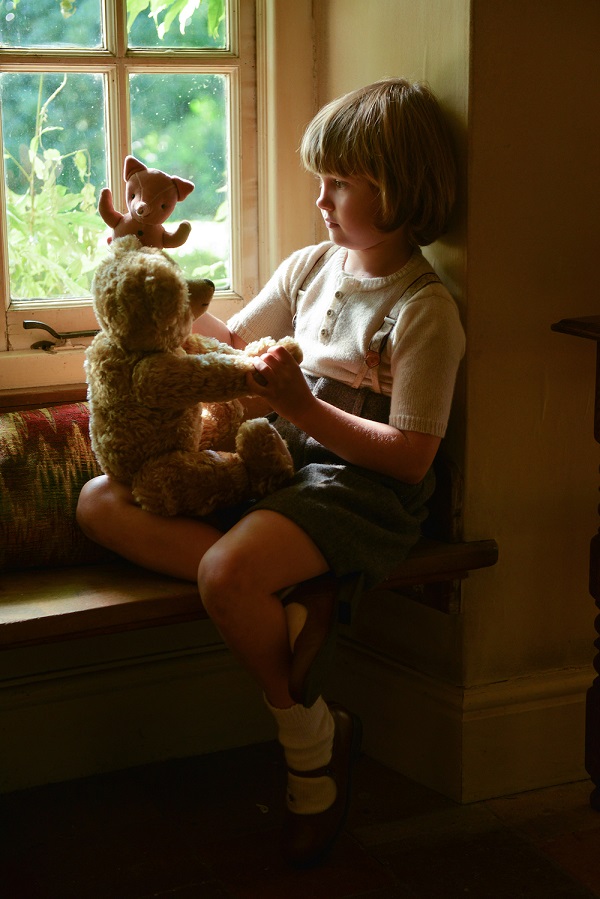 Milne is a successful playwright, screenwriter and novelist but PTSD makes him long for peace and quiet in the countryside, where he plans to write the definitive denunciation of war. Daphne's not keen, but they move from Chelsea to Cotchford Farm, a gorgeous 16th century house near Ashdown Forest (Brian Jones bought the house in the Sixties and drowned in its pool). But the PTSD isn't so easy to escape. "You're a writer. Write," commands Daphne when Blue's away from his desk again. "I had a baby to cheer you up. Nothing's enough for you."
Writer's block persists until the curse of Winnie-the-Pooh is cast when both Nanny, aka Nou, and Daphne are away. Blue is forced to spend time with his neglected son, making inedible porridge and inventing, somewhat stiltedly, stories about Tigger, Piglet, Eeyore and Winnie the bear – the Pooh bit comes later, when Milne and his illustrator pal EH Shepard, who is also suffering from PTSD after Passchendaele, decide that it's satisfyingly "inexplicable" as a name (one of the more interesting revelations in the film).
Success is rapid after Vespers ("Hush! Hush! Whisper who dares!/Christopher Robin is saying his prayers") is published in Vanity Fair (Daphne's doing) and before we know it, the Milnes are on publicity tours in America and Winnie-the-Pooh is a sell-out. Billy Moon is roped in to do endless interviews (Phoebe Waller-Bridge plays a persistent journo) and photoshoots, including, shockingly, one in the bear enclosure at London zoo (end credits show the original photo). He is generally touted around like a show-pony, as Nou puts it before she dares to leave to get married. "Is there anywhere they haven't heard of Winnie-the-Pooh?" he asks her wistfully. "Perhaps the Highveld," says Nou, pointing to it on the atlas, and he decides that's the place for him.
But the next step is an English boarding-school, which is bound to be hell for a long-haired young boy famous for his stuffed animals. Of course that doesn't occur to his selfish parents. "Hush, hush, nobody cares, Christopher Robin has fallen downstairs," is the cry from his schoolmates, and your heart does bleed for the child. By the time he's a miserable, bullied young man (played by a hollow-eyed Alex Lawther, who was a young Alan Turing in The Imitation Game) who's longing for anonymity, the tables have turned. "You sold our hours of happiness," Billy tells Blue. "Our games were just research." But in the end, son-father bitterness is unrealistically (and inaccurately) overcome, and you're left wishing for something more rigourous and less twee.
Overleaf: watch the trailer for Goodbye Christopher Robin