Battle of the Sexes review - Emma Stone aces it as Billie Jean King |

reviews, news & interviews
Battle of the Sexes review - Emma Stone aces it as Billie Jean King
Battle of the Sexes review - Emma Stone aces it as Billie Jean King
Champ's face-off with chauvinist challenger Bobby Riggs is only part of this Hollywoodised story
Wednesday, 22 November 2017
This is a heartbreaking week for women's tennis. The death from cancer of Jana Novotna at only 49 evokes memories of one of Wimbledon's more charming fairytales. Novotna was a lissome athlete who flunked what looked like her best shot at greatness, tossing away a third-set lead in the 1993 women's final and then crumpling on the shoulder of the Duchess of Kent. Five years later she eventually became the oldest first-time champion. It would make a lovely Hollywood movie.
Instead this year's second tennis film is Battle of the Sexes. Like Borg/McEnroe, it spirits us back to the 1970s, that implausible decade of wooden rackets, big hair and (ahem) unequal pay. The story is basically true: female champ Billie Jean King (Emma Stone) led a protest walk-out from a tournament circuit which offered much greater rewards to male players, set up a breakaway women's tour, only to face a phallocratic broadside from left field when fiftysomething former pro Bobby Riggs (Steve Carell) started challenging the top women to a gender-themed play-off.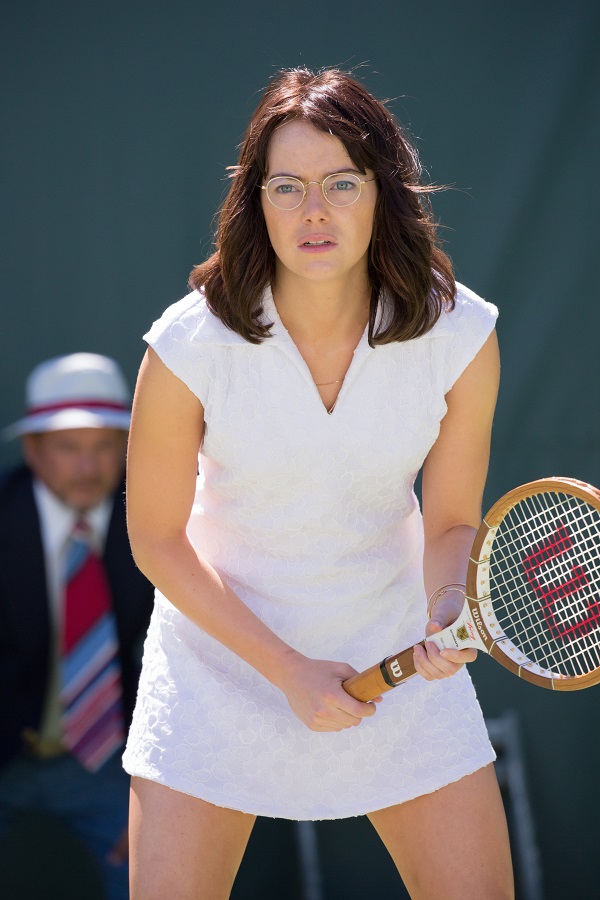 Riggs had a clown's genius for garish marketing and happily cast himself as male chauvinist pig in order to boost ticket sales. His showdown with King in a Texan jumbo-dome became a famous event which, in retrospect, looks like a sideshow with a slight absence of oomph. So to beef up the script Simon Beaufoy (The Full Monty, Slumdog Millionaire) tells the parallel story of King's discovery of her lesbianism and clandestine affair with Marilyn Barnett (Andrea Riseborough), who travels as the tour hairdresser.
Thus King is fighting a public battle but, because she's married, she's also involved in a private one. She's not the only one with marital troubles. Riggs is a compulsive hustler who sacrifices his own family life, and a comfortable marriage to his heiress wife Priscilla (Elisabeth Shue, who gets a tender speech in which she gives him the boot). In this telling what matters to Riggs is the buzz of chasing preposterous bets on court, taking on all-comers while tethered to dogs or goats or wearing flippers.
It's a role which Carell inhabits with relentless gusto (although his racket play is atrocious). As King, the ever-adorable Emma Stone wears the wire-rimmed glasses and apes the loping walk, and convinces as a steely feminist with a vulnerable core. Her swing's not bad either (though the big match is CGI'd to the hilt). Riseborough is lovely as a free spirit whose gaydar, in an intimately soft-focus salon scene, tells her Billie Jean is there for the taking.
The facts of the Billie Jean story have been fairly outrageously origamied out of shape, events dragged around, people placed where they weren't. King's Australian rival Margaret Court (Jessica McNamee) comes off very badly as a hatchet-faced queer-basher. This being a feelgood fist-pumping version of a complicated narrative, the ugly aftermath of King's love affair doesn't make it into the what-happened-next blurbs. Instead Marilyn hastens to Billie Jean's changing room before the big game to fix her hair, the way these things happen only in the movies.
If you accept that you're being sold a simplified snapshot, Battle of the Sexes is a lot of fun. It has two directors – Valerie Faris and Jonathan Dayton (who made Little Miss Sunshine) – perhaps to prove that, somewhere on this project, the sexes really can collaborate as equals. Of course it's a necessarily rigged story from which no man emerges with much credit. It's hard to give two hoots for Riggs's private anguish. Billie Jean's walk-on husband Larry King (Austin Stowell) is a lantern-jawed dope. Tennis impresario Jack Kramer (Bill Pullman) may as well horns and a curly tail. Even foppish tennis couturier Ted Tinling (Alan Cumming, not quite the full ticket as an English toff) spouts feeble bullet-pointed bromides - "some day we will be free to be who we are" etc.
There's an awful image of fellow pro Rosie Casals (Natalie Morales, terrific) talking to camera with a tall patronising commentator clamping his hand round the back of her neck as if she's his chattel. And spot the briefest cameo for that famous Athena poster of the tennis girl hitching up her skirt to reveal nothing underneath. The bare-faced cheek of male chauvinism needed a damn good slap. This fantasy history administers it lightly, with wit and grace.
Overleaf: watch the trailer to Battle of the Sexes