First Man - Neil Armstrong's giant leap |

reviews, news & interviews
First Man - Neil Armstrong's giant leap
First Man - Neil Armstrong's giant leap
Ryan Gosling has the right stuff in Damien Chazelle's space odyssey
Thursday, 11 October 2018
Rocket man: Ryan Gosling as Neil Armstrong
Echoes of Phil Kaufman's 1983 classic The Right Stuff resonate through Damien Chazelle's new account of how Neil Armstrong became the first man to walk on the moon. The Right Stuff ended with the conclusion of America's Mercury space programme in 1963, and First Man neatly picks up the baton by taking us through the ensuing Gemini and Apollo missions, peaking with the "giant leap for mankind" of Apollo 11.
First Man plots Armstrong's progress from test pilot to astronaut with all the training and preparation that entailed, though fans of the earlier film may find themselves missing its comic, ironic tone (transmitted from Tom Wolfe's original book). This one is determinedly sober and non-excitable, much like Armstrong himself. Rated highly for his engineering knowledge as well as his flying abilities, Armstrong was the definitive safe pair of hands, capable of blocking out his surroundings and recalculating critical flight data with a pen and paper when circumstances demanded it. Played with meticulous, introspective intensity by Ryan Gosling, he's obsessive, stubborn and would consider the adjective "boring" a compliment (Armstrong survives testing crash, pictured below).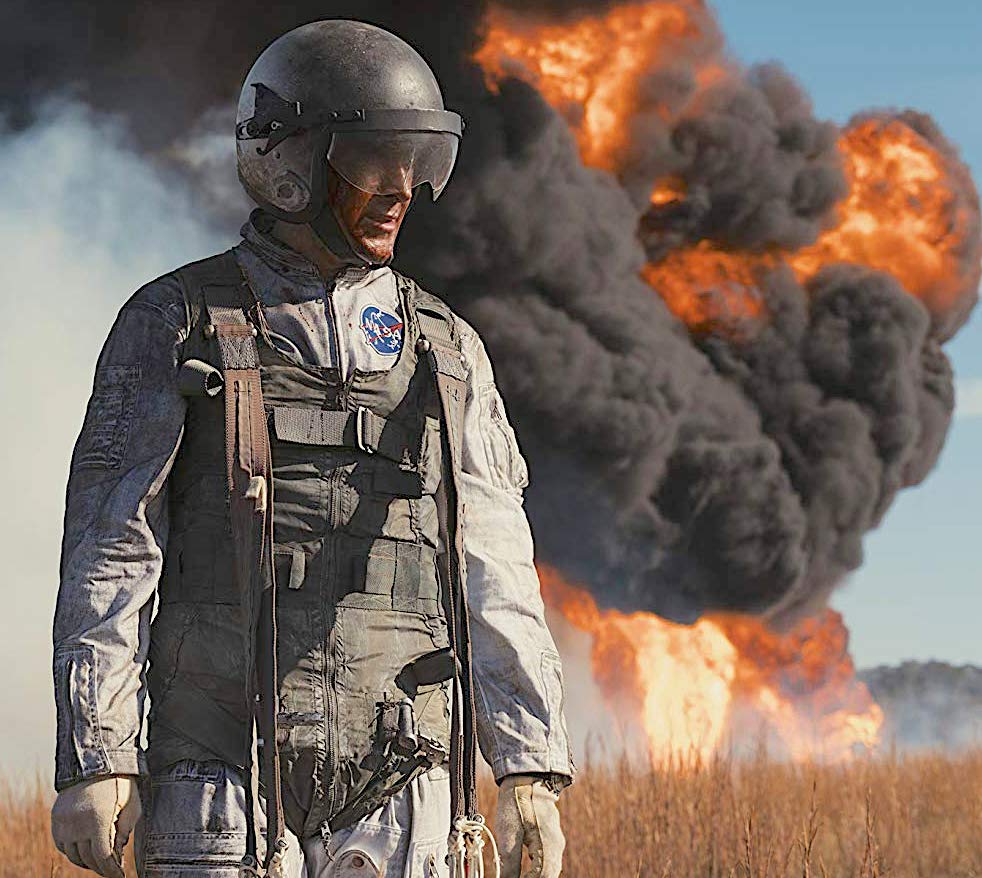 We first meet him as a test pilot in the X-15 rocket plane in the early Sixties, soaring to the edge of space at 140,000 feet, then battling to regain control as the aircraft becomes unflyable in the thin air. Chazelle has explored driven characters before in Whiplash and (with Gosling) La La Land, but those films somehow didn't suggest that his forte might be complex technical action sequences involving high-performance machinery. However, the depiction of the X-15 being dropped from a B-52 bomber and then fired towards the stratosphere by a spine-rattling blast of rocket power is delivered with startling force, and viscerally evokes the physical battering these pilots had to undergo.
It's an introduction to the film's dominant theme, of mere humans pitting themselves against the challenge of getting to the moon and, with any luck, coming back again. Still, Chazelle isn't oblivious to the era's turbulent backdrop of conflict and assassinations. He includes scenes of protestors deploring the money being lavished on space exploration while the USA is ravaged by poverty and racism, as Gil Scott-Heron's caustic "Whitey on the Moon" plays on the soundtrack.
But what he achieves most tellingly is to convey the yawning gap between the soaring aspiration of travelling to another planet and the extraordinarily unsophisticated tools available for the task. The two-man Gemini capsule with which NASA warmed up for the lunar campaign looks like little more than a tin bath with a large bucket bolted on top. The sequence where Armstrong and his fellow-astronaut David Scott (Christopher Abbott) are locked in for their Gemini 8 mission resembles some form of medieval punishment, as the panels are screwed shut and the astronauts, just about able to squeeze inside, can barely see anything through a couple of tiny windows. The huge boom of the engines sounds as if a bomb has gone off underneath the capsule, and the violent banging, roaring and shaking as the rocket drags itself skywards is truly terrifying.
The payoff comes as the craft reaches orbit, the rocket booster falls away, and suddenly they're gliding serenely in perfect silence above the oceans and continents of the Earth. But the peace and quiet is illusory. The purpose of the mission is to dock with an orbiting Agena spacecraft, but when the coupled ships begin to spin inexplicably, it's only Armstrong's unflappable cool that saves the astronauts from destruction.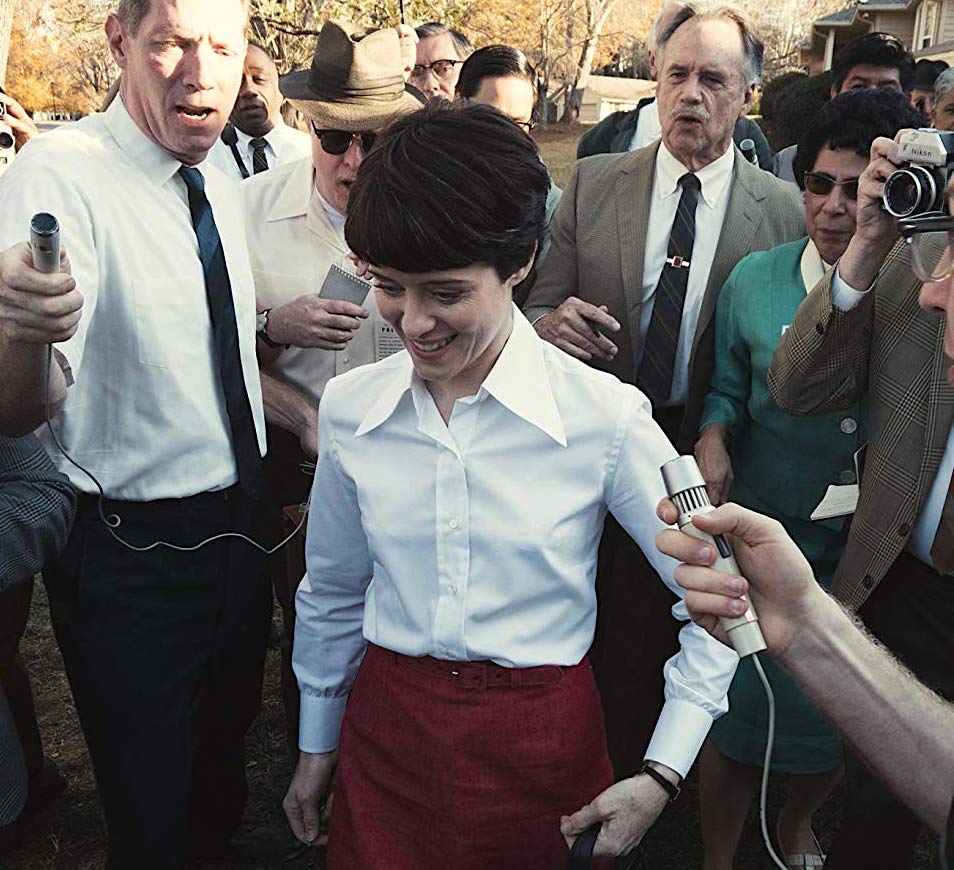 Down below, the astronaut families are trying to maintain a semblance of normality as the space project gathers momentum and media hysteria mounts. Claire Foy (pictured left) excels as Armstrong's wife Janet, a strong, pragmatic woman who feels more than a hint of scepticism about the space programme. "You're a bunch of boys making models out of balsa wood," she rasps at mission controller Deke Slayton (Kyle Chandler). "You don't have anything under control." She's determined that her frequently aloof and unreachable husband will play his role in maintaining a strong family unit, and there's some black comedy in the scene where she forces him to sit down with their two boys and explain that his return from the moon is not 100 per cent guaranteed. Armstrong handles the challenge as though he's evading questions from a hostile press corps.
Chazelle has compressed the Apollo 11 mission into the launch – the huge Saturn rocket lifting off over the Florida swamplands in an armageddon of steam and fire – and the tense moon landing, where the icy-calm Armstrong pilots the lunar module to the surface as the fuel gauge ticks down to zero. The moments of total silence as he opens the hatch and prepares to climb down are more arresting than any symphonic soundtrack or poetic voice-over. Here on the moon, at last Armstrong permits himself a moment of emotion as he leaves behind a bracelet to commemorate the death of his two-year-old daughter. Armstrong died in 2012, but you could imagine him being quietly pleased with this stoical, old-fashioned film.
Played with introspective intensity by Ryan Gosling, Armstrong is obsessive, stubborn and would consider the adjective 'boring' a compliment
rating
Share this article
Subscribe to theartsdesk.com
Thank you for continuing to read our work on theartsdesk.com. For unlimited access to every article in its entirety, including our archive of more than 10,000 pieces, we're asking for £3.95 per month or £30 per year. We feel it's a very good deal, and hope you do too.
To take an annual subscription now simply click here.
And if you're looking for that extra gift for a friend or family member, why not treat them to a theartsdesk.com gift subscription?