DVD: Are You Proud? |

reviews, news & interviews
DVD: Are You Proud?
DVD: Are You Proud?
A half-century of gay history recalled, with critical appraisal of the present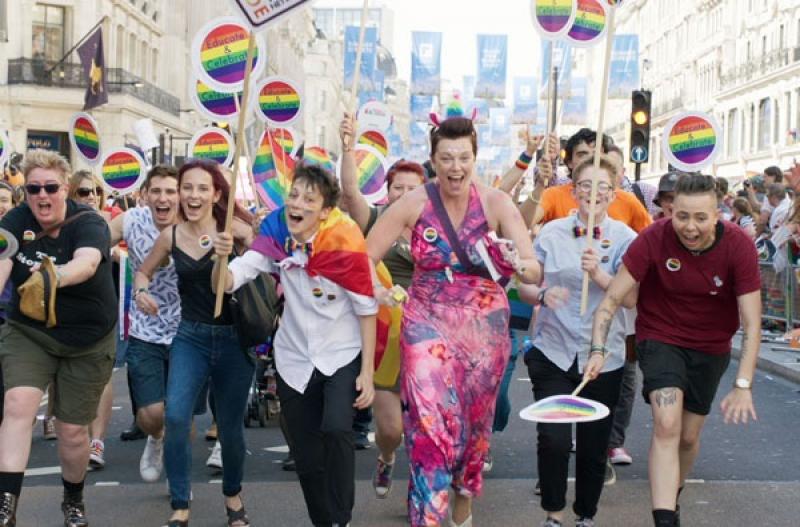 Striding ahead: marchers at London's Gay Pride
Ashley Joiner's expansive documentary Are You Proud? opens with the testament of a redoubtable nonagenarian remembering his experiences as a gay man in World War II.
Though followed by the admission that he had to live his later life as a lie, it's told with considerable humour and concludes with a question – "How can you be criminalised for being born the way you are?" – to which the larger part of UK society would surely today reply with a degree of understanding.
Whether it's such tentative early moves towards reform – how good Fergus O'Brien's 2017 film Against the Law was in bringing that story to life – that eventually led to the 1967 Sexual Offences Act, or this year's 50th anniversary of the Stonewall riots, the early history of gay liberation has acquired something close to an accepted narrative. Are You Proud? developed out of a film that Joiner made in 2017, titled just Pride, so both landmarks are equally valid, and there are excellent interviews with those active in the Gay Liberation Front from the beginning. Remembering how GLF was inspired by what was happening in New York, they recall events from the pioneering gay rights demonstration at Highbury Fields in November 1970 to the first Gay Pride march in July 1972: they talk both of the fun they had and an atmosphere of "solidarity and warmth".
It seems a long way from there to the issues of the present day to which the greater part of Are You Proud? is devoted. The cracks in that early unity appear at around the film's 20-minute mark, as sexism and racism – and more recently many more, and more varied accusations – emerged to colour a movement that seemed to be losing track of the fundamental equality of all involved in the increasingly broad LGBTQ+ cause. Gay Pride itself has come in for considerable flack for its engagement with the commercial mainstream. Has inclusivity handed the baton on long ago to an intersectionality of overlapping communities acting in their own interdependent ways?
To ask such questions, Joiner embraced as many perspectives as he could, taking in events around England such as Black Pride, Trans Pride Brighton and Queer Picnic. He closes at Peckham Pride where the rights of the immigrant community and asylum seekers are foregrounded – a reminder, if ever one was needed, of what gay people increasingly face in other parts of the world as a new political wind blows from the right. Gay Pride, whatever its shortcomings, remains a beacon for many: the question that provides the film's title was asked by Mayor of London Sadiq Khan at Gay Pride in 2017, and for him, as custodian of the city, the answer should surely be in the affirmative.
The film's coverage of gay history in the broadest sense – from the HIV-Aids crisis and Section 28 to the complementary contributions of Outrage and Stonewall – and its breadth of contributors (pictured above) looks as good as the film's 95-minute duration could allow. Joiner must have had enough material to fill a piece several times that length, which makes the naturalness of the rhythm that he and editor Charlie Hawryliw achieved feel impressive: told without a narrator, the voices of those involved propelling the film forwards, these are serious concerns being seriously considered. You may inevitably question some of the film's balances of attention, but Are You Proud? is a story skilfully assembled, its accompanying argument cogently treated.
Below: watch the trailer for Are You Proud?
Has inclusivity handed the baton on long ago to intersectionality?
rating
Share this article