The Platform review - timely, violent and effective |

reviews, news & interviews
The Platform review - timely, violent and effective
The Platform review - timely, violent and effective
New Netflix high-concept horror skewers capitalism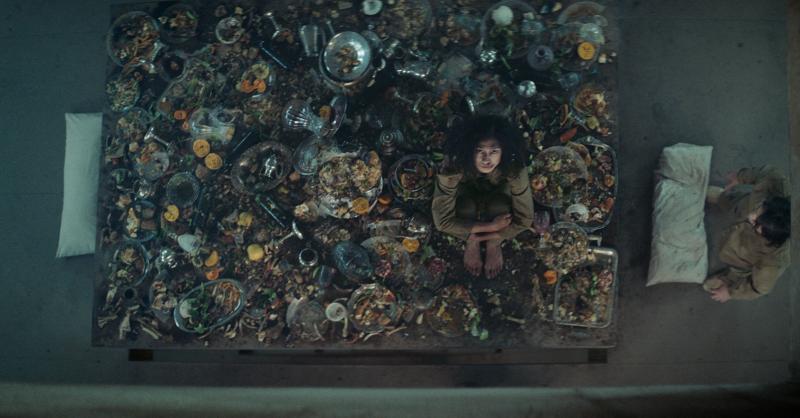 The Platform's ruined feast drops through the levels
Horror has always been a good vehicle for satire, from John Carpenter's They Live to Jordan Peele's Get Out. Some metaphors opt for the subtle precision of a surgical knife, and others the hit you over the head. The Platform on Netflix is the latter, a brutal, blunt and effective sledgehammer.
The concept is straight from a high school philosophy allegory. A vertical prison, with two cellmates per level. At the very top, a lavish feast is prepared on a platform every day. It passes through every level, inmates desperately eating their fill before it lowers down. The further down you are, the less that remains.
It's on Level 48 we find Goreng, the latest arrival. He has joined the prison voluntarily for six months, with the promise of an accredited degree on completion. His cellmate, Trimagasi, is a miserly old man fully conditioned by his surroundings. He urinates on those below and curses the ones above for doing the same. After a month together, they'll wake up on a new level. Could be higher, could be lower. Lower down means less food, but how much better can above be when there are bodies dropping down?
Despite the film's heavy-handed representation of trickle-down economics, the plot is a taut and surprising affair. Goreng and Trimagasi bounce of each other, prying to find out more without giving too much away. It would work just as well as a play, complete with monologues and tête-à-têtes. The tension comes less from the set-pieces than the claustrophobic, life-and-death conversations.
But it doesn't take long for those tensions to spill over, and when they do, it's carnage. Suicide, murder, cannibalism, you name it. But what's most impressive is that no matter how graphic it gets, it never feels gratuitous. This is no Human Centipede. It serves the story and the characters, becoming almost inevitable in its scale.
The production makes the most of its small budget. The hundreds of identical stacked rooms make it an affordable story to tell, but director Galder Gaztelu-Urrutia does an excellent job at keeping the presentation fresh. There's a palpable difference between Level 3 and Level 171. Disappointingly, Netflix has chosen to stream a dubbed version rather than subtitle the original Spanish. It undermines the film, a constant reminder that what your hearing isn't what you're watching.
In a time of nationwide isolation, a film about being trapped with little left for those below isn't exactly escapism. Still, there's never been a time that this gripping and violent parable would feel more relevant.