Small Island, National Theatre At Home review – big-hearted story hits every beat |

reviews, news & interviews
Small Island, National Theatre At Home review – big-hearted story hits every beat
Small Island, National Theatre At Home review – big-hearted story hits every beat
Andrea Levy's Windrush epic bursts triumphantly onto the stage – and our screens
Deep-down roots: Leah Harvey and CJ Beckford in 'Small Island'
A British-Jamaican man is confused. It's the Second World War, and he signed up for the RAF on the understanding that he would serve as a pilot overseas. But instead he's ended up as ground crew in a grey Lincolnshire village. "You are overseas, aren't you?" sneers his sergeant.
That question – of how great the distance between Jamaica and Britain was and is – lies at the heart of
Small Island
, Rufus Norris's epic, big-hearted production of Andrea Levy's 2004 ode to the Windrush generation,
adapted
for the stage by Helen Edmundson. It's also one of the reasons that the
National Theatre
couldn't have picked a better show to stream this week.
The man is Gilbert Joseph (Gershwyn Eustache Jnr, heartbreakingly strong), who returns to England after the war on HMT Empire Windrush, determined to train as a lawyer. Edmundson sets him up as a narrator alongside the two female leads: Hortense (Leah Harvey, pictured below with Eustache Jnr, witty and wise) and Queenie (Aisling Loftus, steadfast and charming). "I don't come from a place where you do much imagining," Queenie tells us early on, describing her parents' Lincolnshire pig farm. By contrast, Jamaica-born Hortense has dreamed of coming to England for years and is sorely disappointed by the reality of emigrating to "the mother country".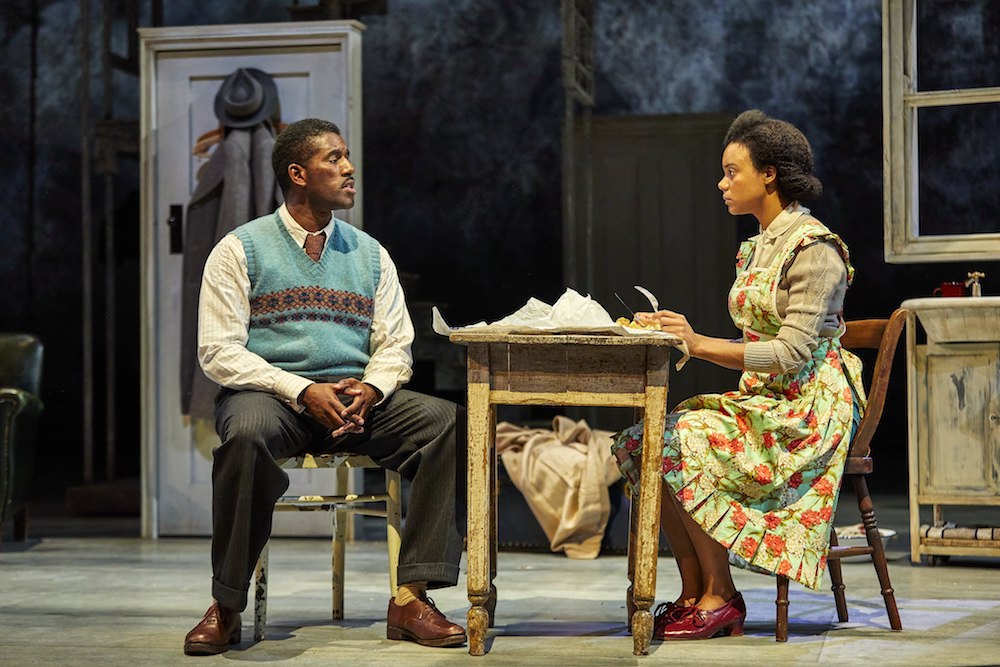 This tale, as Hortense says, has "deep-down roots", but Norris and a forty-strong cast guide us through it smoothly, hitting every beat of Benjamin Kwasi Burrell's sometimes-playful, sometimes-devastating score. The first third focuses on Hortense's early life in Jamaica; she has her heart broken when her cousin and best friend Michael (CJ Beckford) chooses a white woman over her. Meanwhile Queenie marries Bernard (Andrew Rothney), a man with all the personality of a lukewarm rice pudding, and moves in with him and his father Arthur (David Fielder, stealing the show), a shell-shocked First World War veteran. We move from Jamaica's wide open skies and gorgeous honeyed light (props to lighting designer Paul Anderson) to cold, grubby little Britain – a big old house in Earl's Court, specifically, where Gilbert rents a room from Queenie once he has emigrated. They met in Lincolnshire, where Queenie also came across Michael, completing the narrative loop.
The story's geographical scope may have shrunk to just a few rooms by the third act, but the psychological aspect fills the gap, as Gilbert and Hortense try to make the best of things. Their living situation is threatened by the unexpected return of Bernard, missing after his deployment to India during partition. While overseas he discovered a deep hatred of people of colour, but Rothney (pictured below, with Loftus) keeps him from descending into pantomime villainy – which is the whole point, of course.
Small Island shows us that British racism is immensely varied. It can be cheerful, like Queenie referring to Gilbert as a "coloured chappie", or violent, like her husband's blind rage against their black lodgers. It can be curious – the Lincolnshire villagers ask Gilbert if Jamaica is in Africa, which makes him wonder why they don't know anything about their own empire (why indeed). And it can be eminently well-meaning, as when Arthur mistakes Gilbert for Michael and brings him back to Queenie's farm. It's still racism. The American poet Guante writes, "White supremacy is not a shark. It's the water." The waters here are muddy – they're what binds Jamaica and Britain, but also what divides them. It's the chance to connect with the world, or to turn your back on it.
This show was deeply relevant during its original run last year, hot on the heels of the Windrush scandal. Now it's so of-the-moment it takes your breath away. "Am I to be the servant and you the master fi' all time," Gilbert asks Bernard, "because you white?" He's speaking in 1948, but he could just as well have written that question on a placard yesterday.