Blueprint Medea, Finborough Theatre online review – well-meaning but clunky update |

reviews, news & interviews
Blueprint Medea, Finborough Theatre online review – well-meaning but clunky update
Blueprint Medea, Finborough Theatre online review – well-meaning but clunky update
Updated Greek tragedy has some good ideas but doesn't fully deliver
Feral majesty: Ruth D'Silva in 'Blueprint Medea'
Medea is the original crazy ex-girlfriend: the wronged woman who takes perfectly understandable revenge on the man who made her life hell.
In
Blueprint Medea
, a new
adaptation
premiered at the Finborough Theatre in May 2019 and available on YouTube until 2nd August, writer-director Julia Pascal gives us a 21st-century reworking of Euripides'
tragedy.
This Medea (Ruth D'Silva) is a Kurdish freedom fighter who's come to England on a dodgy passport; working illegally as a cleaner, she meets Jason (Max Rinehart) – or Mohammed, to his Iraqi-immigrant parents. They move in together and have twin boys, but Jason's father (Tiran Aakel, pictured below with Rinehart) wants him to marry his cousin, Glauke (Shaniaz Hama Ali). We all know the form that Medea's revenge on her lover takes: D'Silva is brilliant in Pascal's version of the denouement, all straining sinews and feral majesty.
It's a great idea, full of neat parallels – the mythical Medea's grandfather, the sun god Helios, becomes an Armenian Christian, forced to convert to Islam by Turkish Muslims. The fact that the characters aren't kings and nobles but militia soldiers and cab drivers brings the story down to earth. But the concept never quite lives up to its potential in Pascal's production of her own text. The script clanks along: "You're so funny," Medea says to Jason/Mohammed at one point, apropos of nothing that could be called a joke. You can hear every full stop, littered seemingly at random. Pascal updates the Greek chorus by giving the ensemble passages to speak as one, but their words get lost in the noise a lot of the time. The dodgy sound quality of what was clearly only meant to be an in-house recording doesn't help.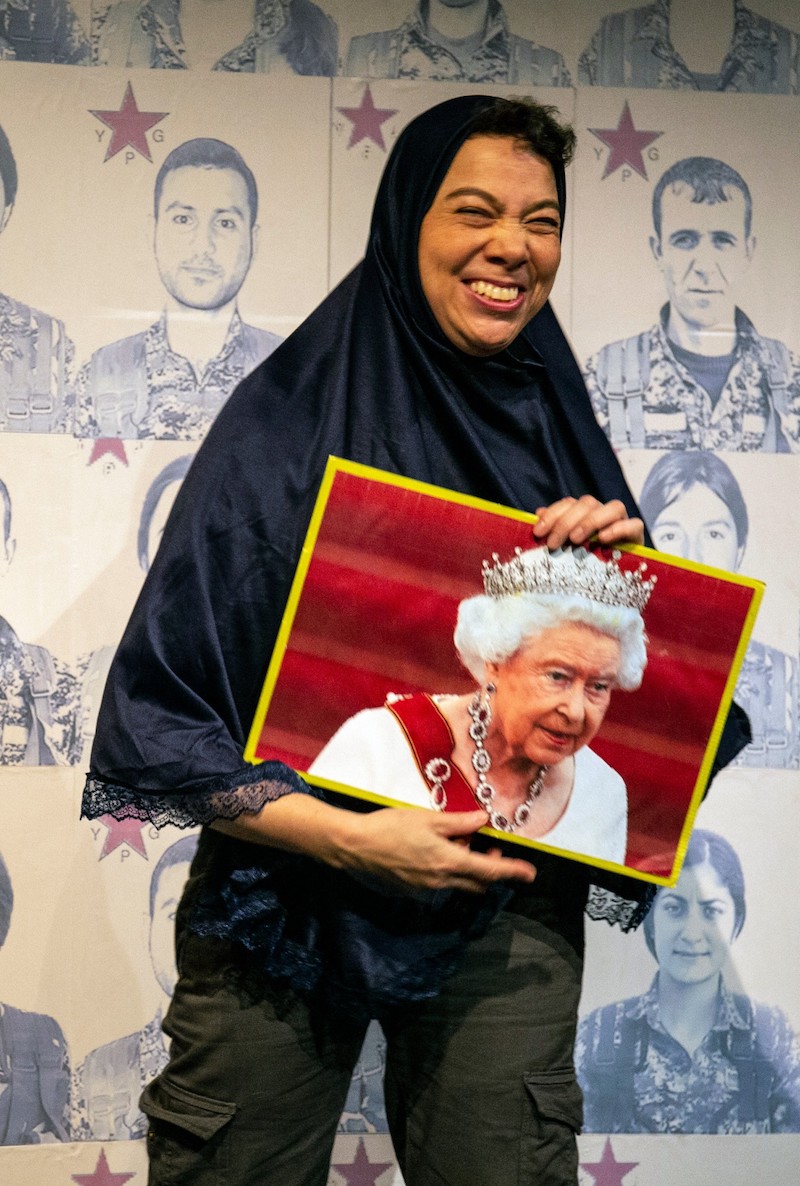 Some elements work well: Medea's mysterious healing powers present opportunities for real magic and tenderness with her first friend in England, Suzy (Amanda Maud, pictured right), and even between Medea and Glauke – although it quickly becomes clear that Medea's not looking to bond with her lover's fiancée. The best of Maud's small roles is as the teacher of Medea's English class, who grins inanely at Medea and takes great pleasure in presenting her students with pictures of the Queen.
It still feels like there's too little at the centre of this show, which may in fact be the point; the system that asylum seekers are put through comes across as heartless and unfeeling. Medea is told that she has to have a Turkish interpreter rather than a Kurdish one because of "cuts" – no matter that she distrusts Turkish people. An undercurrent of hopelessness runs throughout the play, which makes Medea's final act feel almost optimistic. Ultimately, though, Blueprint Medea feels like just that: a blueprint of what might have been.
rating
Explore topics
Share this article