Bridgerton, Netflix review - bodice-ripper cliches recycled in Regency romp |

reviews, news & interviews
Bridgerton, Netflix review - bodice-ripper cliches recycled in Regency romp
Bridgerton, Netflix review - bodice-ripper cliches recycled in Regency romp
Mixed-race historical mashup is entertaining but shallow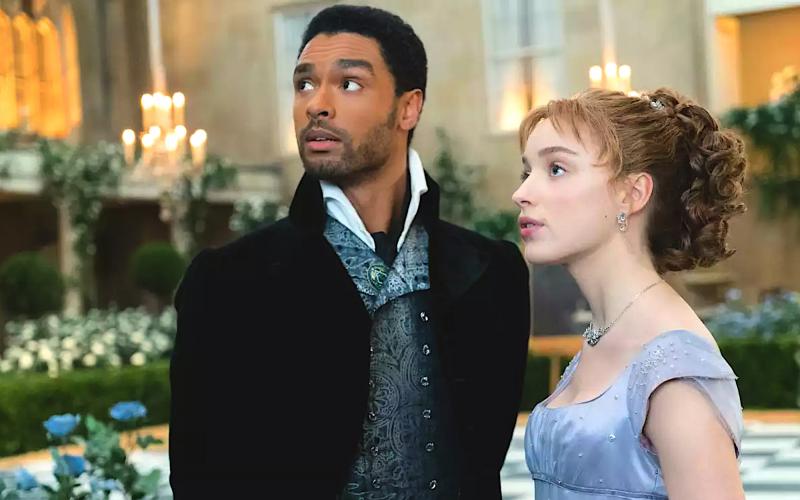 Is this love? The Duke of Hastings (Regé-Jean Page) and Daphne Bridgerton (Phoebe Dynevor)
At first glance you might mistake Bridgerton (Netflix) for the latest effusion from the pen of Lord Fellowes, since it conforms so closely to the Fellowesian pattern of manners, money and mores among the English aristocracy. Even the title sounds like a mashup of Downton and Belgravia.
But no. The show is based on the historical romances of American novelist Julia Quinn, and has been masterminded by producer Shonda Rhimes, of Grey's Anatomy and Scandal fame. Much of the pre-publicity has focused on Bridgerton's so-called colour-blind casting, though that isn't quite an accurate description. Rather, Bridgerton presents its own exotic view of London society in the first couple of decades of the 19th century in which George III's wife Queen Charlotte (Golda Roshuevel) is a mixed-race woman, for which there is some nebulous historical evidence. Under the enlightened gaze of the Royal couple, persons of colour have been enabled to thrive in English society, as Lady Danbury (Adjoa Andoh, pictured below with Regé-Jean Page) explains: "We were two separate societies, divided by colour, until a king fell in love with one of us."
It's an ingenious way of reverse-engineering history to create a more emancipated past, and cunningly taps in to contemporary sensibilities, though it doesn't alter the fact that Bridgerton is essentially a period costume romp stuffed with all the cliches of the historical romance genre – domineering matriarchs, boorish old aristos looking for a woman capable of bearing an heir, rakes, libertines, fallen women, bullying fathers and European princes in search of a suitably high-born princess. It's quite fun, but getting through eight episodes of recycled cod-history is a bit of a slog.
Ironically, perhaps, it's the non-white cast members who give the show most of its oomph. Andoh's Lady Danbury charges through London society with take-no-prisoners robustness, determined to ensure that Simon Basset, the Duke of Hastings (Regé-Jean Page), in whom she has taken an almost-maternal interest since the death of his natural mother, should exploit his social opportunities to the full. Queen Charlotte (pictured below) presides over her court with a shrewd and critical eye, while Page's Hastings makes a strikingly charismatic leading man. Renowned as a rakehell and libertine, he's the acme of the dangerous but devilishly handsome hero immortalised in bodice-rippers from time immemorial. Scenes of him practising bare-knuckle (and bare-chested) boxing with his massively muscular trainer are the stuff of Instagram immortality. It suits him to act as the fake love interest of Daphne (Phoebe Dynevor), the eldest of the three Bridgerton daughters, while their public partnership protects Daphne from the clouds of staggeringly dull suitors who pursue her like a swarm of flies.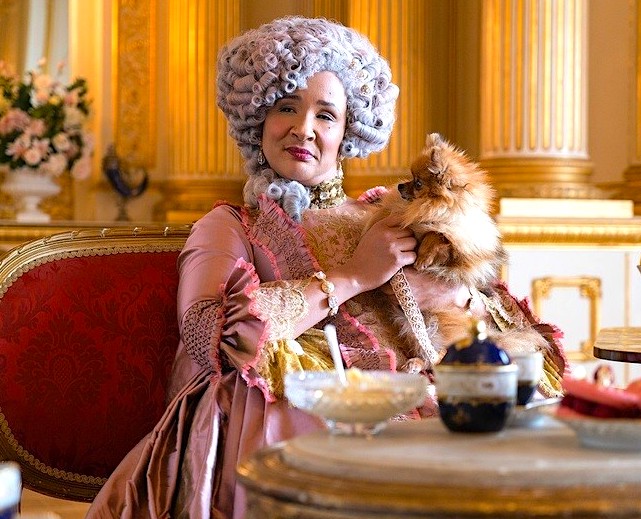 Inevitably the course of true love runneth not smoothly, but frankly it's difficult to get too worked up about the fate of Daphne, who is dismally mousy and two-dimensional. It looks like she might get stuck with the Prussian Prince Friederich (Freddie Stroma), who'd be perfect for her because he's the spitting image of the bloke who brings round the tray of Ferrero Rocher at society banquets. Her younger sister Eloise (Claudia Jessie) shows far more potential for ripping up the rulebook and living life on her own terms, but mostly the Bridgerton family as a whole add up to a potent cure for insomnia. Oldest brother Anthony (Jonathan Bailey) tries his best to be dominant and commanding, but would seem better suited to running the back office of a firm of loss-adjusters. His two interchangeable brothers are the Gordon and Alan Tracy of the piece.
What have I forgotten? Oh yes, Julie Andrews. She's billed as the voice of Lady Whistledown, reading out extracts from her scandal sheet which details the scurrilous between-the-sheets, behind-closed-doors antics of our louche aristo clientele, but sadly she no longer sounds anything like the exquisitely-enunciative star of The Sound of Music or Thoroughly Modern Millie. If ever there was a job crying out for Joanna Lumley...