Bedknobs and Broomsticks, Marlowe Theatre, Canterbury review - dazzling Disney rewrite |

reviews, news & interviews
Bedknobs and Broomsticks, Marlowe Theatre, Canterbury review - dazzling Disney rewrite
Bedknobs and Broomsticks, Marlowe Theatre, Canterbury review - dazzling Disney rewrite
Beloved Angela Lansbury film is in sure, safe theatrical hands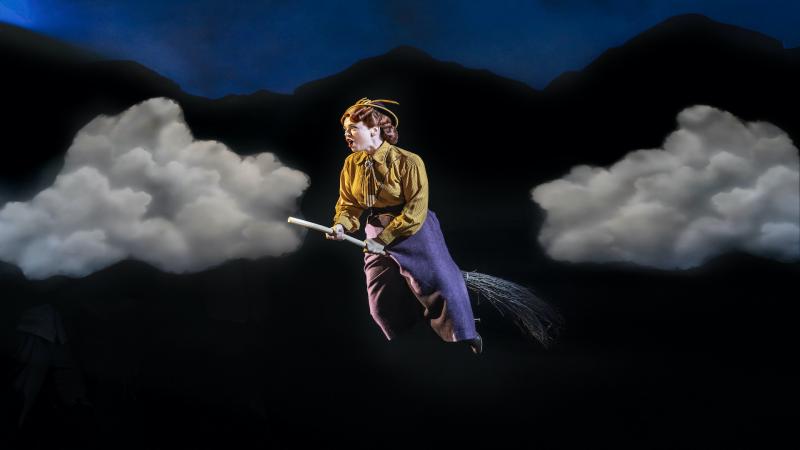 Airborne: Dianne Pilkington aloft in 'Bedknobs and Broomsticks'
Bedknobs and Broomsticks has always suffered from not being Mary Poppins, the movie delayed in development and released in 1971 (it is a Sixties film in tone and technology) and always seeming to appear later on the BBC's Christmas Disney Time programmes, after a bit of Baloo boogieing and a spoonful or two of sugar. It was probably more liked than loved.
All of which may have played a part in its half-century long journey from screen to stage – but this new
adaptation
, on tour around the UK and Ireland through next spring, proves the wait was well worth it.
The show's co-directors Candice Edmunds and Jamie Harrison drop us into that familiar mise-en-scène of wartime orphans arriving in a strange rural village and billeted to an eccentric, reluctant woman, not herself a mother. Fear and friction eventually give way to something much warmer, as acceptance grows and love seeps in as balm to the emotional scars. Suffice to say, this is not Les Misérables, but musicals can often get by with more comforts than confrontations, and Brian Hill's new book and Neil Bartram's additional songs blend with the source material so well that you can't see the joins.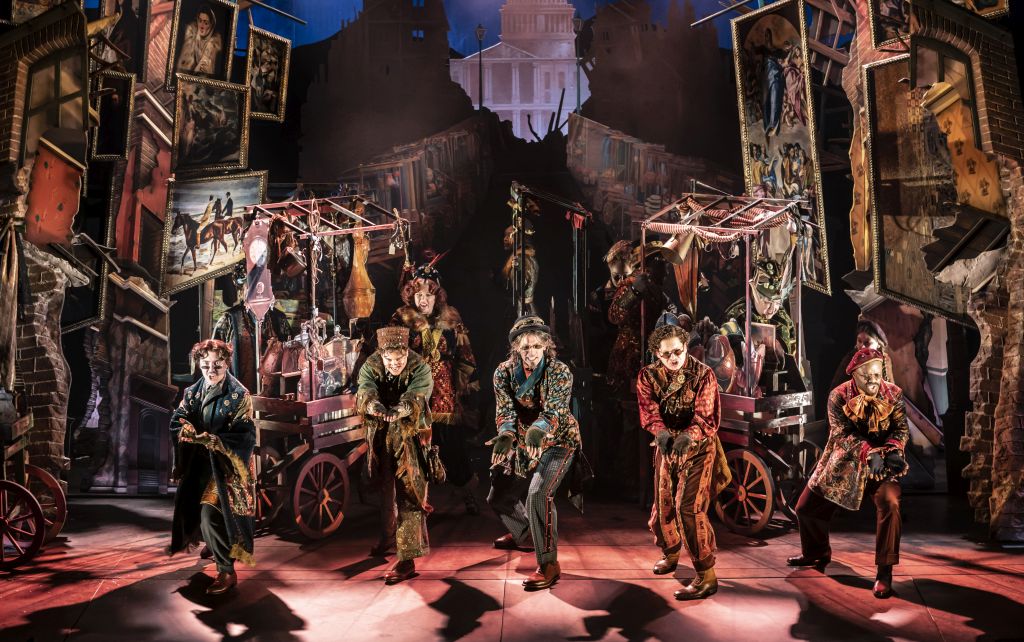 Eglantine Price (it's a continual delight to hear that first name spoken with a flourish) is the reluctant hostess, a woman learning the art of witchcraft and doing so rather well. Charlie, Carrie and Paul are the Cockney kids foisted upon her, and their eyes light up when they see her wobbling slightly on her new broomstick and soaring past their bedroom window. Well I never, never!
But Eglantine's grand plan to er… animate shirts, shoes and swords to fight Nazis as a kind of prototype drone army, consequently saving human lives, is scuppered when the spells and gadgets stop coming through the post. So, with the little lad Paul wholly believing in his glowing "Google maps in real life" bedknob, they're soon up and away, crammed on to the mattress, flying to the source of the magic, Professor Emelius Browne. He is, of course, just a carny with a shop full of dubious knick-knacks, but belief trumps hocus pocus and soon they're working on the last spell they need to muster their forces.
From the bravura opening scene in which the evacuation is dazzlingly executed, the show is a triumph, every penny of the ticket price up there for us to see. The kids will be wowed by the special effects (plenty around me were, and not just kids), parents will enjoy the beautiful costumes and everyone will marvel at the extraordinarily expressive puppets. As touring shows like this often promise but less rarely deliver, this really is a big night out for all the family.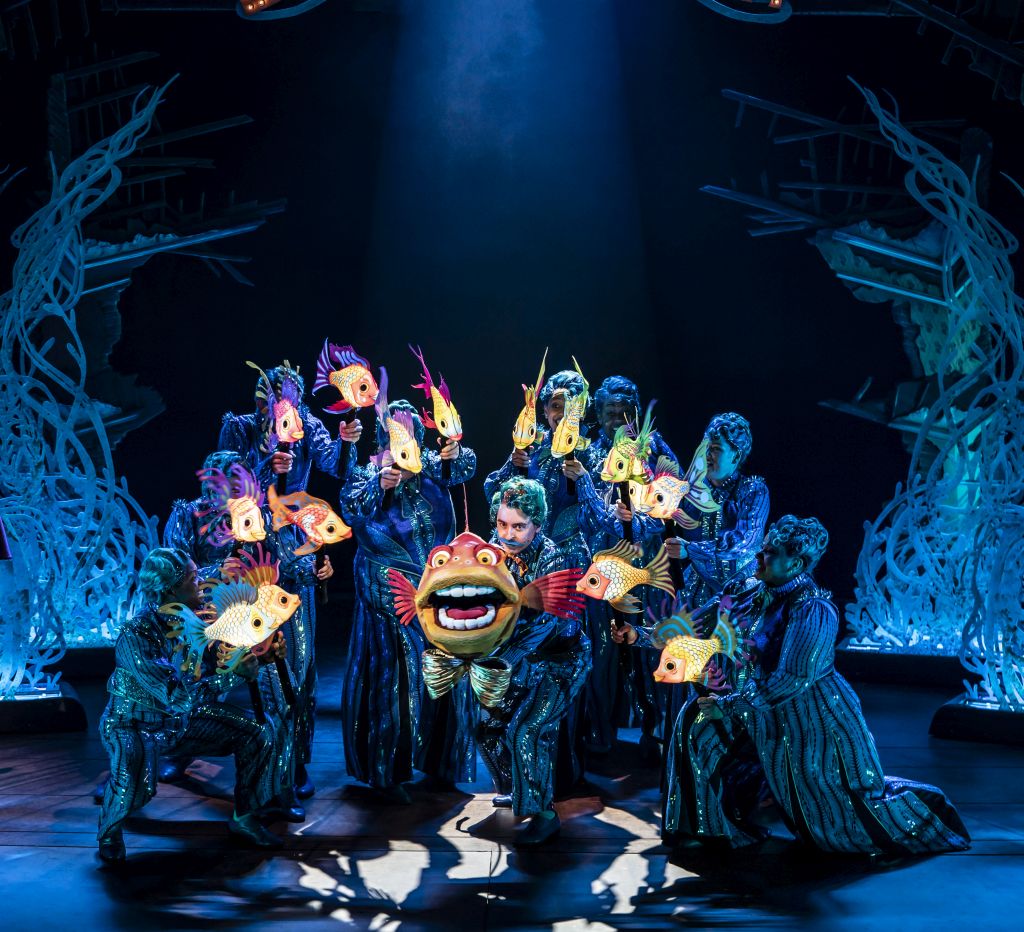 With that aim, acting, sometimes even singing, can be swamped by the bells and whistles going off all over the stage. Not this time. Dianne Pilkington gives a West End leading lady's performance as Miss Price, her beautiful vocals giving the celebrated Sherman Brothers' songs full value, especially on crowdpleasers like "The Beautiful Briny" and "Substitutiary Locomotion". She also treads the tightrope between poignancy and sentimentality with a sure foot, provoking an audible sigh with a perfectly landed reveal in Act Two. One of the musical theatre's English royalty, Dame Angela Lansbury, can rest assured that her legacy is in safe hands.
Charles Brunton's Emelius doesn't quite have Pilkington's complete command of the stage, but, as we learn more about his character's insecurity, his performance fills out, aided by an uncanny resemblance to David Tomlinson, who played the role in the movie. There's good work too from the three children, led by Conor O'Hara's damaged Charlie, who feels the loss of his parents so keenly.
If the pace sags a little after the interval, there are always Gabriella Slade's beautiful costumes to enjoy: sensible tweeds tailored long for protection against the elements and against what the future might hold for a kingdom under existential threat. It also takes a little while to recover from Kenneth MacLeod's extraordinary puppets (pictured above), at their best in the wonderfully realised dancing contest that stands in for the famous football match with its stretcher-bearing vultures. My son, aged 24, enthused over them like a four year old.
In the coda, Charlie steps forward to underline the message that tricks and not belief make magic happen. Even five years ago, that homily might have felt a bit cheesy, a bit Sunday school-ish, but not now. The children in the audience face a future in which beliefs will be challenged by both constructive and sinister parties. But as with Charlie, if they can continue to believe in themselves under intense emotional and psychological stress, they (and we) will come through, still bobbing along.