Zorro the Musical, Charing Cross Theatre review - struggling to find the right tone |

reviews, news & interviews
Zorro the Musical, Charing Cross Theatre review - struggling to find the right tone
Zorro the Musical, Charing Cross Theatre review - struggling to find the right tone
Swordplay and songs never quite hit their stride
'You're not Batman!': Benjamin Purkiss and Paige Fenlon in 'Zorro the Musical'
Zorro (what a name!) is back, swashing and buckling his way into the West End, 13 years after he left and now not the only one wearing a mask. He's also an entertainer turned political leader, inspiring his people to resist an evil martinet. Well, that sort of thing is back in fashion too.
Stephen Clark and Helen Edmundson's story sets up two brothers in the Spanish outpost of Los Angeles (it's 1805) with one, Diego – younger, the favourite – sent to Barcelona to learn the skills he'll need to lead the pueblo when his father dies, and the other, Ramón – older, resentful – staying in California, a mere admin role his destiny.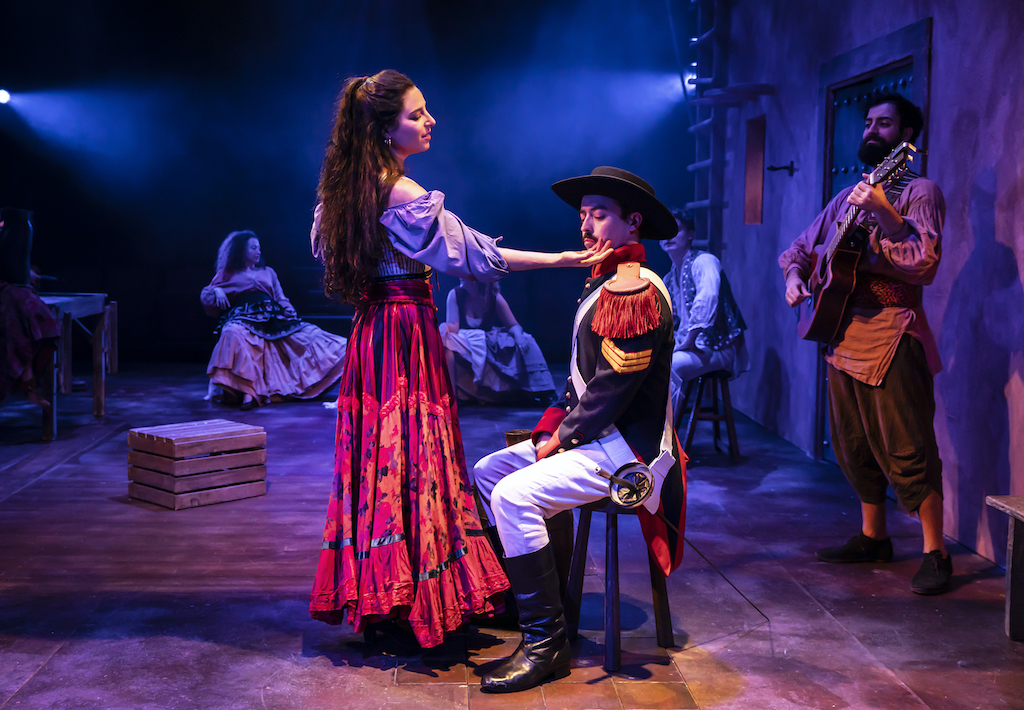 But Diego falls in with a gypsy crowd and spends his youth carousing and thrilling all and sundry with dance and sparkling wit. Meanwhile, Ramón has assumed leadership back home and terrorises his people with brutal, arbitrary justice. Diego returns with his new friends, dons a disguise and becomes his alter ego, Zorro, champion of the cowed masses.
Okay, it's not Les Mis for all the parallels, but there's plenty of scope for fun and a bit of exotic otherness – and, it must be said, wobbly Spanish accents. Some of it works, some of it doesn't, which, if you're going for a runtime of well over two and a half hours, is hardly unexpected.
The women come out strongest. The best ensemble song is "In One Day", a paean of hope for a brighter future, the harmonies mirroring the cooperation and consent that such a future will demand. The best individual song is Paige Fenlon's 11 o'clock number, "The Man Behind the Mask", childhood friend Luisa finally acknowledging her love for Zorro/Diego. Phoebe Panaretos (pictured above with Marc Pickering) is the most compelling presence on stage, her flirtatious, wise and too brave for her own good Inez taking the eye in every scene (not least because there's more than a passing resemblance to the young Barbra Streisand in both look and vocals).
The big set piece Gipsy King songs are just too big for the traverse stage, which in turn requires director Christian Durham to fill the floor with actor-musicians: I was put in mind of a crowded platform round the corner at Charing Cross. Sure, we recognise and enjoy the likes of "Bamboléo" and "Baila Me" but there's a case for letting the songs stand for themselves.
Speaking of set pieces, much of the swordfighting (critical in a show called Zorro) looks very half-hearted until the final showdown reminds us that fencing duels can be much more convincing – the West End does really require a few more sparks from clashing metal.
Benjamin Purkiss (Zorro) and Alex Gibson-Giorgio (Ramón) have an almost impossible job to catch the right tone. You can feel them straining to go for the full ham, throwing back their heads in triumph, twirling the moustache with evil intent, but the show isn't a pantomime. The stakes are too high – people die – and a hitherto comic figure, Marc Pickering's turn as Sergeant Garcia, is suddenly hit with an appalling moral dilemma. Are we still laughing along or pricking a tear? It's not impossible to have such changes of mood in a musical (see the aforementioned Les Mis's "Master of the House" scene) but the emotional rollercoaster takes us up and down almost arbitrarily in this show.
If you can leave behind those structural cavils and the near-caricatured portrayal of gipsies as hot-blooded, carnivalesque people and enjoy the Spanish-inflected music, you're in for a happy, if unnecessarily long, evening. If you're looking for something that has a little more charm, a little more spectacle and a little more coherence (and you have a little more money, to be fair) there are seats available at traditional bucket list musicals not far away.
Phoebe Panaretos is the most compelling presence on stage, her flirtatious Inez taking the eye in every scene
rating
Explore topics
Share this article