Tallies, Old Blue Last review - Canadian quintet rejuvenates indie prototypes |

reviews, news & interviews
Tallies, Old Blue Last review - Canadian quintet rejuvenates indie prototypes
Tallies, Old Blue Last review - Canadian quintet rejuvenates indie prototypes
Toronto outfit transcends its influences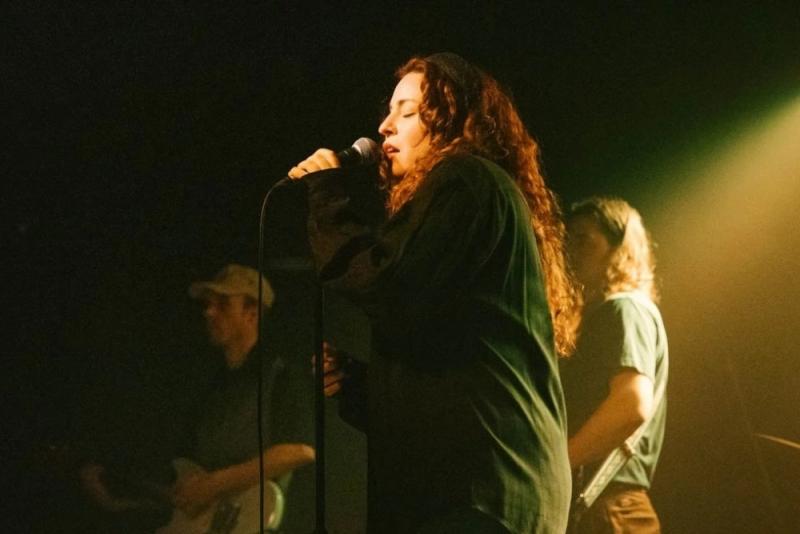 Tallies: little visually suggests the mysteriousness of shoegazing or dream pop
Toronto's Tallies have acknowledged their fondness for Aztec Camera, The Smiths and The Sundays. Add Cocteau Twins into the building blocks, too. Encountering a band so strongly immersed in the back catalogues of familiar names can obscure what's really notable about them. Do they transcend their influences?
Seeing them live on the final date of a short UK tour – booked before the July release of their second album Patina – meets the question head on. Yes, a Smiths "Heaven Knows I'm Miserable Now" guitar swirl fuses with a Cocteau's shimmer. And The Sundays are never far.
But whatever there is to unpick over the 40-minute set, it becomes clear it's about the songs – not how they're framed. They walk on stage and start. No flim-flam. Here we are, here's the music. First up is "Hearts Underground" from Patina. Rolling along, its insistent rhythm is broken by hammering punctuation from the drums and guitars. Sparkling, with an instant melody. Next, the album's opener "No Dreams of Fayres". Another immediately appealing tune leads into a chorus evoking high-flying birds soaring on upswelling currents of air. It goes on: whether from Patina or their early 2019 eponymous debut album, the evening's 10 songs worm in without delay.
The core of Tallies is Sarah Cogan (vocals), Dylan Frankland (guitar) and Cian O'Neill (drums). The band formed in 2017 and was initially called Thrifty Kids. Live, they are filled out by Cam Alford (bass) and Andrew Wilson (guitar). There was some buzz in the UK around their first album; a limited coloured-vinyl edition was available only through the Rough Trade shops. Patina will appear in the UK on the Bella Union label.
Bearing in mind where they're coming from musically, there's little to visually suggest the mysteriousness of shoegazing or dream pop. The flannel shirts, utilitarian footwear and long hair might suit a grunge band circa the late Eighties rather than purveyors of ethereal cathedrals of sound. An un-style take on style, yet unselfconsciously so. Similarly, the music is delivered so matter-of-factly there are no peripheral messages. Just as it's increasingly evident it's about the songs, it's also apparent what's played is innate, created without artifice. On stage, each band member mostly seems to be looking inwards though Cogan, Frankland and Wilson move with the music. The latter gets ever-more animated, bothering his guitar like an alternate-genre Thurston Moore.
At the end, three songs run into each other without a break. "Special", "Easy Enough" and "Wound up Tight" seamlessly push forwards, with the sound becoming increasingly hard. "Wound up Tight" edges towards a My Bloody Valentine dynamic. At this point, Tallies rock: paradoxical since their musical DNA is so un-rock.
Where Tallies were fathomable, the first band on resisted unpicking. The Famous Daxx is the musical vehicle of German-born guitarist/singer-songwriter Marina Sprenger. With her four-piece band, she trod a path which – in contrast to Tallies – avoided encompassing the definable. A Kurt Weill swing-and-sway sits over the whole, while residual traces of "Fairytale in the Supermarket" Raincoats, White Album Beatles, Kevin Ayers, Belgian post-punks The Names and Pond surface. Art-rock to keep an eye on.
Back to that opening question. Tallies know their musical onions, and based on this show they are their own thing. In person, there is nothing of the past about them – self-possession and vitality are key. It's as if what followed their influences – grunge, Britpop and so on – never happened and that they are a logical consequence of this altered reality. And with songs this good, any reservations about whether or not to embrace Tallies swiftly vanish. Best to go with the flow.
In person, there is nothing of the past about Tallies
rating
Share this article