Reissue CDs Weekly: Cocteau Twins |

reviews, news & interviews
Reissue CDs Weekly: Cocteau Twins
Reissue CDs Weekly: Cocteau Twins
Superb-sounding vinyl editions which put their CD counterparts in the shade
Cocteau Twins. Left to right: Simon Raymonde, Elizabeth Fraser, Robin Guthrie
Cocteau Twins: The Pink Opaque, Tiny Dynamine/Echoes in a Shallow Bay
The current fad for all things vinyl is of course, in general, a good thing. It has also meant that a column with CD in its header has, inevitably, broadened its scope. There might be careless major-label abominations like the Marvin Gaye box set reviewed in a recent Reissue CDs Weekly, but there are also gems like the enhanced-sound Mission of Burma albums covered last week.
But what to make of new vinyl-only editions of releases where original copies sell for less than the reissue? A first-press of the US vinyl album of the Cocteau Twins compilation The Pink Opaque sells for between £10 and £15. It's not rare, but also not a high-demand item. The collection was issued in 1986 and intended as an introduction to the band for an American audience. Most copies were bought on CD. The Tiny Dynamine/Echoes in a Shallow Bay release collected the two stand-alone 12-inch EPs of the same name from 1985, and was issued on CD only (although a double 12-inch edition escaped in Canada in 1985). Individually, original pressing of each EP sell for little more than £2.
These vinyl reissues cost somewhat more: each is around £15. Setting aside the ease of finding vinyl originals of the two EPs and The Pink Opaque, these new releases are, then, vinyl editions of releases mainly purchased on CD in 1985.
Are they worth buying?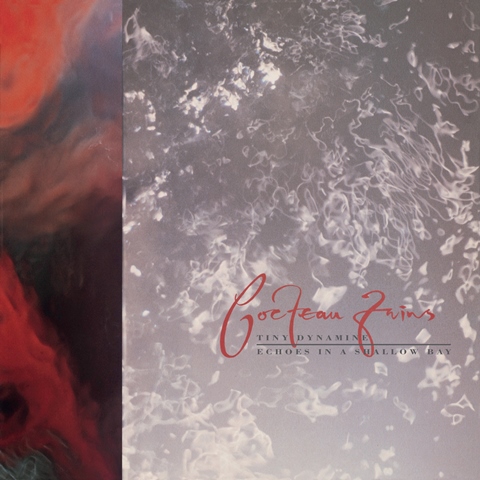 On the music alone, the answer is yes. The Pink Opaque compiled a Cocteau Twins before they became increasingly and frustratingly sonically nebulous and sports 10 wonderful performances from the point they were shrugging off their Siouxsie and the Banshees influences and blossoming into something startlingly original. What was heard on Tiny Dynamine and Echoes in a Shallow Bay was less direct than everything compiled on The Pink Opaque, but each track is still a marvel.
On the sound, the answer is also yes. Each release has been mastered anew, to high-definition files transferred from the original analogue tapes. Although the source for the pressings is digital and the transfer is not straight from tape to lacquer, these sound superb. A comparison with an original US-release CD – state-of-the art back then – of The Pink Opaque shows that as sounding undynamic and tinny. These both sound as fresh as actual master tapes.
In this case, it's a thumb's up for the vinyl fad. A card with each release has a code to download MP3 files should anyone want them.
These both sound as fresh as actual master tapes
Share this article