'Our whole industry is supported by vulnerable freelance creators': Chen Reiss on the artist in a time of Coronavirus |

reviews, news & interviews
'Our whole industry is supported by vulnerable freelance creators': Chen Reiss on the artist in a time of Coronavirus
'Our whole industry is supported by vulnerable freelance creators': Chen Reiss on the artist in a time of Coronavirus
The soprano, now on screen in the Royal Opera 'Ariodante', on recognition for performers
Chen Reiss as Ginevra in the Royal Opera's livestreamed performance of Handel's 'Ariodante'
I am not the first to say this, and I won't be the last, but what a strange year 2020 has become!
I am learning afresh what it is to be both a
singer
and a parent and, although we have all been kept closed in our little home "bubbles," we are learning what our world and culture looks like to those outside the "music bubble" – about how society values the arts and how different countries have been approaching the problems we are all currently facing.
The other day I came across a survey where people in Singapore had been asked to list the top five essential and non-essential jobs during a pandemic. Unsurprisingly, the medical profession came out as the most essential, but topping the non-essential list was the role of the "artist". I understand with my head that such "news items" are just cheap clickbait, but it hit my heart hard. My life's work and focus were being dismissed as completely expendable.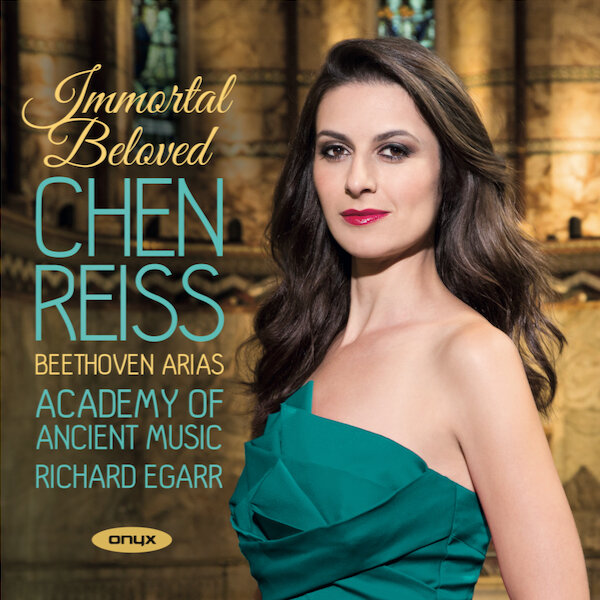 There have been a lot of online comments over the past months from all angles, with people pointing out that those who create Netflix shows and have streamed theatre performances etc – writers, actors, composers, technicians, marketers, managers – these people are exactly the same people who work in the world of live performing arts. Governments and the public alike have been openly thankful for everything that TV companies and other digital promoters have made available in order to provide entertainment and distraction to boost morale during lockdown. But somehow they cannot, or will not, make the connection between what they see on screen and the work of creative artists. The material they value so much is dependent on the lifeblood of people they are failing to value. We know this, sadly. It's our industry and our world, and it's not a new battle.
For me, the other striking omission from the "essentials" list was any form of teacher. Let me tell you a story. This past school year, my daughter Arielle attended a play date. A lovely, talented Viennese friend of hers, aged seven, demonstrated her singing and dancing talent to all of us, performing several Disney tunes from Frozen, Moana, Beauty and the Beast etc... She knew all the words, the melodies, the choreography, everything.
Later, as this girl was showing people her art and craft work, Arielle was in the same room playing the piano, which the girl ignored. But when Arielle started to play "Für Elise," this girl suddenly stopped colouring and listened attentively and said "That's a beautiful song. Which film is it from?" Arielle told her that it was a piece written by Beethoven, only for this talented, musical Viennese girl to reply, "Who is Beethoven?" Arielle then played the Ode to Joy. Her young friend said "I never heard this music before, but it's mega cool!" So, Ludwig, you can bask in the good news that a seven-year old kid still finds you "mega cool!" But this child, who lives in the city they call the capital of classical music, where your name and your legacy are literally everywhere; she didn't know you. You are one of us – a "non-essential artist"!
I feel deeply this gap of awareness about where music or acting comes from, and that it is based on years of practice, study and devotion to a craft – an ideal to which so many people devote their lives. I fear that our whole industry structure is supported by vulnerable freelance creators because children who expect songs to appear by magic via a screen (and for free!) grow up into adults who don't understand what it takes to create that content. As adults, they then control political systems that perpetuate that structure. [Chen Reiss pictured left by Paul Marc Mitchell]
Children are curious and react instinctively to music, but need to be exposed to it at a young age and in a playful way. We know how complicated and expensive it can be to bring youngsters to the opera house or concert halls, or even bring live music to schools. It is vital work, but it is not playing by the childrens' rules. We need to reach them on the platforms they engage with – we have to be on their screens, in their kindergarten activities, keeping them company on their long boring car journeys… They absorb music like a sponge, without any idea what amazing skills their brains are using. I first heard Mozart's 40th Symphony on a commercial for laundry detergent and made my parents find me the "rest of the tune". Today, my youngest can sing along to endless pop songs which she has picked up from my phone, but where is the Disney Fantasia for this generation? Why can't Peppa Pig go to the opera and be dazzled by The Magic Flute and tales of giant serpents and birds and the star-blazing Queen of the Night? Where is classical music in the video games and educational apps for pre-schoolers?
So many questions. But perhaps this year can give us, if not more time, at least the perspective to think about some answers about how we can help our world of culture and our future artists become more than just a luxury extra. About what those essential doctors are saving our lives for.