Jenůfa, Welsh National Opera review - powerful drama with a kitsch tailpiece |

reviews, news & interviews
Jenůfa, Welsh National Opera review - powerful drama with a kitsch tailpiece
Jenůfa, Welsh National Opera review - powerful drama with a kitsch tailpiece
Taut, stylish Janáček marred by annoying details
The aftermath of violent action at the end of Act One
If like me you regard the ending of Janáček's Jenůfa as one of the most moving scenes in all opera, you might care to consider how it would be possible to deflate it in spite of the best singing imaginable.
You might, for instance, bring up a back curtain revealing a beautiful garden three or four years on with a sweet little boy gambolling through it, the future product, presumably, of Laca and Jenůfa's love as opposed to the frozen product of hers and Laca's half brother Števa's, recently discovered under the river ice.
No surely: too kitsch by half! But that is precisely what happens in the WNO revival of Katie Mitchell's 24 year-old production, directed now by Eloise Lally. The good news is that, though ruinous in itself, this little coup de théâtre is untypical. The production has annoying features, but is mostly taut and stylish, strong on atmosphere, with idiomatic designs by Vicki Mortimer and an incisive focus on character, which is really the heart of Janáček's masterpiece.
I remain at a loss to understand why Mitchell – like some other directors – sets the first act indoors in what looks like the mill office, with officious-looking people coming and going more or less irrelevantly, where not only the action but the music (all that brilliant dancing etc) positively screams for an outdoor setting. For some reason opera directors hate, or fear, the open air. But when it comes to something essentially interior, like Jenůfa's second act, they are in their element: a chair, a table and a lamp, with a wedding dress on a mannequin behind, all you need to present this devastating scene of misery and despair, wrapped up in music of such intensity and beauty.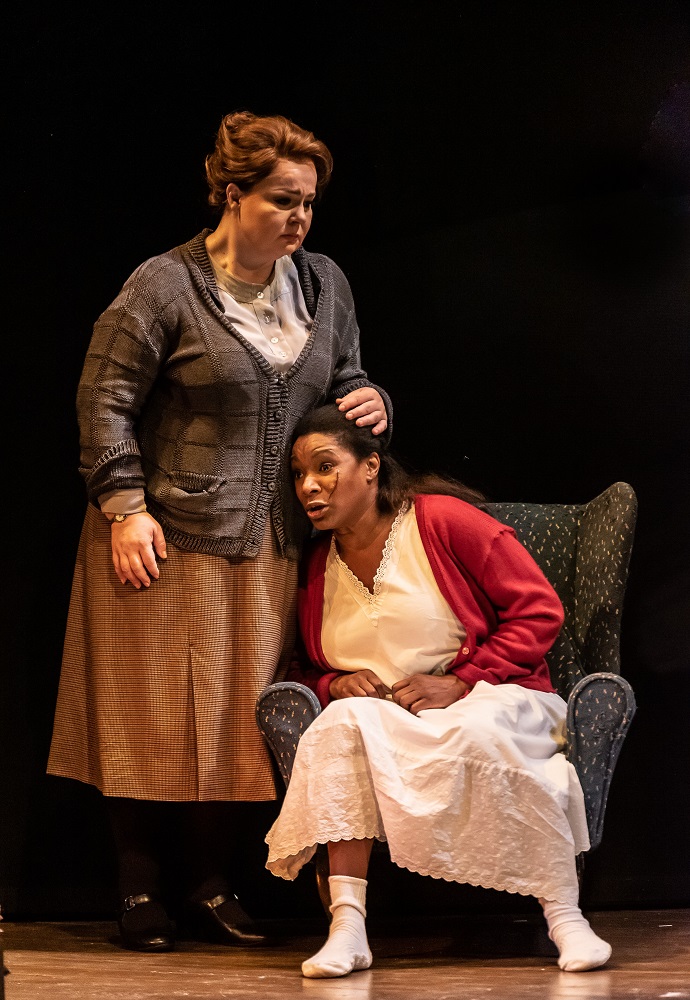 They now sing Jenůfa in Czech in Cardiff, and perhaps accurately – I couldn't possibly comment. But in any case they sing it extremely well. Elizabeth Llewellyn, in the title role, took time (at this second performance) to find what Michael Flanders called the pitch of the hall, but once she got going she was superb, especially in the horrifying scene that culminates in the Kostelnička's abduction and murder of Jenůfa's week-old baby, and in that overwhelming final duet with Laca. It must be said that she moves awkwardly onstage, gauchely in the first act, almost too painfully post-natal in the second. Jenůfa is a tragic figure, not a pathetic one. But these are details.
For powerful presence one turns to Eliška Weissová's Kostelnička (pictured above with Llewellyn), a moral force expressed in music and posture, yet a strangely sympathetic figure, doomed like all those who try to play God with lofty motives. Surely no composer – not even Wagner – has captured that quality more precisely than Janáček, and one could feel Weissová relishing it as if the part had been written for her. In a similar way Peter Berger teased out cleverly the subtle change that comes over Laca's character after he has slashed Jenůfa's face – another brilliant achievement of this score, with its speech patterns constantly picked up in the orchestra.
But this is generally an excellent cast, with Rhodri Prys Jones finding something almost likeable in the deeply unattractive character of Števa, and a whole series of sharp vignettes, including Sian Meinir's downtrodden Grandmother Buryja, Sion Goronwy's seven-foot high, three-foot wide Mayor, and Francesca Saracino's ghastly Karolka, just Števa's type but not if he's saddled with a dead bastard, thank you very much. The author of the original play, Gabriela Preissova, had lived among the sort of people she wrote about, and something of her vivid realism comes out also in Janáček's minor characters, which may be one reason why British companies, often so strong in depth, play him so well.
Tomáš Hanus conducts, inclining at first to overpower the singers, but gradually finding the necessary balance of full orchestra and conversational dialogue. I've heard this orchestra and chorus in tidier form, but that's only because of the extraordinarily high standards they set themselves. This is a welcome revival that deserves stronger audience support.