Les Enfants Terribles, Barbican |

reviews, news & interviews
Les Enfants Terribles, Barbican
Les Enfants Terribles, Barbican
Javier de Frutos brings depth and flair to Philip Glass's dance-opera
Saturday, 28 January 2017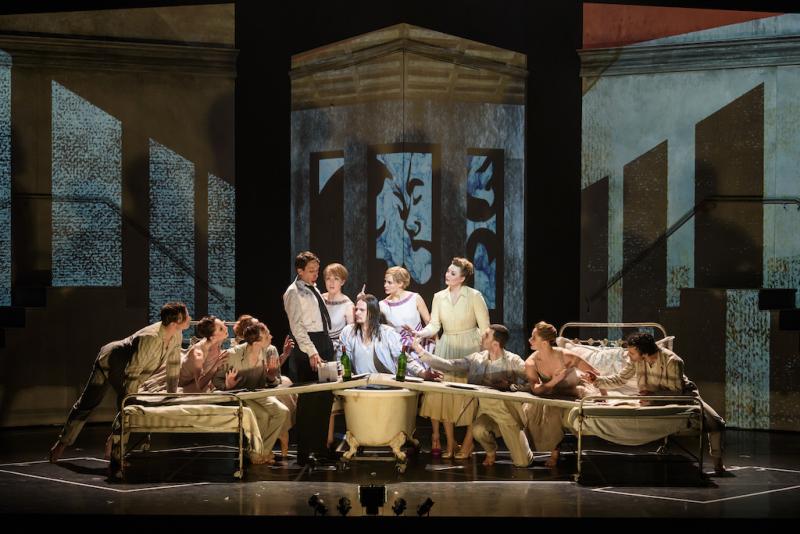 Tête-à-tête: Gyula Nagy (centre, seated) as Paul, with the entire cast - sharing four characters between them
To judge from the hype in advance of this production, you'd think it must be a premiere. In fact Philip Glass's dance-opera hybrid, written in 1996 and based on Jean Cocteau's 1950 screenplay, received its first London performance at the Arcola Theatre six years ago.
What's new in this presentation, timed to straddle the
Barbican
's "Glass at 80" birthday weekend, is that the work has now passed through yet another extraordinary imagination, that of the choreographer Javier de Frutos. Given his history as a provocateur on stage and off, he has been something of an
enfant terrible
himself.
Yet perhaps this is the point at which that sobriquet will be put to bed. For while Cocteau's story gives ample opportunity for outrageousness, de Frutos doesn't take the bait, instead conveying obliquely the depth of the protagonists' depravity. Fatherless and soon-to-be motherless siblings Paul and Lise are an odd, secretive pair who become more so after Paul is injured in a snowball fight at school, and brother and sister retreat to their bedroom full time, playing what they call The Game, a test of psychological one-upmanship. As they reach adulthood, The Game continues, but real life and loves encroach on their power over one another, and jealousy raises the stakes.
The word "incest" doesn't appear in the libretto, so the piece could be directed as a slow revelation. De Frutos makes the sibling incest plain from the start, which enables him to focus on how that impacts on others the pair draw into their sticky web: Gérard, an old schoolfriend, and Agathe, a young model Lise meets when she goes to work at a Paris fashion house. Glass's score, for three pianos, seems morally indifferent. Its rippling broken chords, descending scales and endless trills – whether in urgent mode or ethereal – relentlessly motor the story to its terrible conclusion. Timothy Burke, conducting, keeps a firm grip on the fiendish pulse and tempo changes.
There are no choruses, no duets - this is as close to natural conversation as opera gets
The opera's modus operandi, dictated by the composer, is complicated, despite there being only four characters in the story. The singers cast as Paul and Lise, giant of a baritone Gyula Nagy and soprano Jennifer Davis (both part of the Jette Parker apprentice scheme at the Royal Opera) are each shadowed by four dancers, expressing aspects of their actions and feelings. It makes for a curious community on stage, but no confusion. The singer cast as Agathe (Emily Edmonds) is allocated one dance shadow, and Gerard (Paul Curievici) none. He also has a speaking role as narrator, filling in crucial gaps.
Thus the number of bodies on stage at any one time varies between two and 12, although there is only ever one person singing. For this is an opera made entirely of recitative: there are no choruses, no duets – this is as close to natural conversation as opera gets. What's more, the singers' excellent diction makes it possible for viewers with a modest grasp of French to follow the gist without constantly having to scan the top of the proscenium for the translation. It's useful for the slang, though. There is something thrillingly transgressive about polished operatic voices calling each other "shitface".
Jean-Marc Puissant's set design compounds these complications with multiple flights of steps, leading nowhere, and multiple revolves. In the course of many scene changes the sheer discipline evident in repositioning characters, props and staircases or clearing them all away in a trice is a spectacle in itself. Thirty minutes in on opening night there was a technical hitch and 10-minute delay. Thanks to the goodwill that the production had already generated, no one seemed to mind.
Some of the narrative burden is taken by video (Tal Rosner), projected on screens that wrap around the back and sides of the stage. These supply captions ("The Game"), weather conditions (that snow scene), and a wall of unblinking eyes (memorable). The entire course of Lise's courtship with the man she will marry is encapsulated in a video that shows their repeated greetings, progressing from formal to warm to amorous. It's not only a moment of light relief, but a clever nod to Glass's compositional process – that of modulated repetition.
As for the dancers, it was a case of embarrassing riches to cast contemporary-dance stars such as Jonathan Goddard and Thomasin Gulgec as mere shadows. The key danced roles are taken by the Royal Ballet's Edward Watson and Zenaida Yanowsky, both superb, and superbly nuanced. The choreographer doesn't let five minutes go by before exploiting Watson's astonishing half-past-six arabesque or Yanowsky's sly chorus-girl leg flick. Gemma Nixon, as Lise No. 2, is terrific too, in a childish wrestling match with Watson that is anything but innocent.
The highest level of artistry is evident throughout the production. The singers are also fine actors, Gyula Nagy's Paul (pictured above) becoming progressively more revolting as he malingers in his pyjamas. Paul Curievici's Gérard is culpably inert (he alone saw the incest and could have averted tragedy), but it's Jennifer Davis as Lise who takes the evening's laurels, for maintaining such a thrillingly sweet sound right through to the frantic dénouement.
Any flaws in the show are the narrative flaws of Cocteau's original novel: there are too many arbitrary swerves to make an arc. But why only three performances? The in-depth quality of casting may be a clue. It will be terrible indeed if this production doesn't have a longer life.
Why only three performances? The in-depth quality of casting may be a clue
rating
Explore topics
Share this article