OperaShots, Royal Opera |

reviews, news & interviews
OperaShots, Royal Opera
OperaShots, Royal Opera
Three major composers lose their operatic virginity and score in football-themed event
The result however was neither as provocative nor as genre-breaking as it believed itself to be. We marvelled at technological effects, enjoyed some good tunes and were thoroughly entertained – but then the same can generally be said for an evening at an Andrew Lloyd-Webber musical; a work staged in an opera house is no more an opera than a man in a stable is a horse.
It was clear from the husky opening warblings of the bansuri flute that we were in familiar easy-listening Sawhney territoryYet the Royal Opera House's project is an interesting one. Choosing successful but non-traditional composers – composers more used to writing in different styles, or for film scores and computer games – and setting them loose in this most convention-driven of genres is exciting and, while the results did not quite sound the death-knell to tradition that Gough might have envisaged, they did provide a fascinating foil to the contemporary works more usually heard on this stage.

Opening the evening was Gough's a ring a lamp a thing. With a witty and elegant libretto by frequent Gough collaborator Caryl Churchill, this one-woman show challenged the excess typically associated with opera. Gone was the huge orchestra, the large cast, leaving just a single unaccompanied voice – the impressively talented Melanie Pappenheim. With the aid of live looping technology, Gough was able to transform this fragile, stripped-back entity into an endlessly flexible echoing chamber, setting up duets, canons and increasingly complex riffs – its patterns mirroring those of thought: some taking hold, fanning out exponentially, others dying undeveloped.

With its simplicity of set and straightforward narrative, all focus was on the music and its dramatic capacity – a brave and successful choice. Coming in at just 33 minutes, a ring a lamp a thing was the perfect music-theatre miniature but, being deliberately limited by its own forces, it's hard to see how such techniques might translate into a full-scale operatic structure.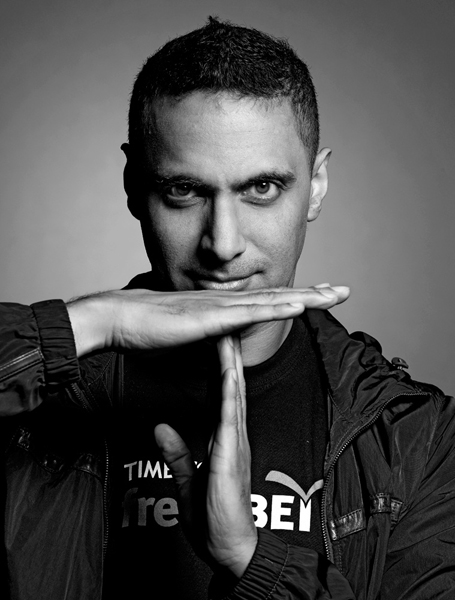 Next it was the turn of Sawhney's (pictured right) Entanglement. Despite a daunting programme note describing how his work sustains "…an accelerating tempo curve at changing rates while maintaining a precise number of beats and co-existing time signatures", it was clear from the husky opening warblings of the bansuri flute that we were in familiar easy-listening Sawhney territory.

Drawing influence from Indian ragas, as well as the textures of Japanese and European traditions, the music was both pretty and banal – certainly nothing we haven't heard from Sawhney or his many knock-off world music imitators before. The least successful piece of the evening, Entanglement's multi-lingual musico-philosophical meanderings and leisured modal ostinati fell rather flat against the more energetic narratives of Gough and Pook. Over-producing his sounds (all singers and chamber ensemble were heavily and distortingly miked) Sawhney's work lost the immediacy of live performance, casting aside the most integral element of opera.


The first 20 minutes of Pook's Ingerland had me totally hooked, totally ready to proclaim that this was the work I had been waiting for all evening. Using video projections, recorded sound and a large cast of singers and onstage musicians, she deconstructed our national obsession with football, framing it by turns as primal ritual, religious rite, relationship substitute and destroyer of family unity.

With tongue firmly in cheek, her cast strutted and cheered their way through music cleverly derived from the chants and conversations of real-life football fans – techniques originally pioneered by Steve Reich and his American colleagues. Recognising the hyperbole that lies at the root of both opera and football – their amped-up, matter-of-life-or-death, all-or-nothing stakes – Pook simultaneously poked affectionate fun at the conventions of both worlds, much to the delight of the audience. As a witty throw-away gesture Ingerland was fabulous. Drawn out to almost an hour, it belaboured its (not unduly complex) point beyond its dramatic limits.

OperaShots was an evening that shocked, not because it was outlandishly progressive but because it was so unapologetically conservative. All three works were essentially very simple – based on conventional harmonies and built around that (ba)rock structural staple of the riff; there was nothing in the evening's music not taken to more interesting extremes by Philip Glass, John Adams, Mozart or Purcell. Three shots were fired – two glancing blows and one clear miss. Final score: Opera 1 OperaShots 0.


Share this article