Best of 2021: Theatre |

reviews, news & interviews
Best of 2021: Theatre
Best of 2021: Theatre
As often as not, the wonder was that there was any theatre at all
Thursday, 30 December 2021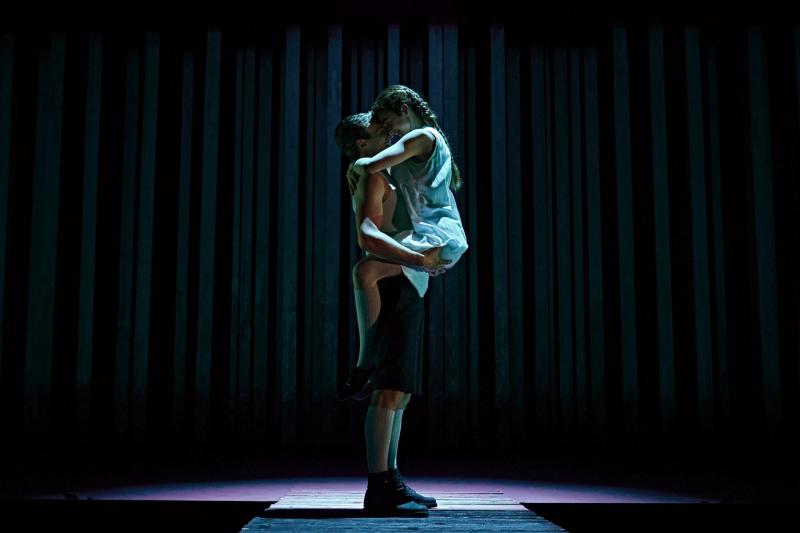 Doubly terrific: Luke Thallon and Patsy Ferran in 'Camp Siegfried'
There was no live theatre at the start of 2021, just a return to the world of virtual performance and streaming to which we had become well accustomed, and very quickly, too. So imagine the collective surprise come the start of this month as show after show, venue after venue, ceased performance or curtailed operations, however temporarily.
Hex, Force Majeure
and
Moulin
Rouge
were three prominent end-of-year openings to push their press nights into 2022, a year shrouded as I write this by
Omicron-prompted
uncertainty. All one can do, and hardly for the first time these days, is hope that sheer theatrical determination and perseverance will somehow out.
In context, then, it's remarkable how many titles came to mind as I began casting a backward glance so as to compile the year's best - an achievement all the more significant given that in-person performance only came back into being May 17. Even then, shows opened not in a flood but in a trickle, some of them (Cinderella comes to mind) to open or close or go on hiatus with such rapidity that box office staff at the Gillian Lynne Theatre surely deserve combat pay. As I write this, the National Theatre is shut through one of the busiest playgoing weeks of the year, and London playgoers, as on Broadway, each day scour various websites and Twitter feeds to see whether their chosen show will actually go on.
The pandemic aside, the year took its toll in other ways. It seemed impossible that Helen McCrory (pictured right with Danny Sapani in Medea, photo c. Richard Hubert Smith) could be taken from us so cruelly, her legacy an astonishing CV spanning Arthur Wing Pinero and Paula Vogel, Euripides and Terence Rattigan. Christopher Plummer died early in the year age 91, an event of huge significance to those (like me) who will forever remember his Iago and his Lear. And the year end saw the loss, also age 91, of Stephen Sondheim, an incalculably saddening event leavened only by an awareness that his work possesses a durability all its own. On the topic of age, it was moving to see Caryl Churchill, age 83, still up to her dramaturgical kicks and tricks, for more of which - alongside a (highly subjective) list of some of the year's other more memorable occasions - read on.
ANNA X, Harold Pinter Theatre
Joseph Charlton's play was first seen in 2019 at the VAULT festival of new work on the fringe, with Rosie Sheehy (seen this past year in the problematic revival of Oleanna) in the title role. The raison d'etre of its sizzling West End upgrade was a first large-scale stage outing for Emma Corrin, fresh from galvanising viewers of TV's The Crown as Princess Diana and here playing the name-changing conwoman of the title with feral command. Partnering Corrin onstage was Nabhaan Rizwan as the techie who falls under the spell of this Russian grifter who cut a swath through New York society. Daniel Raggett's high-octane production as part of the producer Sonia Friedman's RE:EMERGE season of new work on the West End was one of several this year to begin with its characters meeting at a high-decibel party: Nick Payne's Constellations, a two-hander that was itself revived this year with four rotating casts, has a lot to answer for.
Best of Enemies, Young Vic
How did we get here from there? That question underpinned every riveting minute of James Graham's characteristically history-minded play, the author of Quiz and Ink this time turning his attentions to the televised 1968 debates between Gore Vidal reresenting the political left and William F Buckley Jr on the right. Intended back in the day to goose ratings at the faltering ABC network, the event in Jeremy Herrin's wildly entertaining production cast a nod toward our fractious and divisive media climate today while recalling a presidential election year marked by discontent, riots, mudslinging, and virulent contempt: sounds familiar, eh? And in the double-act of anyone's dreams, the central roles were taken by Charles Edwards, confirming the stardom that should be his by right, and David Harewood, the latter in a casting coup from which the real-life Buckley (a man more than once called out for bigotry) would have surely recoiled. In which case, more fool he.
Cabaret, Kit Kat Club
I had thought Anything Goes at the Barbican would brook no competition as the musical revival of the year, but that was to underestimate the ability of Almeida regular Rebecca Frecknall to storm the big leagues with a fresh West End take on the Kander and Ebb classic from 1966 that rethinks this familiar piece anew. (It didn't help the cause of Anything Goes, alas, that its TV airing on Boxing Day was so lackluster: that's one show, we learned, where you really had to be there.) Shot through with a fury that all but swallows alive a self-invented heroine seen near the end sinking through the stage floor, this Cabaret turned the Playhouse Theatre into a contemporary facsimile of the louche Kit Kat Club that is Sally's show biz home (the ensemble pictured above, photo c. Marc Brenner). The period, of course, is 1930s Berlin on the eve of a societal armageddon that spares no one in a starry evening headed by Jessie Buckley and a terrifyingly twitchy Eddie Redmayne and, in the supporting performance of the year, Liza Sadovy's supremely moving Fraulein Schneider.
Camp Siegfried, Old Vic
By way of proof of the miasmic allure of fascism, along came the American writer Bess Wohl's startling play - another two-hander, this one brilliantly served by Katy Rudd and a superlative thespian duo in Luke Thallon and Patsy Ferran. Displacing to American soil much of the same concerns that beset Cabaret, Camp Siegfried tells of an actual indoctrination site into the mores and manners of the Third Reich that catches up two youngsters in thrall to their own hormones in differing ways. I shan't soon forget the ease with which the apparently mousy Ferran gains in strength and confidence as she discovers the appeal that comes with having a readily persuaded public in a play whose affinities to a modern-day America under siege from within should look only more apparent as and when it turns up on Wohl's home soil. Thallon, for his part, allowed charm to curdle in an instant into something fearsome and cataclysmic: the play will surely be seen again, but will it ever be done this well?
A Christmas Carol, Old Vic
Not this old warhorse, you might think, especially as trotted out once more in a Jack Thorne adaptation directed by Matthew Warchus and first seen at this address in 2017. The seasonal entertainment has been revived and recast annually since, including a Broadway stand that did a clean sweep of the design categories at this year's long-delayed Tony Awards. But that assumption is to fail to account for the roaring power of Stephen Mangan in galvanic form as a Scrooge whose transformation seems to occur from somewhere very deep within. I was struck at the press performance attended by Mangan's evident emotional connection to time-honored material that he proceeded to mine as if to imprint upon every single audience member the primacy of Dickens's insistence upon emotional generosity and kindness. I doubt there are many among us who wouldn't toast to that, at Christmas or any time of year, though not everyone was as lucky as my companion who was the unexpected if gleeful recipient of an airborne Brussels sprout.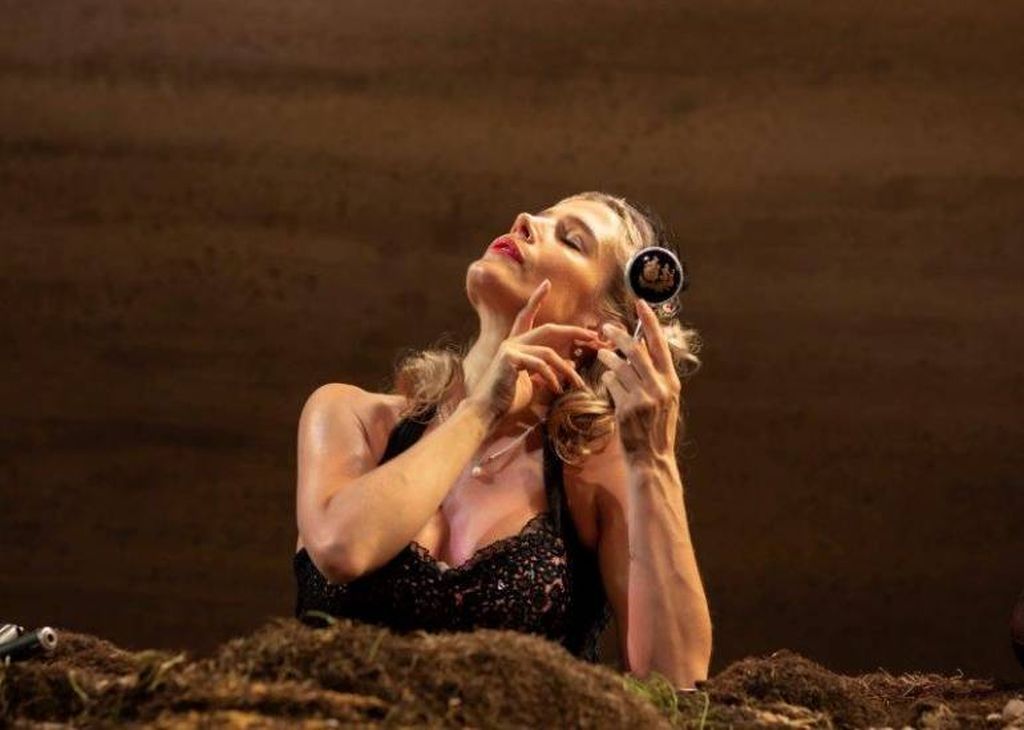 Happy Days, Riverside
The Irish actress Lisa Dwan (pictured right, photo c. Helen Maybanks) has for some years now been acclaimed as the preeminent Beckett interpreter of our time, ever more so following the passing of the legendary Billie Whitelaw, who premiered so many of these now-canonical works back in the day. But the performer reached a new plateau with her occupancy of the indefatigable Winnie in a gorgeous Trevor Nunn production that insisted upon the grotesque irony of the play's title. Indeed, I've never previously been as chilled by the play's second act as I was on this occasion, a spectral Dwan communicating the living death inhabited by a character whose gradual entombment is as much as the play has by way of plot. That Dwan performed this all the while pregnant with a soon-to-be-born daughter sent the mind spinning in all directions: a play that stares mortality in the face revivified for keeps by a life-giving actress who gave herself over, body and soul, to the formidable task at hand.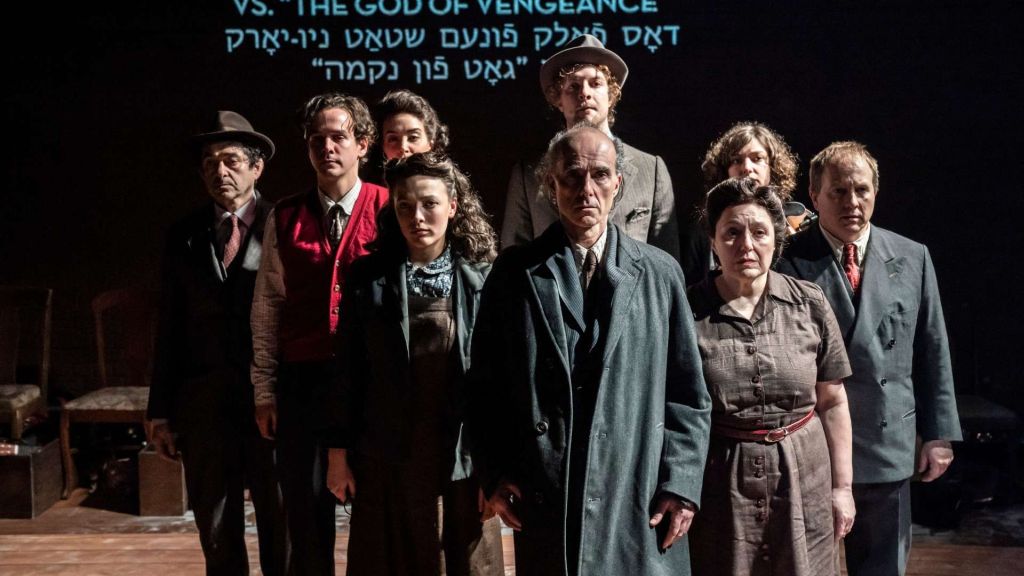 Indecent, Menier Chocolate Factory
I greatly admired Paula Vogel's kaleidoscopic play when I caught its New York premiere Off Broadway in 2016, prior to a (brave) commercial transfer that won director Rebecca Taichman a deserved Tony Award the following year. But returning to the play for a British premiere delayed a year by the pandemic was to be overwhelmed anew by the panoramic sweep of this play-with-music that invited comparison on multiple fronts with Tom Stoppard's concurrent Leopoldstadt. Vogel, too, takes a broad view of the social and political climate of a fast-changing time while homing in on the fate of the Yiddish-language play God of Vengeance, not least the obscenity trial that its same-sex content prompted in New York, And like Cabaret, Indecent proffered an Emcee character of sorts in Finbar Lynch's finely observed stage manager Lemml, the Irish actor one of a sterling company (pictured above, photo c. Johan Persson) that gave new import to the notion of ensemble acting and included radiant, impassioned work from Joseph Timms and Alexandra Silber, amongst others.
What If If Only, Royal Court Theatre
A lot of ink got spilled at year's end about the tone-deafness of a character's name in the Royal Court play Rare Earth Mettle. But that was to detract attention from the various things this invaluable theatre during the year got right, including the take-no-prisoners premiere of American writer Aleshea Harris's tragicomic revenge saga Is God Is and, preeminently, this gnomically titled premiere from that perennial maverick, Caryl Churchill. Running all of 20 minutes, James Macdonald's mesmerising production inched upwards from an originally announced 14 minutes to feel entirely complete in its surrealist chronicle of the grief experienced by John Heffernan that may or may not be assuaged by the mysterious Linda Bassett on the way to an ending that dared - unusually for Churchill - to allow the possibility, at least, of hope. "Don't worry, you'll live, you'll go on into the future," we're informed by a character called, yes, Present, as seems fair enough. What else, after all, can we do?
And the rest...

The final two slots could be parcelled up in infinitely many ways from some of the titles below, even on those occasions when a name performer was of more significance than their specific production. That was certainly true of the conceptually lazy Bach & Sons, a so-so play lifted by a rending star turn from Simon Russell Beale, or Ian McKellen's eternally youthful hold over Hamlet at the Theatre Royal, Windsor - part of an ambitious season that included a new Cherry Orchard, also with McKellen, that to my mind was the better production of the two. Roger Bart, on loan from Broadway, triumphed over the mechanics of the tuneless Back to the Future, just as Samantha Barks, as Elsa, gave the anodyne Frozen much-needed bite. Ben Daniels leant renewed fervour to a surprisingly fussy production of Larry Kramer's The Normal Heart on the same National Theatre stage where Michael Sheen delivered Under Milkwood in full empathy with Dylan Thomas's milieu - and language. (Daniels managed to escape the NT's subsequent, and much-derided, Manor in which he was originally cast, though it should be said that his replacement, Shaun Evans, wasn't half bad.)
Tom Mothersdale was terrific not once but twice - as the lone voice in the middle of three premieres in the Lyric Hammersmith's triptych Out West and playing two roles to variably disturbing effect in Cordelia Lynn's Love and Other Acts of Violence, which featured the scenic coup de theatre of many a season. The director Dawn Walton found the poignant, still-resonant pulse to Alfred Fagon's The Death of a Black Man in revival at the Hampstead Theatre, the same address that welcomed back Stockard Channing to the London stage in an unbalanced 'night, Mother and, in the riveting Little Scratch in their studio theatre downstairs, gave Katie Mitchell and an ace cast of four the perfect context for the play's ruthless anatomy of a mind under siege.

In a lean year for Shakespeare, Yaël Farber made atmosphere the occasion in her name-heavy Almeida reppraisal of Macbeth, with Saoirse Ronan in her London stage debut, while Hattie Ladbury gender-flipped the Duke in Measure for Measure to results at once hilarious and haunting in one of the smartest Globe productions in years. I could have listened to Beverley Knight sing all night in The Drifters Girl (shame, though, about that show's risible book), as I could have just streets away to Arinzé Kene's Bob Marley in Get Up, Stand Up!, a second jukebox musical that deserved a better script: are these writers even trying? One had to wonder, in fact, what the delicious Tamsin Greig in Peggy for You might say about some of the more slipshod writing around town. In the spirit of cultural enquiry, one would like to think she would prefer to look to the future which, as 2022 approaches, is where our fervent hopes for live performance more than ever are best placed.
The year's achievement is all the more significant given that in-person performance only came back into being on May 17
Share this article