The Circle, Orange Tree Theatre review - acerbic reflections on the price paid for love |

reviews, news & interviews
The Circle, Orange Tree Theatre review - acerbic reflections on the price paid for love
The Circle, Orange Tree Theatre review - acerbic reflections on the price paid for love
Jane Asher leads an ensemble cast in Somerset Maugham's comedy of manners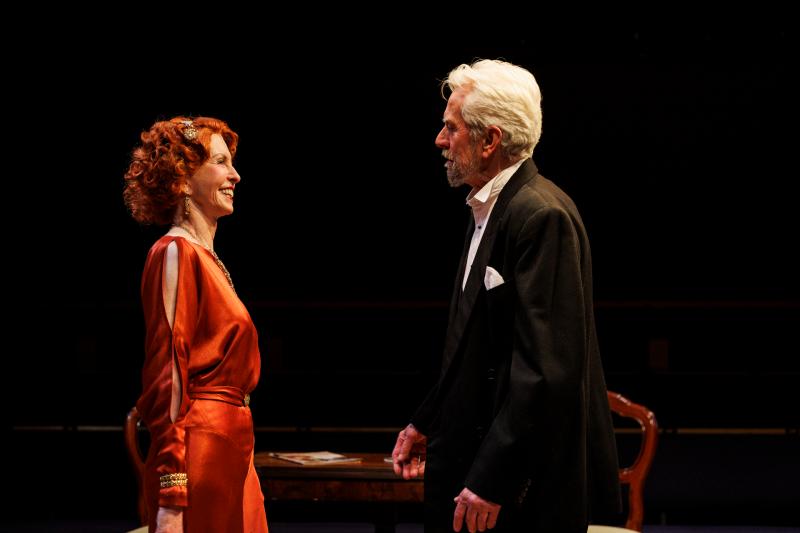 Beware the smile of a disappointed woman - Jane Asher and Nicholas Le Prevost in The Circle
Tom Littler opens his account as artistic director of the Orange Tree Theatre with one of the more radical choices one can make in 2023 – directing a 102 year-old play pretty much how it would have been done in 1921.
It's all very period (beautifully designed with superb attention to detail in props and costumes by Louie Whitemore) and trusts its audience to peel back the onion layers of subtext carefully concealed by Somerset Maugham. And, yes, it might make you cry as you do so.
We're in Blandings Castle territory (or would be if PG Wodehouse had allowed himself a whiff of Evelyn Waugh's cynicism) as Arnold Champion-Cheney is panicking about a first meeting of his mother, Kitty, and father, Clive, in 30 years. She ran off with high-flying Lord Porteous in a Westminster scandal that saw them self-exiled amongst the tawdry aristos of pre-World War One Italy and left Arnold, alone and traumatised, navigating childhood and adolescence before going to the House of Commons in lieu of anything better to do. He appears to have married Elizabeth, 10 years his junior, on a similar whim. His father appears to be a bluff old cove at first, but there's a malevolence behind the joshing that grows and grows. And who is this exotic tennis dude, Teddie, from the Federated Malay States, who has his eye locked on to the lady of the house?
It's all terribly contrived with an opening act that piles up the exposition before we get to the nourishment available in acts two and three. Pete Ashmore has the look of a young Daniel Craig, but it's soon clear that there's a melancholic greyness that clings to his Arnold, damage that has been nowhere near resolved in the hypocritical milieu of England's buttoned-up, upper middle class elite. There's a hint early and confirmation (well, as good as) later that he is hiding something else from his wife, though not very successfully.
Olivia Vinall (pictured above with Clive FRancis) gets the dread already subsuming Elizabeth's natural vivacity just right. She's an immature 25-year-old, who can see a life of good works for the Women's Institute and as the other half (sorry, 10th) of a successful MP stretched out ahead of her and she recoils from it. Once she babbles out the kind of romantic nonsense that Barbara Cartland once pedalled so effectively, you can see that she's an easy mark for Chirag Benedict Lobo, who catches Teddie's otherness and allure with just a hint of the predator perfectly.
Most of the dark comic stuff (and there's plenty to make you laugh and wince simultaneously) comes from the three old cynics who circle each other, half-indulging in quasi-therapeutic confessions and half-poking away at a decades old game of oneupmanship.
Jane Asher (acting somewhat against type) presents Kitty as something of an fool, a preposterous old woman who is convincing herself, and nobody else, that she is 30 years younger and twice as intelligent. But the dazzling woman she once was shines through as she wrestles with her own disappointment at how her life turned out seeing Elizabeth faced with the same decision – fight or flight. That dilemma allows her the chance to reflect properly on her condition as it stands now with Lord Porteous (a marvellously cantankerous Nicholas Le Prevost) and weigh up what she once lost and might lose again. She gets some bitter words to say about life as a wife and as a lover and one hears the playwright's own voice (a gay man unhappily married) amplified through hers.
Clive Francis has enormous fun as Arnold's father, at first all bonhomie and japes, but scheming a kind of revenge by proxy on his cuckolder through protecting Arnold's marriage at the cost of both husband and wife's happiness. Maugham had medical training and one can sense the then fast-developing science of psychoanalysis coming through in some of the exchanges.
This is smart, grown-up theatre delivered by an ensemble cast who know when to go broad with the comic exaggerations and when to twist the knife in the wounds laid open by the past impetuosity and present constraints. There's not a weak link among them (and we'd notice in this most intimate of spaces) with a deadpan cameo from Robert Maskell as a unJeeves-like butler as good as any of the main roles.
Ultimately it's a plea for acceptance of oneself and one's instincts, despite the risks and the consequences – a spectacular speech late in proceedings championing such a position almost raised a cheer from your reviewer – but there's also an ever-present sadness, ready to pounce like a dormant virus, there to make everyone sick of just about everything.
Maugham was in his forties when he wrote the play and had the example of Oscar Wilde before him as the price he would have paid for following his own advice. It would be another two generations before Joe Orton could be more himself, but, as he showed, a more liberal environment did not mean that all problems in love and sex came to an end.
This is smart, grown-up theatre delivered by an ensemble cast who know when to go broad with the comic exaggerations
rating
Explore topics
Share this article