The Father and the Assassin, National Theatre review - Gandhi's killer puts his case in a bold, whirlwind production |

reviews, news & interviews
The Father and the Assassin, National Theatre review - Gandhi's killer puts his case in a bold, whirlwind production
The Father and the Assassin, National Theatre review - Gandhi's killer puts his case in a bold, whirlwind production
Anupama Chandrasekhar argues, with humour and invention, against political extremism
Shubham Saraf as Nathuram Godse in his days as a tailor with his employer (Ankur Bahl)
The young Indian man stepping towards us on the vast Olivier stage is unremarkable enough, slight and boyish in manner. When he speaks he is direct, even cheeky: he wants us to like him. But this is Nathuram Godse, Gandhi's blood-stained murderer. He surely has a tough task ahead if he is going to persuade his listeners that he had the least justification for brutally killing the father of his nation (Bapu to his followers), the universal byword for peaceful protest.
Chennai-based playwright Anupama Chandrasekhar is accustomed to tackling challenging subjects. She has previously collaborated with director Indhu Rubasingham three times before, at the Royal Court and at Rubasingham's own theatre, the Kiln, most recently in 2019 when she dealt with the infamous 2012 Delhi gang rape in When the Crows Visit.
While in London between 2016 and 2017, as the NT's first international writer in residence, she described her preoccupation with Godse to Rubasingham, at a time when – shockingly to many – the first statue to him was being erected in India. His extreme Hindu politics are again resonating in India, just as populism and nationalism are finding adherents in many other parts of the world. There is no direct reference to modern Indian politics (although there is a surprise joke about Brexit) but the parallels are there to be drawn.
Chandrasekhar is clear that she is not interested in presenting "a history lesson". By telling her story through Godse (an engaging Shubham Saraf), about whom comparatively little is known, she has freed herself to mix known facts with imagination and political ideas. Nevertheless, there are times when this does feel like an excursion into history, leading to inevitable discussion in the interval about which bits are true. But in another sense this Godse is a construct, light-heartedly drawn with more than a dash of humour. Chandrasekhar offers, not an analysis of a historical person, but an agglomeration of a few facts with a suggestion of the ways in which political extremism can take hold. It is true that Godse was brought up as a girl (his parents believed that their sons, who died young, were cursed and his survival as a girl was more likely) and that he was revered as a seer when young, all of which may or may not have had an effect on his political choices. In any case, it seems clear that he could be influenced by stronger, more impressive personalities, or, more accurately, an idea of those personalities and what they stood for. He was a devoted follower of Gandhi himself until he met the right-wing nationalist, Vinayak Savarkar, who preached Hindutva (Hindu-ness) and then became just as fiercely anti- Gandhi's prescription for peaceful protest. The most extreme action may well be taken by someone who is simply naive.
Saraf is onstage throughout. He carries the responsibility of holding this busy production together with easy confidence. It is his performance, under Indhu Rubasingham's sure direction, which sets the tone. The subject could scarcely be more serious – or more pertinent – given world politics, but solemnity is kept at bay and the audience, most of whom will have only a sketchy idea of the actual events, constantly acknowledged and deftly entertained. Emotion too is controlled; this is a play of ideas not feeling.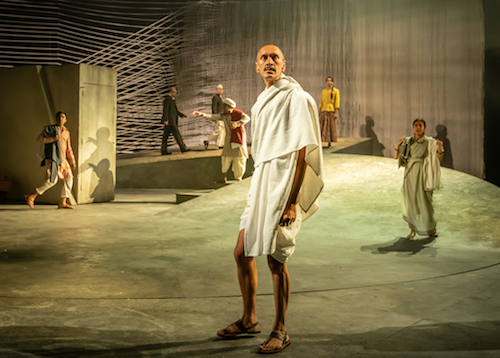 Paul Bazely (pictured immediately above) has the difficult task of becoming Gandhi, someone whose image and philosophy are, by contrast, widely known. He is of necessity here marginalised; Chandrasekhar is interested in Godse's idea of "Bapu", rather than the man himself. The "father" of the title has further resonances when, in the last moments, Godse targets Gandhi's failed relationship with his eldest son. The sad story of Harilal Gandhi has contributed to the chipping away in recent years of Bapu's saintly image. If Gandhi was a giant of 20th century history and Godse sadly misled, both were human, neither without complication.
A cast of 19 become crowds of followers at an ashram, protesters at the salt marches or refugees during Partition in some excellent ensemble playing. Notable among them are Ankar Bahl who plays both a teasing childhood friend and Godse's employer and Dinita Gohil (pictured above left) who reappears throughout Godse's life even when he announces that "she is of no importance narratively speaking".
Rajha Shakiry's simple, sweeping set is backed by a suggestion of woven cloth-in-the-making, cleverly drawing together Gandhi's predilection for spinning, Godse's employment as a tailor and the difficult genesis of two new, post-colonial nations. It is a fitting setting for colourful, ambitious, fast-paced storytelling.
Saraf carries the responsibility of holding this busy production together with easy confidence
rating
Explore topics
Share this article