The Girl on the Train, Duke of York's Theatre review - boozy psycho-thriller rolls clunkily into town |

reviews, news & interviews
The Girl on the Train, Duke of York's Theatre review - boozy psycho-thriller rolls clunkily into town
The Girl on the Train, Duke of York's Theatre review - boozy psycho-thriller rolls clunkily into town
Samantha Womack lurches valiantly through this scarcely credible crime drama
Samantha Womack as vodka-swigging Rachel confronts her ex-husband Tom, played by Adam Jackson-Smith
It may help if you love the book. It was a runaway bestseller, so fans must be legion, but a suspenseful story which depends on memories being obscured by prodigious boozing, and featuring a trio of women best described as "flaky", all defining themselves too much by their relationships with unreliable men, is not to everyone's taste.
For newcomers to
book or film
(Emily Blunt won an Oscar nomination for the New York-set movie), it may be best to approach this as a harsher, suburban, sex-filled variation on
The Mousetrap
. For all the modern trappings, the real interest - especially so in the stripped back stage version - is ultimately, as in the rep staples of old, in revealing who committed the
murder
.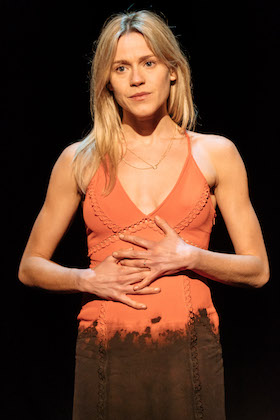 On her regular train commute into Euston, Rachel (played by Samantha Womack, best known as Ronnie Mitchell in EastEnders) observes a couple, Megan and Scott, she imagines to be perfect. They happen to live a few doors away from the home she shared with Tom, her ex-husband now married to Anna and with the baby so longed for by Rachel. Failure to conceive has led to her depression, drinking and divorce. Then the "perfect" wife goes missing on a night when Rachel has one of her drunken memory blackouts. Having seen Megan kissing a man who is not her husband, Rachel insinuates herself into the investigation and cannot be sure where her involvement in the mystery - soon revealed to be a case of murder - begins or ends.
Paula Hawkins's 2015 novel is no more subtle than a soap, but there is some attempt in it to investigate the nature of trust, the slipperiness of truth, the curse of loneliness and the power of coercive control within marriage. Anna and Megan as well as Rachel each has a voice. In the two hour-plus dramatised version (adapted by Rachel Wagstaff and Duncan Abel from book and film) these are all considerably reduced and there is even further emphasis on plot.
One character given some development is DI Gaskill, played by Alex Ferns, the policeman in charge of Megan's case. In his banter with Rachel, as occasionally elsewhere, some welcome humour is introduced into the dialogue, but the revelation of the guilty party is really quite perfunctory and has even less psychological credibility than in the book.
Adam Jackson-Smith as Tom, Philip McGinley as Scott and Marc Elliott as Kamal Abdic, Megan's therapist, do their best with the sketchy men in Rachel's life. Lowenna Melrose as Anna (immediately above) is suitably outraged by Rachel, and Kirsty Oswald (above, right) gives Megan a wispy fragility. Anthony Banks's direction keeps things moving slickly enough with the help of James Cotterill's multi-interior design, but the overall effect remains rather old-fashioned.